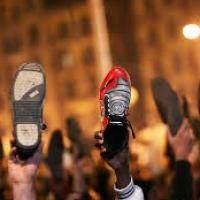 Workers' struggles continue despite repression
Unusually cold wet weather in Egypt on January 25th this year symbolised the disappointments felt by those who defied former president Hosni Mubarak's security forces when the heroic revolutionary uprising erupted five years ago.
Brutal repression of all opposition has grown since President Abdel Fattah al-Sisi seized power in July 2013, following massive demonstrations against Muslim Brotherhood president Mohammed Morsi.
In the run-up to the anniversary, four leaders of the April 6th Youth Movement, that played an important role in sparking the 2011 uprising, were arrested. Police carried out mass searches of flats in central Cairo near Tahrir Square. A leading doctor activist, Taher Mokhtar, was arrested in a dawn raid along with his two room-mates, both students. Over three thousand students, of whom 2200 are detained on political grounds, had to take exams in prison.
National student union elections are being rerun on government orders after independents were elected, instead of government-backed candidates.
"We have taken several measures to ensure activists don't have breathing space and are unable to gather, and several cafes and other meeting places have been closed, while some have been arrested in order to scare the rest," a Homeland Security Agency official told Reuters.
Twenty journalists were recently banned from entering Parliament. MPs were upset when a video was released of some of them voting three times on behalf of themselves and absent colleagues!
A new law means journalists can be heavily fined for contradicting the authorities' version of any terrorist attack. Only China jailed more journalists in 2015.
Hundreds of Muslim Brotherhood supporters continue to be rounded up and charged with terrorism, for which sentences range from five years to the death penalty. Meanwhile the army and police are protected from legal penalty for using force against terrorism. Striking workers and protesting youth are described as 'terrorists', allowing security forces to crack down on any opponents to the regime or its big business allies.
Meanwhile attacks on the police and army have increased, with a growing number killed and injured. ISIS-affiliated 'Sinai Province' claims responsibility for many of them, including the blowing up in flight of the Russian airliner from Sharm el-Sheikh, last October. Many civilians are caught up in these atrocities.
Tourism has been losing LE2.2billion (£200million, US$283million) a month – the worst loss in 20 years. One estimate says 400,000 jobs are disappearing. (International Business Times 6.11.15)
Unemployment stands officially at 12.7%. In a recent opinion poll, 24% said it was the main issue they wanted parliament to address, making it the highest priority issue. Inflation rose to 11.9% in December.
Elections show Sisi's support falling
November's elections resulted in a new parliament dominated by supporters of Sisi, many with links to big business and the former regime of Hosni Mubarak. The Muslim Brotherhood had been banned from standing, while left parties boycotted the election. The Salafist Nour, the only Islamist party to stand, saw a steep drop in its votes and finished with twelve MPs, compared to 111 in 2012, despite supporting Sisi's takeover from Morsi.
Turnout was 28%, compared to 62% in 2012 and 47% in Sisi's 2014 presidential election. Some candidates bribed people to vote to try to boost turnout. Sisi's backers had been hoping it would be high to show confidence in his regime. With many exhausted by instability that followed Mubarak's downfall, enthusiasm for Sisi was initially widespread. He claimed he would re-establish stability and economic revival would follow. His regime has failed to do either and the elections show his support is falling.
Demonstrations on January 25th this year were small – dozens of protestors in a number of marches around Cairo and other cities. Police broke up some and others dispersed before the police arrived. Some were organised by supporters of the outlawed Muslim Brotherhood, others by activists from the 2011 uprising. Banners reading, "Where are bread and freedom?" referred to the revolution's slogan, "Bread, freedom and social justice".
Workers' struggles continue despite repression
Last December, train conductors held a partial strike, ending after the Transport Ministry agreed to pay a LE600 allowance. Dozens of Egypt Aluminium Company workers held a sit-in protesting against corruption, demanding the dismissal of directors and expressing no confidence in the state-backed trade union committee members.
The biggest recent workers' movement was at Petrotrade, in December, where 18,000 workers were on strike for over five weeks. It started after bonuses were given to managers but only to a few workers, who were often managers' relatives. Strikers complained of the wide gap in income between workers and senior managers and condemned state authorities for corruption, nepotism and the new Civil Service Law. They also condemned an attempt by the official trade union to end the strike, based on promises their demands would be met in March.
A new Labour Law aims to ban workers collecting money or petitions, distributing leaflets and organising meetings without their employer's consent. It also bans sit-ins that interrupt work. The government wants to sideline independent trade unions and only deal with the Egyptian Trade Union Federation, whose leaders they back. Independent trade unions demonstrated in recent months against the new Civil Service Law that aims to cut jobs and pay.
New workers' struggles will develop during 2016 as the gap widens between Sisi's promises and the harsh reality of low pay, job insecurity, housing shortage, poor education and health care. The experience of the January 25th 2011 uprising showed state repression cannot prevent a determined mass movement from bringing down a hated dictatorship.
It also showed the need for activists to organise and build a revolutionary socialist party with roots in workplaces, universities and schools. A party is needed with a programme linking the daily problems faced by workers, the poor and the youth to democratic socialism – and with a strategy to establish workers' governments throughout the region.