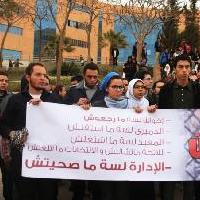 International solidarity campaign forces university authorities to back-down
Egyptian students have won a victory, after the German University in Cairo announced the reinstatement of two expelled students (see 'German University in Cairo expels student activists', 01/03/2012, Socialistworld.net)
The student activists, Amr Abdel Wahhab and Hassan Osman Ziko, were summarily expelled by GUC authorities on 28 February, and three other students were suspended.
The authorities' arbitrary actions followed months of campaigning by students at the German University in Cairo for the right to have their own democratic students' union.
The campaign to reinstate the two expelled students got tremendous support from students, not only at GUC but from other universities too. Hundreds demonstrated in solidarity, on their own campuses and also at GUC, where a sit-in lasted over two weeks. International messages of support for the students, including from CWI supporters across the world, were sent to the GUC administration.
The victory will raise the confidence of students to stand up to university administrations that still reflect the Mubarak regime, to fight for the right to form independent student unions and for a genuinely open and free education system.
To win the all the aims of students, youth and working poor – powerfully expressed in the mass revolutionary movement last year – students will need to join with workers, organising in democratic student and trade unions and to build a mass socialist party and programme to unite workers, students and youth together.