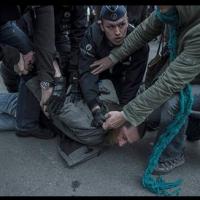 Antiracists arrested while the far right can demonstrate
On 27 March, about 400 hooligans led by the extreme right had been quietly escorted by police to a gathering for the victims of the terrorist attacks of Brussels, in Place de la Bourse. On their way, a food store was attacked by several of them. Once at the rally, they brutally disrupted the tribute to the victims with their hateful slogans, their fascist salutes, their blows and shoving to clear the people who were on the steps of the Stock Exchange in order to take their place. When the police finally intervened to push them back with water cannons, this resulted in riot scenes, and material was destroyed. All this led to only a dozen arrests.
In the days that followed, an international call for protests in Molenbeek was launched by the French far-right splinter group "Generation Identitaire", which was answered by a call to anti-racist and anti-fascist mobilization on Saturday 2 April. The authorities then decided to ban rallies and "Generation Identitaire" asked people not to turn up to their protest via a video. The antiracists had meanwhile decided to assemble on that day peacefully in front of the Stock Exchange, which has become a permanent place of homage for the victims of the attacks since the day they took place.
There, the police made dozens of arbitrary arrests without any notice, including the President of the League of Human Rights and eleven PSL/LSP members and sympathisers – while the antiracists had done absolutely nothing, not even unveiled any banner. The police officers told the anti-racists and participants in the tribute to "go away, or we will ship you in!" Those arrested were released in the evening.
Meanwhile, thirty extreme right activists (including Rob Verreycken, responsible for Pegida in Flanders) were able to meet in Dilbeek and then head to Molenbeek. Only seven of them were eventually arrested in Molenbeek and pepper spray was found in a car.
What game is the police playing? Protecting us? It is unable to stop terrorists but has no problem trampling on our democratic rights. The police is more confident to attack peaceful anti-racist activists than to deal with the reactionary far right, being Europeans or Salafists.
The events of that day as well as those of the last week are serious warnings about the danger of the extreme right and its attempts to exploit the Brussels terrorist attacks. They also demonstrate that our democratic rights such as the right to assemble and to take collective actions should not be taken for granted. The workers' movement and the youth must mobilize and fight back against the extreme right and against attempts to curb social resistance.