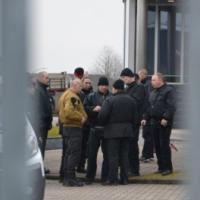 MEPs protest company's private militia
On Sunday evening 26 February, striking workers at Meister, a company producing technological parts for the car industry, in Sprimont, Belgium, were confronted by a group of thugs hired by the company to break the strike.
The Meister management had previously hired a violent private militia, hired through a German private security company, to get materials out of the factory. The thugs entered the factory and destroyed several goods. But due to immediate solidarity organised by workers in the Liège region, the thugs were unable to leave the factory as more than 100 people were outside on the picket line. The police had to intervene to 'evacuate' the private militia.
Later in the week, a 'crisis manager' was imposed at Meister to re-start production and to start negotiations between the workers and the management, following a threat to relocate production to the Czech Republic.
Upon hearing about these developments at Meister, Socialist Party (CWI Ireland) MEP Paul Murphy immediately sent a letter (1 March) of solidarity with the workers, which is signed by 16 MEP's, from 8 different countries.
The MEPs letter reads:
Solidarity message with the workers of Meister in Sprimont, Belgium
It is with dismay that we, members of the GUE / NGL (European United Left / Nordic Green Left) group in the European Parliament, learned what happened at a company called Meister, producing car parts, a subsidiary of Poppe & Potthoff Gmbh & Co. in Sprimont, Belgium.
A week ago, workers learned that two large orders would be given to another site in the Czech Republic. Fearing the relocation of production, they demanded an explanation. As management has remained deaf to this request, they organised a blockade of the company, locking in management. Management was released after an hour but 3 trucks loaded with produced parts remained locked in by the workers.
On Sunday, management responded by sending in 35 thugs – some armed with batons, pepper spray and equipped with bulletproof vests – to obtain the 3 trucks trough force. They were employed by a German security firm that does not have a licence to operate in Belgium, which – according to Belgian law- characterises them as an illegal, private militia. They managed to access the factory and subsequently wounded two workers to prevent them from warning their colleagues. Nevertheless a picket line of about 100 workers at the entrance prevented the thugs from leaving. Finally, the police came to 'evacuate' the boss' thugs but none of them were arrested, not even were their identities checked or their weapons seized.
We are outraged by the way some employers are abusing the right to freedom of movement within the European Union to organise a paramilitary action. This is clearly a dangerous warning to the entire workers' movement that requires a determined response.
We believe workers have a right to fight for their jobs and salute them for their determination to do so. We also believe that not only do the police need to seriously investigate Meister but the Belgian, French and German unions should also conduct an investigation of their own into what happened and draw up a joint plan of action to resist any such future attacks.
We are in full solidarity with the workers at Meister. We support any initiative of the trade unions to inform workers at other Meister and Poppe & Potthoff sites, and will spread information about this attack trough our own contacts. Only together can we defend ourselves from such violence and safeguard our working conditions, the right to take industrial action and employment. No pasarán!
In solidarity,
Paul Murphy MEP (Socialist Party, Ireland)
Patrick Le Hyaric MEP (Front de Gauche, France)
Nikolaos Chountis MEP (Syriza, Greece)
Willy Meyer MEP (Izquierda Unida, Spain)
Sabine Lösing MEP (Die Linke, Germany)
Sabine Wils (Die Linke, Germany)
João Ferreira (Partido Comunista, Portugal)
Inês Zuber (Partido Comunista, Portugal)
Marisa Matias MEP (Bloco de Esquerda, Portugal)
Miguel Portas MEP (Bloco de Esquerda, Portugal)
Søren Bo Søndergaard MEP (Denmark)
Kartika Tamara Liotard MEP (Independent Member, Netherlands)
Helmut Scholz MEP (Die Linke, Germany)
Younous Omarjee MEP (Liste "Alliance des Outre-Mers", France)
Gabriele Zimmer MEP (Die Linke, Germany)
Thomas Händel MEP (Die Linke, Germany).