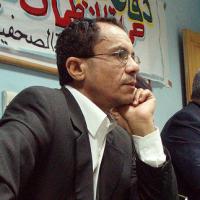 Protest against new attack on workers' rights
A well-known defender of workers' rights in Egypt has been sentenced to six months in prison for insulting a government minister at an International Labor Organization conference.
Kamal Abbas, General Co-ordinator of the Centre for Trade Unions and Workers Services (CTUWS), was found guilty, on 29 February, for an incident that occurred last June. An International Labour Organisation meeting, held in Geneva, in June 2011, was attended by an official delegation of twenty from Egypt, accompanied by ten journalists. All thirty were paid for by the Egyptian Trade Union Federation (ETUF), which was used throughout the Mubarak-era as an arm of the state to prevent workers' struggles, with leaders appointed by the regime. The cost of Geneva trip was estimated to be 1.6 million Egyptian pounds (£167,000/ €200,000/$265,000). This was paid from trade union subscriptions of workers forced to belong to the ETUF in order to remain in their jobs.
The head of the delegation was Ismail Ibrahim Fahmy, a former Treasurer of the ETUF. Following the downfall of Mubarak in February 2011, Ismail Ibrahim Fahmy was appointed Minister of Labour by the Supreme Council of the Armed Forces (SCAF).
Kamal Abbas went to the Geneva meeting, where he stood up and publicly exposed Fahmy's background: "You participated in the passage of the privatisation deals, and facilitated and justified the blatant attacks on the rights of workers … You defended with impunity Mubarak's regime with its corruption, repression and tyranny, and then you plotted the killing of the revolutionaries in Tahrir Square!"
New independent unions
The Centre for Trade Unions and Workers Services (CTUWS) assisted workers to form new trade unions, independent of the state and the ETUF. Before the January 25th 2011 uprising, there were two fully constituted independent unions. By the end of the year, there were about 300, with a reported membership of nearly two million workers.
There have been many strikes, including national strikes of teachers and postal workers, as workers attempt to win improved living standards and secure employment rights. Yet the government, in which Fahmy was a minister, passed a law banning strikes. The law has not been fully implemented, but remains a threat to all workers fighting to defend and improve their pay and conditions.
The trial and sentencing of Kamal Abbas is a further attempt by SCAF and the ruling class in Egypt to take back concessions they were forced to make after the revolutionary uprising last year. Egyptian workers need to continue building their independent unions, with elected leaders on the average wage of their members. While capitalism and the rule of big business continues, there will always be attacks by the state on the organisations workers build to defend themselves.
Trade unionists in every country need to show international solidarity and oppose the conviction of Kamal Abbas.
Please send urgent protests to:
pm@cabinet.gov.eg, tur@ituc-csi.org, Embassy@egyptembassy.net
with copies to cwi@socialistworld.org.uk