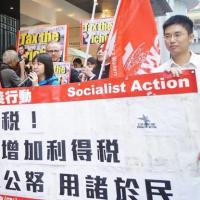 "Tax the rich" shout protesters at Mossack Fonseca's Hong Kong office
On Tuesday 12 April, two dozen protesters rallied outside the Hong Kong office of Mossack Fonseca, the firm at the centre of the 'Panama Papers' scandal. The secretive fourteenth floor office (Mossack Fonseca's website gives a defunct address) shook to chants of "Tax the rich" and "Increase corporate taxes". Organised by Socialist Action (CWI), the protest demanded the outlawing of tax havens and heavy taxation of the rich.
The 'Panama Papers', based on leaked company documents, reveal the rottenness of global capitalism. Firms like Mossack Fonseca specialise in setting up bogus offshore companies to allow the global one percent to evade taxes and national laws. The Hong Kong office is the company's "busiest" with China and Hong Kong accounting for one-third of their clients worldwide.
Around 11 trillion US dollars of private wealth is hidden away in tax havens. The politicians – many exposed in the 'Panama Papers' – tell us this is "not illegal", a position that has caused mass anger around the world.
It is estimated that corporate tax evasion costs the world's poor nations US$100 billion annually. Providing clean water and sanitation for the whole world would cost just US$10 billion annually, while US$14 billion could save the lives of four million African children every year.
Hong Kong is itself a tax haven with a super-low corporate tax rate of just 16.5 percent, compared to 35 percent in the US. If Hong Kong adopted even the very low corporate tax rate of Britain, at just 20 percent, government revenue would have been 2.6 billion US dollars greater in the past 12 months, enough to build five new hospitals.
Hong Kong is also the main conduit for illicit money leaving China. Around 4 trillion US dollars has been smuggled out of China by its crooked elite in the past 15 years. China's dictatorship has ordered a total media blackout of the 'Panama Papers' because the findings are so politically damaging – pointing a finger at several of the regime's top leaders.
The protest also raised the need to take the banks – 500 of which are named in the 'Panama Papers' – into democratic public ownership and control. Major banks are among the institutions actively aiding tax evasion.
The protest was supported by the League of Social Democrats and their chairman Leung Kwok-hung.