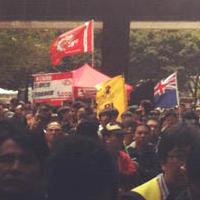 15,000 join protest against the appointment of new leader C. Y. Leung as capitalist establishment is openly split
From the minute Hong Kong's chief executive-in-waiting Leung Chun-ying, or "C.Y.", was pronounced 'elected' on Sunday 25 March, a crowd of 3,000 protesters outside the meeting of the elite-only Election Committee began chanting "C.Y. step down". This was an ominous start for the Chinese dictatorship's new boy, whose cunning and aggressiveness has earned him the nickname "the wolf". The demonstrators were doused with pepper spray by police – surely also a sign of things to come. On 1 April, just one week after the farcical and grotesquely undemocratic 'election', another demonstration took place with 15,000 turning out, including large numbers of youth. Groups of students wore 'red riding hood' scarves and a giant 'wolf skin' was carried bearing the word 'mourning'. Socialist Action (CWI supporters in Hong Kong) produced a special edition of their magazine for the march.
A full article about the appointment of C.Y. Leung and reaction to it can be found on chinaworker.info, "Wolf at the door!"