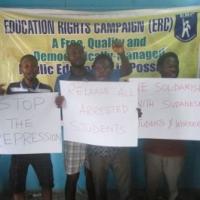 The ERC, the national student campaign linked to the DSM (CWI in Nigeria) is displaying its support for the student movement in Sudan
Statement by the Education Rights Campaign (ERC):
DO NOT SELL UNIVERSITY OF KHARTOUM
•WE STAND IN SOLIDARITY WITH SUDANESE STUDENTS AND WORKERS
•WE DEMAND IMMEDIATE AND UNCONDITIONAL RELEASE OF ALL ARRESTED STUDENTS
•NO TO COMMERCIALISATION AND PRIVATISATION OF EDUCATION
The Education Rights Campaign (ERC) gives our full solidarity to the protests of Sudanese students against the decision of the government to sell off the premises of the University of Khartoum.
The ERC campaigns against fee hike and for provision of a free and democratically-managed public education system. The ERC is the platform of students members of the Democratic Socialist Movement (DSM) – the sister organization of the Socialist Alternative Sudan. Jointly we are both affiliated to the Committee for a Workers International (CWI) – the international organization organizing the struggle for socialism on a worldwide scale.
We condemn the police violence and repression that have taken place. In particular, we condemn the arbitrary arrests and detentions of dozens of students by the National Intelligence and Security Services (NISS). We demand the immediate and unconditional release of all arrested students.
This decision to sell off the premises of the University and convert it into a tourist centre rather than the citadel of learning it has always been from time immemorial is scandalous. It shows the Sudanese government made up of corrupt and anti-poor politicians prioritizes profit over education and the future of its youth.
However, this disregard for the future of the youths and the interests of the working masses in the interest of profit is the hallmark of capitalism everywhere. For instance in Nigeria, public education has been turned into business. About two weeks ago, four Universities in Nigeria were shut after students protested against high fees, poor welfare conditions and high cost of living. A protesting student was shot dead by police at one of the Universities – an example that shows that the capitalist ruling elite are as vicious everywhere as they are in Sudan.
This is why the CWI is organizing everywhere for a struggle to end capitalism and enthrone a democratic socialist society. One of the requirements of that struggle is international solidarity.
We therefore call on Sudanese students and workers to continue the struggle until victory. The ERC will continue to do everything we can to solidarize with their struggle. This will include raising awareness of the plight and struggle of Sudanese students within the students' and labour movements here in Nigeria.
We demand:
•No to Selling of the premises of the University of Khartoum
•The immediate and unconditional release of all the students arrested, and the withdrawal of state forces from the campus
•Reverse the privatization and commercialization of education
Yours-in-the-struggle,
Hassan Taiwo Soweto, National Coordinator
Michael Ogundele, National Secretary