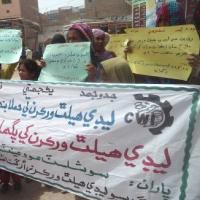 Lady Health Workers organisation protests at non-payment of wages
A protest was held by the Lady Health Workers organisation (LHW) in Mirpur Khas in the Sindh province, Pakistan demanding the payment of their wages. Outrageously, the treasury is refusing to make payments to the workers regularly and has not paid wages to them for the last four months.
Many workers including, LHW leading members, Sughran Khaskheli, Iqbal Begum Narejo and Toheed Kousar took part in the protest held outside the press club. Workers also presented their "press book" to provide the proof of their work.
LHW also demanded justice for their colleague, Maryam Mallah, who had been sexually assaulted. No investigation or any effort was made to bring the offender to justice.
"Pay back all the salary arrears", "release pay regularly", "Arrest the abuser of Maryam Mallah", "Issue proper ID cards for health workers" and "stop the violence against lady health workers" were some of the slogans that the workers raised at the protest.
Meanwhile, the authorities spread a message through text messages that they have agreed to pay the wages within two days. However, the workers were not contacted nor informed about this. The workers are determined to continue their protest until they get their wages.