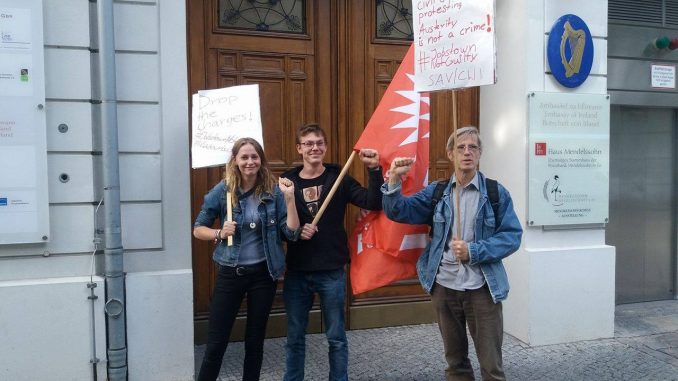 Defend the right to protest – Drop the charges!
Yesterday (19 September) pickets took place at Irish embassies and consulates around the world in protest at the start of a series of "Jobstown trials". The trials arise out a 2014 public protest in Jobstown, a working class area of Dublin, which saw the car of then Deputy Prime Minister, Joan Burton, stopped for two hours. The Jobstown residents were protesting against unfair water charges (taxes) and other austerity measures carried out by the then Labour/Fine Gael government.
The first trial began yesterday with a 17 year old facing serious charges of "false imprisonment". Former minister and Labour leader, Joan Burton, was a prosecution witness.
CWI sections organised #JobstownNotGuilty solidarity protests around the world yesterday, demanding the dropping of all charges against all the protestors facing trial. Among those facing trial serious charges is Paul Murphy (Anti Austerity Alliance and Socialist Party member), who is a TD (member of the Irish parliament) for the constituency that includes Jobstown.
Below are a selection of photos from some of the protests that took place, in running order, Britain (x2), Israel, Belgium and Sweden, and Germany (homepage photo).
Socialistworld.net