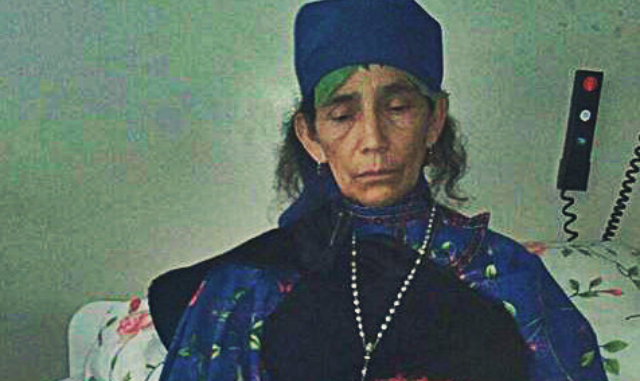 Solidarity appeal for messages of protest
We strongly reject the attitude of the Chilean government and the courts, for the abuses they are committing against the fundamental rights of the Machi Francisca Linconao. This elderly woman, a traditional spiritual leader of her indigenous community, was recently hospitalized urgently. After more than a dozen days on hunger strike, she now weighs less than 40 kilograms!, and according with to the Chilean Physicians' Professional Association, her life is in danger. "Her survival is a matter of days, not weeks", they stated.
The Machi, accused of having participated in the murder of the Luchsinger MacKay couple, has been in custody for 9 months. She rejects this accusation, claiming her innocence. She is a well-known activist in defense of the forest and the rights of the Mapuche people. A few years ago, she won a judicial case, defending her land. She sees this accusation against her as revenge for this.
In this case, the presumption of innocence and the right to personal freedom have not been taken into account. The long pre-trial detention violates all her rights. This contrasts with the treatment of State forces, such as the Carabineros (military police) who attempted to kill the young Mapuche, Brandon Hernández Huentecol, and the 'comuneros' of Tirua, Jorge Colil and Renato Lincopan, who are walking free, despite the seriousness of the acts committed.
President Bachelet and the government of the "New Majority" remain silenct, which makes them accomplices of what is happening and what will happen in the coming days.
The Chilean state must respect the rights that are clearly established in Convention 169 of the International Labor Organization, ILO, regarding indigenous peoples. The Antiterrorist Law, applied against the Mapuche people makes fair process in the judicial system impossible.
Chile has militarized the Araucania (region in the south of the country), where there have been many new cases of disappeared, killed and tortured people, since the 1990s. Also, some Mapuche women and defenders of the environment have appeared dead under strange circumstances lately, such as Nicolasa Quintreman in December 2013 and Macarena Valdés in August 2016. We do not want Machi Francisca Linconao to become a new fatal victim of this violence.
Once again, we want to repudiate the racist and criminal attitude of the Chilean State against the Mapuche, and call on the international community of workers, young people and the oppressed to speak out and sympathize with the cause of the Machi Francisca Linconao.
No more abuses against the Mapuche people, freedom to all Mapuche political prisoners!
Signed by:
Werken Rojo newspaper
Movimiento Socialista Allendista, Chile
Socialismo Revolucionario (CWI in Chile)
Please send messages requesting the freedom of the Machi Francisca Linconao, to:
Michelle Bachelet, President of Chile
https://escribenos.presidencia.cl/comunicate
Mario Fernandez, Minister of Interior
https://siac.interior.gob.cl/formulario.gov?accion=ingresa_transp
Jaime Campos, Minister of Justice
oirs@minjusticia.gob.cl
Please, send us a copy to Werken Red: redaccionwr@gmail.com