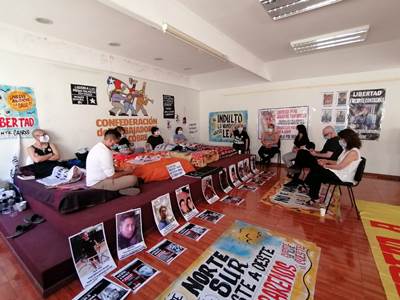 On 27 October 2021, a hunger strike began by the mothers of political prisoners who were imprisoned as a result of the popular revolt in Chile, which began on 18 October 2019. Millions took to the streets to say enough of Pinochet's constitution and enough of governments that support the abuses carried out by the employers.
Two years have passed in which a constant struggle has taken place by the families of the prisoners who fought against the abuses of a system that enriches a few and maintains the majority of the population in precarious conditions.
As the mothers of the prisoners of the revolt say; "We, as mothers are here for the liberty of all the prisoners of the revolt, the pain we suffer is understood by those who live as we do."
The extreme measures of a hunger strike taken by the mothers of the prisoners are done to bring to the attention of society what is happening and to bring the issue before the authorities, above all the parliament and government. The protesters are demanding the approval of the law which will pardon all of those imprisoned for participating in the 2019 revolt.
The Senate was supposed to vote on this proposal on 2 November but it has been postponed without a date being put forward to put the issue on the table. This shows yet again the total disconnect of the institutions from the people and the total insensitivity they have towards us, as we demand justice and liberty for all those arrested and imprisoned for participating in this struggle.
The postponing of this debate in the parliament shows we must apply more pressure and protests, and national and international solidarity, with the mothers of the prisoners who are on hunger strike.
Today it is vital that we have class solidarity and that the world knows that in Chile we are imprisoned in poverty. We are imprisoned for struggling whilst the agents of the oppressor state who are responsible for torture, killings, and mutilations remain free.
Only with class unity and mass mobilisations can we free ourselves and stop those who want to terrorize us. Only with class unity and mass mobilisation can we free the political prisoners.
We can only have confidence in ourselves and in the strength of international solidarity to win the changes we are demanding in the country. Socialismo Revolucionario together with the Committee for a Workers' International appeals for letter of protest to be sent to Senators demanding the approval of a law pardoning all those arrested in conjunction with the protests.
We also appeal for letters and videos of solidarity to be sent to the mothers of the youth and children imprisoned who are currently on hunger strike.
Long live those that struggle!
A law to pardon all those imprisoned for this struggle and immediate freedom for the political prisoners!
Please send protest emails to the following Chilean Senators:
iallende@senado.cl
cgloriaaravena@senado.cl
paraya@senado.cl
cbianchi@senado.cl
adeurresti@senado.cl
aelizalde@senado.cl
ggirardi@senado.cl
cgoic@senado.cl
aguillier@senado.cl
fharboe@senado.cl
fhuenchumilla@senado.cl
jminsulza@senado.cl
rlagos@senado.cl
jpletelier@senado.cl
cmontes@senado.cl
amunoz@senado.cl
xordenes@senado.cl
jpizarro@senado.cl
yasnaprovoste@senado.cl
kpugh@senado.cl
jquintana@senado.cl
rquinteros@senado.cl
xrincon@senado.cl
jsoria@senado.cl
Please send copies and solidarity messages to be sent to: