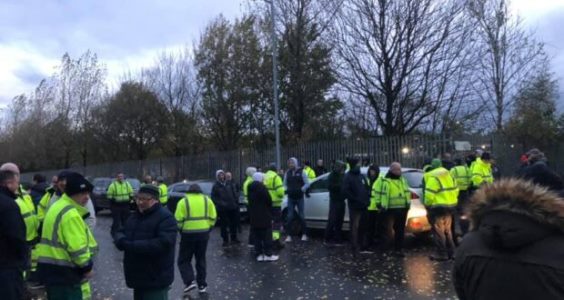 COP26 in Glasgow has begun with a show of working-class power. Over 800 members of the GMB trade union have shut down Glasgow cleansing services on day one of a planned week-long strike.
Bin and refuse workers are incensed at a pay offer from the employers that goes nowhere near to covering the cost of living increases.
Years of cuts to Glasgow's cleansing services have created a waste crisis and workers are livid at the Scottish National Party (SNP) led council's refusal to invest.
GMB branch secretary John explained to us at the Polmadie picket line this morning: "We had a long stewards meeting yesterday and it was decided to take action. Obviously, it's the pay itself, but also the lack of infrastructure in the depots, the lack of proper facilities, and cuts over many years. We're getting great support from the people of Glasgow and trade unions across Scotland and the UK."
The SNP-led Glasgow council had gone to court last week, using the Tory anti-trade union legislation, alleging "ballot irregularities" by the GMB in an effort to stop the strike.
Socialist Party Scotland brought our support and solidarity to the picket lines on Monday morning, November 1.
Our strike bulletin made the point that: "Workers are right to be angry. Angry at below-inflation pay offers, after all they have been through during the pandemic.
"Angry at the threats by SNP-led Glasgow council to take the GMB to court over the ballot. Angry at the council's refusal to allow members to hold mass meetings to consider the offer. What other choice is there for workers other than to take action, including during COP26?
Years of cuts and underfunding have created an intolerable situation of under-staffing, pay restraint and workload pressures that are unacceptable. It's been over 18 months since any of these key workers had a pay rise and that is a disgrace given the work they have done during Covid."
Significant action
The action is all the more significant as it comes just days after the Scottish leadership of the council trade unions, GMB, Unite, and Unison, agreed to call off planned selective strikes during COP26 following a revised pay offer from COSLA, the Scottish employers.
Following the COSLA offer, GMB Scotland said: "the union would hold a two-week consultation from Monday 1 November, and had agreed to suspend strike action during this time."
However, the anger among members in Glasgow cleansing was so intense that the GMB leadership was forced to reinstate the action within 48 hours of calling it off.
All three unions had planned selective action among key groups of workers from November 8 to 12 in up to 16 council areas of Scotland.
The original offer from COSLA was for a rise of just £850 for those under £25,000 a year (2% for those earning over £25,000 and 1% for over £40,000).
After one or more unions returned majorities for strike action in 16 of the 32 Scottish councils and announced a week-long strike in the second week of COP, the employers made a 'new offer' on Friday 29 October.
In reality, the only change was to backdate the £850 increase to January rather than April. This would take the rise to £1,062 for those earning less than £25,000.
But it would still only be an annual pay rise of £850 going forward. The unions had tabled a £2,000 claim.
Despite this paltry offer all three union Scottish leaderships agreed to suspend the strikes to consult members. A clear indication that they believed it was the best that could be achieved.
Socialist Party Scotland members in the council trade unions opposed calling off the action.
The only vote against suspension of the action at the Scottish local government committee of Unison was a member of the Glasgow City Unison branch.
In contrast, a member of the Socialist Workers Party and a supporter of the Time for Change group in Unison voted to call off the strikes.
Glasgow City Unison, a branch within which Socialist Party Scotland members play a leading role, released a statement immediately following the decision of the Unison local government committee.
"The UNISON Glasgow Branch representatives disagree with the national union committee's decision to call off the Scottish selective strikes in schools and waste services over this year's pay offer.
"We believe the new offer of a bit more, one-off backdated cash is still not good enough. It does nothing to alter the previous offer on a permanent basis with regards to pay going forward. The strikes should have continued."
With inflation at 4%, the COSLA offer still represents a pay cut for 'key workers'.
Union leaders should not be calling off strikes for offers that are real terms pay cuts for members who have been at the frontline of delivering essential services during the pandemic.
The local government pay offer should be rejected by the unions. Strike action should be reinstated for next week in local government followed by a plan of escalation involving bringing more groups of workers out on strike.
Ultimately mass coordinated industrial action will be essential to win the pay rises workers need.
In addition, to the cleansing strikes in Glasgow, the strike action at Dundee University is continuing over attacks on pensions by management. Unison, Unite and UCU members are involved.
RMT members working for the Serco-run Caledonian Sleeper service have also begun the first of a series of 48-hour strikes on pay.
A planned 12-day strike by RMT members on ScotRail during COP26 was called off after bosses and the Scottish government offered a series of concessions to the union.
Among other things, it meant the union has won the long-running dispute on rest days working.
With ScotRail being taken over by the Scottish government in April 2022, workers and unions will be preparing to fight for huge improvements in pay and terms and conditions after years of privatisation. And to stop the planned cuts to the rail network with the threat to jobs, stations, and rail services.
What these events underline is the need to build a fighting leadership of the trade unions at all levels, allied to the launching of a new mass workers' party to fight for a socialist recovery for the working class.
Special financial appeal to all readers of socialistworld.net

Support building alternative socialist media

---

Socialistworld.net provides a unique analysis and perspective of world events. Socialistworld.net also plays a crucial role in building the struggle for socialism across all continents. Capitalism has failed! Assist us to build the fight-back and prepare for the stormy period of class struggles ahead. Please make a donation to help us reach more readers and to widen our socialist campaigning work across the world.

Donate via Paypal

CWI- Please inform us if you are reproducing any material from this site.