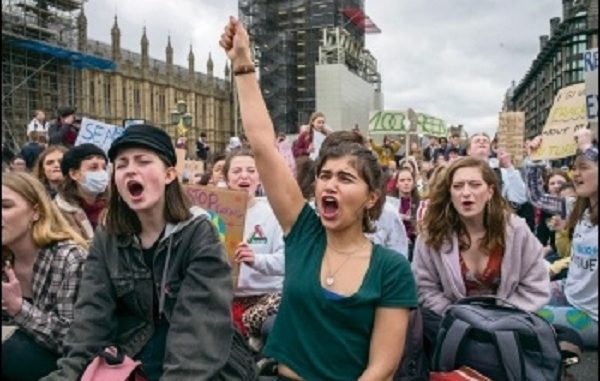 The Tory government have finally published their strategy for the UK to achieve net-zero carbon emissions by 2050. According to Boris Johnson, this will see the UK "lead the world in ending our contribution to climate change".
So what is the plan? Essentially, do a little bit and then leave the rest up to the free market!
Of the money needed to carry out the strategy, £26 billion in funding has been pledged by the central government, with another £90 billion "expected" in private sector investment. But far from ordering big businesses to turn over some of their £900 billion cash reserves to develop green technology, in effect, the Tories are hoping that with some up-front grants and incentives, the capitalists can be convinced to decarbonise their operations.
Take for instance the report's stated aim of having 600,000 energy-efficient heat pumps installed per year by 2028 in place of gas boilers. The government has pledged 90,000 grants to homeowners (not including private tenants) of £5,000 to bring the price of installation down, though not to zero!
The Tories then hope that by the time the grants have all been dished out, firms making and installing heat pumps will have drastically reduced their prices. That's if they stay in business – several contractors went bust or were forced to lay off staff due to problems receiving money from the similar 'Green Homes Grant' scheme that was scrapped in March 2021 after less than a year in existence. So far, no plans have been made to train up as many as 46,000 engineers that may be needed to meet the installation targets.
A similar 'hit-and-hope' approach is there to see, with the intention to use technologies such as carbon capture, small nuclear reactors and hydrogen fuel cells – all of which are yet to be developed on a mass scale.
Investment
The report acknowledges that much will depend on "the extent to which individuals and businesses adopt green choices". With investment in new machinery by British firms fallen steadily in recent years, this begs the question of whether they will be willing to take a short-term hit to their profits to stump up to replace polluting vehicles and equipment.
Even if big business could be persuaded to take the steps needed to completely decarbonise by 2050, this may be too late to avoid global warming reaching dangerously high levels and creating knock-on natural disasters.
Already massive disruption to daily life in the form of flooding, droughts and wildfires is becoming increasingly common around the world. Many climate scientists estimate that keeping average global temperatures to just 1.5°C more than their levels before the dawn of industry 200 years ago still risks drastic environmental consequences.
The Tories boast that the UK has already made good progress towards this goal in reducing its carbon emissions by 44% since 1990. But in that time large amounts of manufacturing, farming and extraction have been moved overseas, essentially exporting Britain's greenhouse gases to China, India and elsewhere.
Despite Johnson's boast that Thatcher's mine closure programme was an early start on decarbonisation, all it achieved during the two decades that followed was a drastic increase in coal imported from overseas being burnt by UK power stations. Even today, research by the World Wildlife Fund estimates that emissions from goods imported to the UK make up as much as half of the UK's true carbon footprint.
The way in which former pit communities have been hollowed out following the winding down of coal mining shows the need for a planned transition with alternative employment found for workers in polluting industries.
But looking at the way the Tories and other capitalist governments around the world have dealt with Covid, who'd trust them to stop climate change in a way that doesn't favour big business and the super-rich over workers and ordinary people?
Attempts to nudge the market away from fossil fuels can result in costs being passed on to the working class in the short term, with the tapering off of production capacity by oil and gas producers being a factor in the recent price spikes. While electric vehicles and renewable heating remain unaffordable for many, allowing the costs of running a petrol car and gas boiler to rise won't automatically lead to people taking up low carbon alternatives!
No trust in the market
While the situation facing the climate is serious, it's not hopeless. But we can't leave halting global warming to chance.
For those planning to protest on 6 November as COP26 meets in Glasgow, in other towns and cities, and many millions more, it's clear that rapid and wide-reaching decarbonisation of all aspects of daily life is needed. But how can we achieve this?
It won't be by waiting to see if the 100 large corporations responsible for 71% of global emissions since 1988 can be guilt-tripped or incentivised into adopting sustainable practices. The chaos of the free market has been there for all to see during the bidding war for PPE and vaccines during the pandemic.
A socialist plan for the economy would see the large businesses that dominate industry, energy, agriculture, transport and finance placed under the democratic control and ownership of the working-class majority in society. The wealth, research, resources and infrastructure that these corporations hold between them could then be brought together and directed as part of a plan to end polluting practices as soon as practically possible, not simply when shareholders and directors decide it's profitable.
It is utopian to imagine that the 1%, who can buy their way out of the worst effects of climate change, will do the right thing by the planet and the people who live on it. The looming environmental catastrophe is undoubtedly one of the reasons why two-thirds of young people in the UK, and many older people, are drawing the conclusion that a socialist system is needed.
If you're one of them, join the Socialist Party to make sure that we can stop complete climate breakdown and create a planet for the millions, not the millionaires.