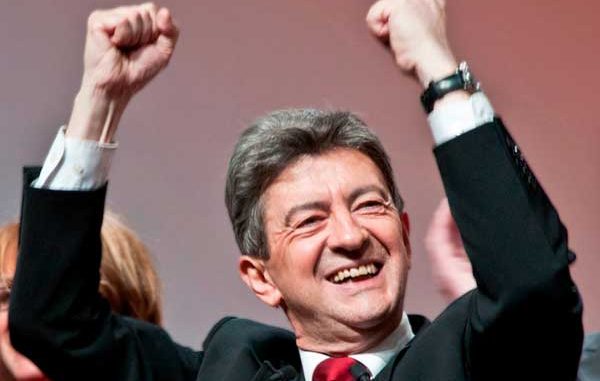 Support the international solidarity campaign.
Below we publish the text of a statement of solidarity with the #JobstownNotGuilty campaign, signed by Jean-Luc Mélenchon, European United Left Member of European Parliament, among many other prominent European public figures. Mélenchon is a prominent candidate of the Left in the upcoming Presidential elections in France.
His support is part of an international campaign of solidarity, against the criminalisation of protest in Ireland, which has seen 19 people – including Socialist Party (CWI in Ireland) MP, Paul Murphy – charged with "false imprisonment" facing long jail sentences, for the crime of participating in a peaceful protest. A 17-year old youth has already been scandalously convicted of this charge.
Please add you signature to the international solidarity declaration below and help with the CWI's international campaign to get as many signatures as possible from trade union leaders and activists, politicians and ordinary working class and young people. Send letters to jngcampaign@gmail.com and to the CWI section in your country.
socialistworld.net
On the 24th April 2016, as part of the protests against the privatisation of water in Ireland, a sit-down protest stopped the car of a minister and her entourage. Now, those protesters are charged with kidnapping. Below is my declaration of support with the protesters
The right to protest is under attack in Ireland. It is profoundly concerning that a 17 year old youth has been found guilty of kidnapping because of his participation in a protest against Joan Burton, deputy prime minister at the time of the protest. On the 24th April, the first of three court cases against the 18 adults accused of "kidnapping" and associated charges will start. If they are found guilty, they risk a maximum sentence of life imprisonment. As well as the devastation this will wreck on the lives of all the accused and their families, a penalty of more than six months means automatically that Paul Murphy, a member of parliament, will lose his seat. This undermines the democratic mandate the people who elected him entrusted him with.
Such sentences would have the effect of criminalising dissent and send a chilling message to all those who take part in protests in years to come – trade union activists, women's rights activists and others. As representatives of the left across Europe, we think that protest is not a crime. In different countries, we have seen people's movements against austerity and often they have been confronted with attacks on their democratic rights. We think unity is essential – an injury to one is an injury to all. We stand in solidarity with the accused and with #JobstownNotGuilty. We demand that all charges against the accused are dropped and that the right to protest is defended.