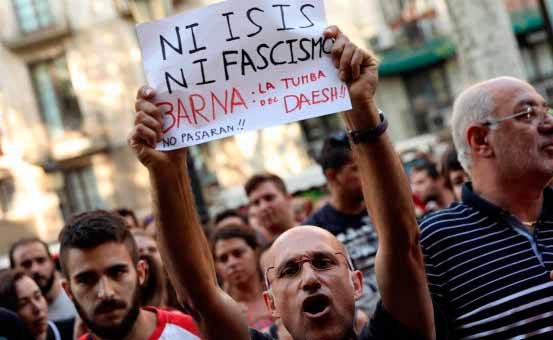 ¡Abajo el terrorismo yihadista y las intervenciones imperialistas! ¡Vuestras guerras nuestros muertos!
El jueves 17 de agosto, las Ramblas de Barcelona se convirtieron en el centro de un brutal ataque terrorista: una furgoneta recorrió más de medido kilometro arrollando a cientos de personas a su paso. El saldo macabro de este ataque fue la muerte de 13 personas, más de 100 heridos, algunos de ellos en estado muy grave, y la conmoción entre la población de la capital catalana que veía impotente como una jornada de vacaciones se podía transformar en una pesadilla. El ataque, reivindicado inmediatamente por el Estado Islámico a través de su agencia Amaq, tendría su réplica unas horas más tarde en las calles de Cambrils, Tarragona, donde cinco terroristas que preparaban un nuevo ataque fueron abatidos y una mujer apuñalada por uno de ellos moriría un día después. Desde Izquierda Revolucionaria y el Sindicato de Estudiantes queremos manifestar todo nuestro dolor, apoyo y solidaridad con las víctimas, con sus familiares y amigos y con todos aquellos que vivieron momentos de verdadero terror y temieron por sus vidas.
Hoy somos millones de personas en todo el mundo, de jóvenes y trabajadores, los que nos sentimos unidos con quienes en esta ocasión han vivido en carne propia el horror del terrorismo yihadista y también con las miles de personas que han protagonizado la gran ola de solidaridad con ellos: los que han aguantado largas colas para donar sangre, los que han ofrecido sus tiendas, coches, casas, taxis y ropas para ayudar a las víctimas. Una muestra de verdadera solidaridad con quienes en esta ocasión en Barcelona han vivido de cerca la barbarie que en los últimos meses y años ha sacudido las calles de París, de Niza, de Bruselas, de Manchester, de Orlando… pero cuyo horror es de sobra conocido para millones de personas inocentes en otras partes del mundo, en Oriente Medio, en África.
Por supuesto, en esta ocasión tampoco han faltado los actos de Estado, los lamentos y llamamientos a la unidad podridos de hipocresía, de parte de quienes han instigado y apoyado guerras e intervenciones imperialistas que han arrasado países enteros para llenar los bolsillos de un puñado de multinacionales y garantizar los intereses estratégicos de las grandes potencias. Su aparente consternación por la matanza en Barcelona parece no ser merecida por las miles de personas que mueren cada día en guerras de rapiña como la de Siria, Iraq, o Afganistán, guerras que el Partido Popular y los dirigentes de la derecha en el Estado español han apoyado junto con los "defensores de la paz y la democracia" en Europa y EEUU. Merkel, Hollande, Macron, Theresa May, Trump o Rajoy… todos persiguen el mismo objetivo que en su día Aznar, Blair y Bush cuando hace ya 14 años lanzaban la intervención militar sobre Iraq. Desde entonces hasta ahora el resultado es claro. Todas estas guerras auspiciadas por las potencias occidentales no han traído ni paz ni libertad para estos países sino barbarie, muerte y destrucción, además de millones de refugiados que, huyendo de una realidad insoportable, son tratados de manera inhumana a las puertas de Europa.
Utilizar el terrorismo para sembrar el veneno del racismo y la islamofobia
Ya hemos visto en muchas otras ocasiones cómo los defensores de este sistema trataban de sacar provecho de los terribles episodios que han provocado los ataques terroristas en distintas ciudades. Siempre, con las palabras "Libertad", "Democracia" o "Estado de derecho", han utilizado estos ataques como excusa para justificar medidas contra los jóvenes y los trabajadores: cercenando nuestros derechos democráticos o sembrando el terror y el veneno del racismo y la islamofobia.
En esta ocasión los voceros de la derecha en los medios de comunicación no han sido menos, alentando el racismo y el odio contra los musulmanes. Personajes como Alfonso Rojo han afirmado que "quizá habría que pedir ahora cuentas a los políticos que potenciaron la emigración a Cataluña de no hispanohablantes", e Isabel San Sebastián relacionaba directamente terroristas con musulmanes y decía "Ya os echamos de aquí una vez y volveremos a hacerlo". Sin duda estas declaraciones tan lamentables no son sólo la expresión de personas individuales, sino que representan el sentir y la opinión, tanto aquí como en otros temas, del Partido Popular y la derecha.
Al mismo tiempo, para los dirigentes del PP y Ciudadanos, la Casa Real y para todos aquellos que hacen grandes negocios a través de la guerra y la muerte de millones de personas, su clamor contra el terrorismo es una fachada que esconde intereses de clase muy concretos. Ninguno de ellos tiene problemas con los grandes negocios armamentísticos cerrados entre el gobierno español con Arabia Saudí, aun cuando es público y notorio que el gobierno de Arabia Saudí financia al Estado Islámico, autor de estos atentados, y que una gran parte de las armas vendidas por el gobierno español son utilizadas en la guerra de Yemen. Tampoco tienen problemas con el régimen turco de Erdogán, protector del Estado Islámico durante muchos años, y con el que han formado un acuerdo de la vergüenza a propósito de los refugiados
Sus argumentos y su hipocresía para justificar guerras criminales, asesinatos de inocentes y el odio racista, aunque lo envuelvan de indignación "antiterrorista", no nos engañan. Sabemos de sobra los motivos de sus políticas, de sus recortes, de su austeridad, de sus ataques a las libertades democráticas, y así lo denunciamos. Y los trabajadores y jóvenes de Barcelona también lo saben, y por eso han expulsado a los grupos fascistas de las concentraciones de repulsa ante los atentados. ¡Son vuestras guerras, son nuestros muertos!
El ataque terrorista y el Procés
Los voceros de la burguesía no sólo se han pronunciado de esta forma tan hipócrita, racista y repugnante a nivel individual. Al día siguiente del ataque el editorial de El País tomaba esta ocasión con las dos manos para cargar ¡¡contra el Procés!!, haciendo "un llamamiento al Govern y las fuerzas políticas catalanas para que se pongan al servicio de los problemas reales de Cataluña" y que así se acabe con la "quimera secesionista". Por increíble que parezca es cierto. También estos terribles sucesos pueden servir como excusa para justificar que se cercene el derecho legítimo y democrático de un pueblo a decidir sobre su futuro.
Los argumentos más grotescos han entrado en escena contra el derecho a autodeterminación y la criminalización de todos aquellos que lo defendemos. No hemos leído ningún editorial de El País para hablar de los "problemas reales de Cataluña", como ellos dicen. Los que afectan a la mayoría como los recortes en sanidad y educación, el despido de profesores, la represión a las movilizaciones sociales o los desahucios. Su hipocresía no tiene límites. Si no fuera suficientemente lamentable el veneno racista alentado por la derecha ante estos atentados, también quieren azuzar las divisiones y el enfrentamiento entre los jóvenes y trabajadores catalanes y los del resto del Estado. Para los capitalistas cualquier excusa es buena para dividir a los oprimidos. Ya sea a través de la táctica del miedo, de la xenofobia o de cualquier otra excusa. Pero siempre con el mismo objetivo de enfrentarnos entre nosotros, a los que somos iguales, a los que hemos salido a las calles contra los ataques tanto de la derecha franquista del PP como de la burguesía catalana que también busca únicamente defender sus privilegios. A los que hemos demostrado la fuerza que tenemos cuando salimos juntos a luchar, nos quieren divididos y enfrentados.
Capitalismo es barbarie
Los terribles asesinatos en las calles de Barcelona y la repugnante reacción de los capitalistas y sus medios de comunicación vuelven a mostrar de forma clara la hipocresía y la moral podrida en la que se basan este sistema y sus representantes. De la mano de derecha, de la burguesía española, catalana o de cualquier otra parte del mundo, los trabajadores y la juventud jamás hemos logrado mejoras ni avances. Los intereses de clase de los capitalistas no entienden de derechos, de libertad, ni de dignidad. Por eso, los que realmente pagamos los platos rotos de sus políticas, los que sufrimos el terrorismo, la guerra, el paro y la pobreza tenemos que unirnos contra aquellos que nos condenan a un sistema de barbarie. Sólo uniendo las fuerzas de todos los oprimidos bajo la bandera del socialismo internacionalista, por encima de fronteras nacionales, religiones, color de piel o lengua, podremos acabar con el horror y el desastre que el capitalismo significa para la inmensa mayoría de la humanidad.
Special financial appeal to all readers of socialistworld.net

Support building alternative socialist media

---

Socialistworld.net provides a unique analysis and perspective of world events. Socialistworld.net also plays a crucial role in building the struggle for socialism across all continents. Capitalism has failed! Assist us to build the fight-back and prepare for the stormy period of class struggles ahead. Please make a donation to help us reach more readers and to widen our socialist campaigning work across the world.

Donate via Paypal

CWI- Please inform us if you are reproducing any material from this site.