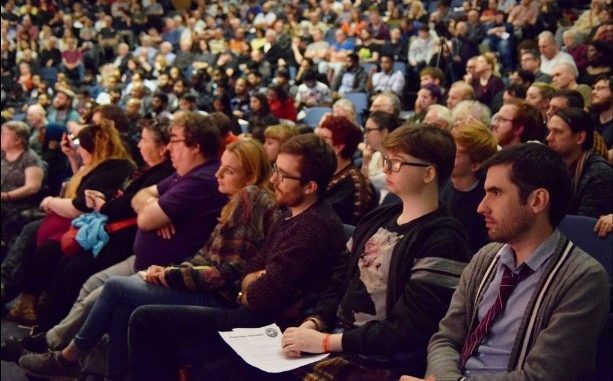 Organising to fight back
Over 1,000 workers, young people, campaigners, activists, trade unionists, students and international guests gathered in central London on 11-12 November for Socialism 2017.
It felt clear to all that this was our biggest event to date. The serious, determined and enthusiastic mood was contagious and left many wanting to get even more stuck in to the battles in workplaces and communities across the country.
We celebrated the centenary of the Russian revolutionthroughout the weekend and were inspired in particular by the work of our sister parties in the US and Catalonia
But as Hannah Sell, Socialist Party deputy general secretary, pointed out in the closing rally, this wasn't just about the far away or the historical. Socialism 2017 was about taking those lessons and using them in the here and now.
The financial appeal at the Saturday night rally raised over £42,000 and many joined or expressed an interest in joining the Socialist Party.
Saturday rally: Revolutionary movements then and now
Behind the platform, moving pictures. Petrograd workers in black and white. Marchers today in colour. Their impatient strides the same.
"Who would believe that the janitor or watchman of the court building would suddenly become chief justice of the court of appeals, or the hospital orderly manager of the hospital?"
The lamentations of a tsarist general opened the Rally for Socialism in the centenary of the Russian revolution.
Chairing was Sarah Wrack, editor of the Socialist. "The Bolsheviks, under the leadership of Trotsky and Lenin, had believed it. And they fought for it. And they led the working class to win it."
But Peter Taaffe, general secretary of the Socialist Party, noted that "now we find the revolution and its lessons are ignored." Why? "Because revolution is on the agenda."
The profit system is turning inside out. We are "regaled every day by a blizzard of facts" such as in the Paradise Papers. "This is not tax evasion or avoidance. This is theft – on a gargantuan scale."
The bosses are wrestling with their own panic. The ruling classes face "massive" splits "on a world scale."
In the US, Donald Trump "could split the Republican Party." The world left renaissance could also split the Democrats. And in Britain, Labour "remains two parties in one."
"Of course we support Jeremy Corbyn's anti-austerity programme. But," Peter asks of Jeremy Corbyn, "do your own members" – Blairite councillors – "support your programme in local government, who are carrying through cuts?"
We do not want another 1931, where "the right kept quiet, and then stabbed the labour movement in the back," forming a 'national government' with part of the Tories.
"Those people who are opposed to Corbyn, at council level, we will oppose them. By all means possible."
"Why did the Russian revolution triumph? It was the Bolshevik Party" and its policy of "no compromise with the capitalist enemy."
"Long live the Russian revolution. Long live Marx, Engels, Lenin and Trotsky" and all the "nameless heroes" of the working class. "Long live our own revolution… That is a future worth fighting for."
Workers in the PCS union, organised civil servants, rank among those heroes today. The Tory pay cap has straitened public sector workers' lives for seven years.
"And our answer," said Chris Baugh, the rally's opening speaker, "has been a consultative pay ballot, with 99% voting to reject the pay cap – and nearly 80% in a vote to take action."
Chris is a long-standing union militant and Socialist Party member. He's been elected assistant general secretary of PCS since 2004. "I'm proud of the contribution I've made over three decades of work."
This includes "helping defeat one of the most reactionary leaderships in the British trade union movement in the CPSA," predecessor of the PCS.
Cabinet papers released this year prove a "conspiracy between the Thatcher government and that right-wing leadership."
Union bureaucrats connived to deny John Macreadie, a supporter of Militant, the Socialist Party's forerunner, his elected position as leader.
And last year, "the mother of all recruitment exercises" foiled a Tory manoeuvre aimed at removing thousands of union members.
Chris wants to build "the coordinated industrial action needed to force back such an enfeebled Tory government."
But "to counter the vast imbalance of wealth and power between capital and labour" also means "offering an alternative to a failed capitalist system: offering the vision of a socialist society."
Alternatives are rising again. Ian Mearns, Labour MP for Gateshead, is one of Jeremy Corbyn's few allies in Westminster. "In the Labour Party now, nationalisation is no longer a dirty word.
"And guess what? Socialism isn't a dirty word either."
"Comrades, this government isn't on the verge of crisis. It isn't about to collapse. It is collapsing." Meanwhile, Ian says, Labour is "not reunited, but we are reuniting." This is one of our points of difference. A battle is needed to kick out the Blairites.
Ian is a former member of the Militant-led Labour Party Young Socialists (YS). He wants Labour to become a "campaigning movement" again. "We've never done political education. The political education I got in the YS was from the YS and the Militant!"
Corbyn's promise of "nationalisation of the railways and water isn't revolutionary." But "socialism is now re-emerging as a mainstream concept."
National liberation struggles are re-emerging too. Coral Latorre is general secretary of Catalonia's Sindicat d'Estudiants (students' union).
"People tired with the rule of the Spanish and Catalan oligarchy have filled the streets to fight against those who impose austerity and oppress us."
The Sindicat d'Estudiants organised four student general strikes, leading to a general strike of workers. 150,000 marched in Barcelona.
"It was proved that with mass mobilisations, of course we can defeat an unjust law. And it doesn't matter how many times the state tried to forbid the referendum, or how many policemen they sent."
"We see that revolutionary potential in the movement." But we do not fight to install "the same Catalan ruling class that have provoked misery."
"Els carrers seran sempre els nostres: the streets will be forever ours. For a socialist Catalonia. For a socialist world."
2017 also marks 40 years since mass pickets defended low-paid strikers at Grunwick – most Asian, most women.
Socialist Party member Isai Priya of Tamil Solidarity said that today, "refugees living in Britain are amongst the most oppressed in our society."
They languish for years in detention centres. Inside they work for as little as £1 an hour, "cheap labour for greedy bosses." Outside "they are denied the basic rights such as the right to work or study."
But the Refugee Rights campaign is led by refugees organising to win these rights. And they want the backing of the trade union movement.
A block of refugees and supporters stood and brandished their demands. The shining smiles of class fighters surrounding them showed delight in finding new comrades in the struggle.
That struggle needs resources. "Lenin looked at finance as a measure of the strength of Bolshevik support in the working class," said Paula Mitchell, Socialist Party London regional secretary.
Paula presided over a stunning collection. Goal: £30,000. Received: £42,021. "You could say that socialists are the original crowdfunders."
But new, mass participation does not end at donation.
"Millions of people are now clamouring for a left-wing agenda, even a radical agenda, something the Democratic establishment is not prepared to give."
Kshama Sawant, Seattle city councilmember for Socialist Alternative, the Socialist Party's co-thinkers in the United States.
"For all the candidates who have won this year on the Democratic ticket – we will need to see. This will be a test."
Trump's administration is in "crisis mode, month after month." But the bosses are "caught in a vice grip." Neither party dares move to impeach. "They fear the damage to the whole establishment."
Socialist Alternative lights the way with its audacity. It helped mobilise 50,000 protesters after Trump's election.
It shut down Seatac airport to oppose his travel ban. It led the victorious fight for a $15 minimum wage in Minneapolis.
And "while the right wing has been emboldened enough to call their own rallies, including in Charlottesville, the response, the counterprotests, have been even larger."
"We are indeed moving into a stage of revolt."
Sunday closing rally: "Socialism is back!"
The themes of workers, youth, internationalism and socialism – which ran through the whole weekend – were reflected in the four speakers at the closing rally: national chair of Socialist Students Theo Sharrief, assistant general secretary of Unite the Union Howard Beckett, Irish socialist MP Paul Murphy and deputy general secretary of the Socialist Party Hannah Sell.
Theo explained that on budget day on 22 November Socialist Students is organising an education shutdown – local protests, walkouts and occupations – in response to what will no doubt be yet another budget offering nothing for young people.
Pointing out the failure of the National Union of Students to take such a lead, he said: "Either get brave to lead the battles that are ahead or we will build ourselves a new leadership worthy of the struggles necessary to fight for our futures."
Howard said of the trade union leaders: "Our responsibility as leaders is to educate and organise." And part of that, he argued, must be to "call on Labour councils to act as socialists.
"It's no good for them to act as complicit agents of the treasury, no good for them to hide behind budgets."
"I will say clearly to all in the West Midlands who claim to be Labour but talk like Tories: if you act like a Tory, Unite in the West Midlands will treat you like a Tory.
"If justice and socialism is not the drive for Birmingham councillors to behave as Labour, then perhaps next May's city council elections will be.
"Because Unite in Birmingham will not support any Tory, even those who are labelled Labour."
When she spoke, Hannah added that Corbyn and the Labour leadership "should insist councils say they will use reserves and borrowing powers so as not to make any more cuts.
"And Labour nationally can say any money spent locally fighting austerity we will reimburse when we're in government."
Since Paul spoke at last year's Socialism event, he and five other protesters were found not guilty of false imprisonment of the then deputy prime minister on a protest in 2014. "This was a collective victory of the Jobstown Not Guilty campaign, of the trade union movement that supported us, and particularly of our international, the CWI."
This massive defeat for the Irish establishment was mirrored by their defeat in the Citizens Assembly.
They set up this body to try to get a recommendation for very minor changes to abortion law in Ireland.
Instead it recommended a pro-choice position. Paul highlighted that the Socialist Party (our Irish sister organisation) is at the forefront of the movement for abortion rights.
Hannah reminded the room of the contrast during party conference season. "On one side was Corbyn talking about standing for socialism in the 21st century.
"On the other was the Tories' response. That free market capitalism is unquestionably the best means of increasing living conditions for everyone in the country.
"Tell that to the people in 2016 who were hospitalised with malnutrition in supposedly the sixth richest country on the planet."
In the fight to change these conditions, Hannah highlighted the important role the Socialist Party has played in a number of campaigns. "We achieve what we do," she said, "primarily because of our ideas, because we have a clear programme for a new society. But while ideas are crucial, without organisation they are nothing."
She went on to explain that the Socialist Party faces eviction from our national headquarters for them to be turned into flats – part of the gentrification so prevalent in London.
We will therefore need to initiate a financial appeal towards new premises and Hannah announced that we are able to launch that fund with a donation of £45,000 from ex-MP Dave Nellist.
Dave followed the Socialist Party's policy of living on a workers' wage rather than an inflated parliamentary salary.
The rest of his pay he used for campaigning and labour movement causes – and is now doing the same with his parliamentary pension.
In closing the weekend, London Socialist Party organiser and chair of the rally Paul Callanan, said: "The class struggle in Britain and internationally has entered a new phase.
"Working class and young people across the world are building new movements, building new parties and looking for an alternative to capitalism… socialism is back!"