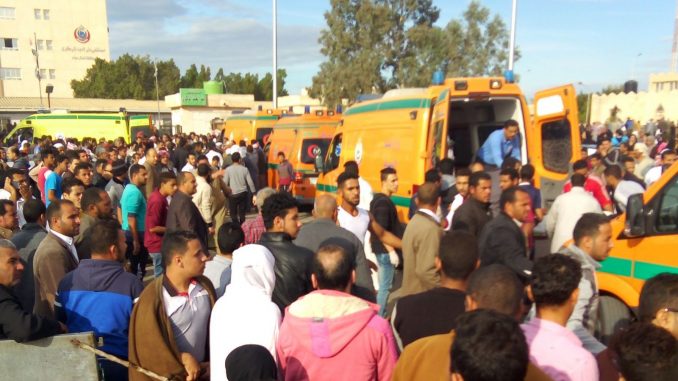 The horrific killing of 305 people at Friday prayers in the al-Rawdah mosque, Bir al-Abd on Friday 24th November is the worst single attack in Egypt's Sinai region. 27 children were among those killed. Over 100 people were injured. Witnesses reported 25-30 attackers fired on the 500 or so worshipers as they tried to escape bombs in the mosque and also fired on ambulances taking casualties away.
All such attacks must be condemned. They target ordinary people suffering under the pro-big business policies of President Sisi's brutal regime while providing his regime with excuses to further increase repression.
At the time of writing no group has claimed responsibility but it seems likely that al-Wilayat Sinai (Sinai Province), the Egyptian affiliate of ISIS, carried out the attack. However, the scale of the attack and its intended victims marks a further change from previous Sinai Province attacks targeting security forces.
The former al-Qaeda affiliate in Sinai, Ansar Beit al-Maqdis (Champions of Jerusalem) switched to ISIS in 2014, changing its name. ISIS was expanding its area of control in Iraq and Syria at that time.
35 policemen and soldiers were killed and 26 injured in an ambush south of Sheikh Zweid in April 2014. In January 2015 the 101 Battalion, the Armed Forces Hotel and the police lounge were attacked killing 30 and injuring 56. Sinai Province claimed responsibility for the attack.
An exception to this pattern was the explosion that brought down a Russian aircraft carrying 224 people, including 17 children, in October 2015 soon after it took off from Sharm el-Shaikh. The tourist industry suffered a huge blow as a result, losing 99 per cent of Russian tourists and many from elsewhere, with the loss of tens of thousands of jobs.
According to Ahmed Kamal al-Beheiri, a researcher at the Al-Ahram Centre for Political and Strategic Studies, there were 1,165 terrorist attacks in 2014-16 peaking in 2015, yet none of them were as bloody as the al-Rawdah mosque attack.
During 2016 there appeared to be a shift in ISIS tactics, with attacks on churches in Cairo and Alexandria and a coach carrying Christians to a monastery in Minya province. 106 died in three attacks, including many children and a group of workers travelling with the coach. These were more vulnerable to attack than army posts in Sinai. Earlier this year several Christians were abducted from their homes in Northern Sinai and killed, leading to many more fleeing to other parts of Egypt. About ten per cent of Egypt's population are Coptic Christians.
In the past two months Sinai Province fighters have set fire to more than 40 heavy construction vehicles contracted to work on projects overseen by the Armed Forces Engineering Authority south of Bir al-Abd. Shortly after, heavy trucks and front-end loaders contracted by the military cement factory were set on fire while passing through Mashaba.
Province of Sinai targeted the army-owned Arish Cement Company factory using a car bomb on October 9, killing one conscript. On November 9th nine civilians were killed in an attack on a convoy of cement lorries.
No previous attacks have been launched against mosques. The al-Rawdah mosque may have been targeted because it is used by Sufis, a branch of Sunni Islam regarded as illegitimate by ISIS. The reactionary group used horrific attacks on Shia civilian populations, including mosques, in Iraq and Syria to instil terror that then allowed them to control large areas for a while.
It is also possible the attack was linked to local Bedouin opposition to Sinai Province. Some Bedouin tribes have driven out Sinai Province from their areas.
Following the defeat of ISIS in Iraq and Syria, some fighters are reported to have moved to Sinai. Along with attacks in European cities, they are trying to reassure their backers that their fighting capacity continues, despite these defeats.
Following the al-Rawdah mosque attack President Sisi launched air raids in Sinai. As always, these were claimed to have successfully hit terrorist bases. However, air force bombs and rocket attacks will not end the desperate poverty and high unemployment that drives some towards Sinai Province's reactionary ideas. Prices have gone up more than 30 per cent this year.
Six days before the mosque attack the government had announced that children of soldiers and police killed in terrorist attacks would be given free school education. They had already been exempted from university fees, announced in July.
The demand for free education for the victims of this latest atrocity and all young people should be raised. Sick Egyptian capitalism cannot offer a future for young people with decent education, housing and jobs. This drives some towards the ideas of right wing political Islam.
The failure of the Muslim Brotherhood presidency of Mohammed Morsi from 2012-13 to change any of these conditions also contributed to the growth of ISIS. The military's bloody repression of Muslim Brotherhood protests at his ousting further contributed to this. Had there been a workers' party with a mass base and a programme of independent working class action for socialist change, the enormous protests that led to Morsi's downfall could have led to a democratic workers' government. That could have tackled the problems facing all workers and the poor, uniting Muslims and Christians as occurred during the 2011 uprising against former president Hosni Mubarak.
The Sisi regime is now more repressive than the Mubarak regime. Workers striking for pay they are owed are branded terrorists. In September eight members of independent trade unions were arrested and charged with inciting strikes and demonstrations, misuse of social media and affiliation to a group banned by law.
Independent trade unions are being made effectively illegal in a new law passing through the Egyptian parliament this month, leaving the state-controlled Egyptian Trade Union Federation as the only permitted unions. Despite these shackles, neither Sisi nor any other capitalist politician can solve the huge problems facing the working class and poor.
The potential power of Egypt's workers remains, shown again by the 15-day strike of 16,000 Mahalla textile workers in August. It is the only power that can unite the majority and defeat terror, whether from Sisi's regime, ISIS or al-Qaeda.