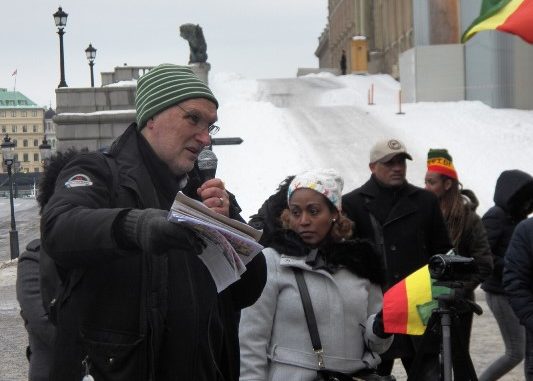 A three day strike took place over large parts of Ethiopia, earlier this week, against the attempted imposition of a state of emergency by the EPRDF regime. At a protest demonstration in Stockholm, organised by activists from the Ethiopian community, members of Rättvisepartiet Socialisterna (RS – the CWI in Sweden) distributed a leaflet with a statement on the strike. Per-Åke Westerlund, from RS, addressed the protest, bringing solidarity greetings.
The text of the RS leaflet is republished below.
socialistworld.net
The authoritarian Ethiopian People's Revolutionary Democratic Front (EPRDF) regime that has ruled Ethiopia for 25 years is challenged by a growing movement. An "illegal" three-day strike closed down the capital Addis Ababa and Oromia, Ethiopia's largest state, with 27 million inhabitants.
No to state of emergency
What triggered this latest and most serious mass rebellion was the decision by the regime on 16 February to introduce a new period of state of emergency. This was followed by the resignation of the Prime Minister, Hailemariam Desalegn.
The previous state of emergency, from October 2016 to August 2017, meant imprisonment of tens of thousands of activists. That was the regime's attempt to stop a wave of protests that started late in 2015 against land expropriation, as part of plans to expand Addis Ababa. These protests had a mass following in the two largest regions, Oromia and Amhara. Hundreds were killed by state forces.
The present strike is reported as total. "Shops were shut and roads deserted in parts of the capital Addis Ababa and in towns in the surrounding Oromia region", a news agency reported. Factories were closed, there was no public transport and trucks were parked along the main roads. Others published pictures of strike action from around Oromia, including the cities of Jimma, Hirna, Gimbi, Yabello and Burayyu.
This despite an order from the Command Post, who rules during the state of emergency, declaring the strike as illegal.
The call for a strike against the state of emergency was posted on Facebook by youth activists in Oromia, a group called Qeerroo. Out of fear of repression, however, the strike organisers called for everyone to stay home. This has become a common method for organising stoppages in other African countries, such as Congo and Cameroon. It has, of course limitations, since there can be no meetings or discussions on policy and programme and no fraternisation with soldiers and police.
It is the mass struggle that has shaken the regime; last week in the cities of Legetafo ("home to politicians and businessfolk", according to The Economist) and Nekemte, where one person was killed and seven injured by security forces.
Regime change – and real change
With few proper organisations, due to repression and economic hardship, social media and Ethiopians in exile have a big influence in the debate on the struggle.
Many opposition leaders have the position of "regime change", without explaining what else would change.
For the Ethiopian masses, there need to be democratic discussions and organising. Socialists need to raise demands of expropriation of land and production owned by multinationals and imperialism. The present regime and state apparatus need to be forced to bear responsibility for their actions. A conscious policy for uniting the many different ethnicities is very important.
The regime is in crisis
The regime is in crisis, with the four parties constituting the EPRDF no longer acting as one bloc under the leadership of the TPLF, the Tigrayan People's Liberation Front. The EPRDF has 100% of the MPs, but still 88 MPs voted against [the state of emergency] and less than the required two thirds voted in favour. Some MPs were visited by army generals and security officers before the vote, yet they did not vote in favour.
In particular, the Oromia component of the EPRDF, the normally tame OPDO, is under pressure from the mass struggle to show some opposition. Now, the four parties have just started discussions over who should be the new PM. An Oromo candidate is expected, in order to save the regime.
When Hailemariam Desalegn suddenly resigned, he said he wanted to reform. What kind of reform, however, he did not indicate. In early 2018, the regime promised to release several thousand of political prisoners. While some opposition party leaders have been released, there are still at least 6,000 political prisoners. The rulers fight to keep power, even with a few superficial changes.
So far, attempts from the regime to create more ethnic conflicts and splits have not taken off. Fake social media accounts, full of hatred, have been exposed. The Qeerroo youth in Oromia have close links with similar organisations such as Fano in Amhara and Zerma in Gurage.
Ethiopia is a key country globally. Its economic growth is among the highest, with the regime attempting to follow the 'Chinese model', attracting multinational companies, including Swedish companies such as H&M. The country is also part of Beijing's Belt and Road Project. Militarily, Ethiopia is close to US imperialism. US State Secretary Rex Tillerson is now on his way to Ethiopia.
Addis Ababa is also the capital for the African Union; hence, the frenetic diplomacy from imperialist powers during this crisis, in order to keep "stability".
(Per-Åke Westerlund, from Rattvisepartiet Socialisterna (CWI in Sweden), addresses Ethiopian protest, Stockholm)
A socialist programme for Ethiopia
Democracy:
No state of emergency – challenge with mass struggle
Free all political prisoners
Freedom to political parties and organisations, free and fair elections to a genuine democratic constituent assembly
Politicians and elected representatives without privileges, with the right to recall
For independent democratic fighting trade unions
For elected committees in all workplaces, villages, universities etc
For the right of organisation, including meetings and demonstrations
Stop all censorship in media and internet, democratic access to printing, television and computers
The movement and the struggle:
For a new democratic and socialist party and movement for all oppressed
Unity in struggle of all workers and poor from all ethnic groups, against the common enemy: the regime, capitalism and imperialism
No to all discrimination, equal treatment of all
Local and regional autonomy for all, defend national rights for all
The regime:
Down with the EPRDF regime – prosecute government criminals, confiscate their property and wealth
Arms and military:
Purge the military forces of all dictatorship supporters
All arms and troops under democratic control of committees of workers and farmers
Land:
Stop all land grabbing – confiscate all land given to multinationals
Land reforms, to ensure farmers have land
Full compensation if land is used for roads etc., – local power over decisions
State support to voluntary collective farms
Imperialism:
Confiscate all imperialist property under democratic control
Appeal to workers globally for support against imperialism and capitalism
The economy and welfare:
A plan for food to everyone
Fair distribution of the country's resources
For a democratic plan for the country: education, health care, infrastructure (water, electricity, roads)
Equal job opportunity, free education and health service for all, including disabled.
For a democratic plan of production and distribution of resources
For a democratic and socialist government