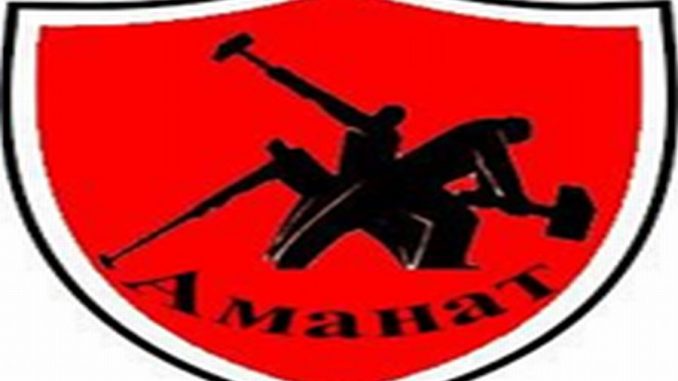 The new trade union, Amanat, has started active work in defence of workers' rights in Kazakhstan. Up to today, a number of trade union organisations have taken the decision to leave the ranks of the state trade unions and join the independent trade union, Amanat. As expected, however, we have come up against obstruction from the administrative state apparatus.
Now, there is both open and hidden pressure being put on members of the unions which have taken this step. Unprecedented interference in the activities and freedom of choice in relation to trade unions is going on.On March 15 this year a national congress of the 'Kazakhstan Health Workers' Union' made a decision to join the 'Society of Trade Unions of Kazakhstan – Amanat', fully in accordance with the laws of the Republic of Kazakhstan. The 300,000 health-workers represented were tired of the inaction of the state-run Federation of Trade Unions of the Republic of Kazakhstan. Their new union submitted documents to join Amanat. Now the trade union for health-workers is being subjected to organised harassment. Everywhere at local level, state organisations are calling doctors and, under threat of dismissal, forcing them to write refusals to join our union.
State bodies do not want to see a well-organised trade union movement which meets the interests of manual workers and white collar workers develop. They are trying various methods to prevent its development.In relation to this, we are making an appeal for support and will be very grateful for expressions of solidarity with our struggle. We welcome any measures you can take. It could be a letter to your Kazakhstan Embassy, a letter to the government of Kazakhstan, a letter to the President of Kazakhstan. A simple letter of solidarity and any possible form of protest can help. It could be a photo of supporters demanding trade union freedom that can be publicised.
Please send messages of support to the health-workers' union at: prof@zdravunion.kz and ars.astana@mail.ru; copies to amanat.prof.kz@gmail.com and to me: anprigor@gmail.com
With fraternal greetings,
Andrei Prigor,
President of the trade union Amanat, Kazakhstan.
You can find the address for your embassy at: https://www.embassypages.com/kazakhstan
Draft protest Letter
To the Kazakhstan authorities:
We strongly protest against the harassment by government authorities of workers in Kazakhstan who wish to exercise their right to belong to any trade union they choose. We understand that health-workers who decided democratically to join the independent union 'Amanat' at an all-Kazakhstan meeting on March 15 are now being made to feel their jobs are at risk. If workers are dissatisfied with the state-backed trade unions and feel that they need strong representation in the workplace, they should be free to choose how and with what organisations to organise.
Stop harassment of health-workers in Kazakhstan!
Hands off the trade union federation 'Amanat'!
Freedom of organisation in the workplace!
For full democratic rights in Kazakhstan – freedom of speech and freedom of organisation!