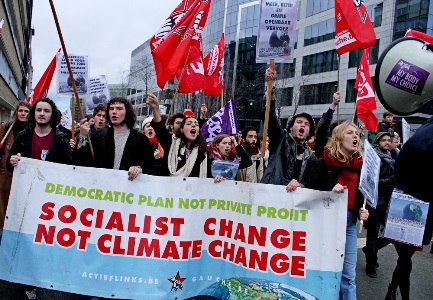 Belgium
School student strikes hit a record high in Belgium, as around 35,000 marched through Brussels on Thursday, tripling the numbers taking part in a protest the week before. On 2 27 Sunday, more than 70,000 marched through pouring rain and heavy winds. Youth marched side by side with families and other activists.
The governing parties try, on the one hand, to minimize the actions of the youth, while on the, other hand, try to claim it. The Flemish minister of the environment said she "feels encouraged to continue her policies" and added later that things are progressing positively because "there are now affordable electric cars on the market, they cost only €37.000"… One of the 18 year old initiators of the school student strikes wondered if the minister even had the slightest idea of what normal people earn monthly.
In our literature for the protests we respond to the anti-capitalist sentiment present amongst youth by explaining we need a planned economy, meeting the needs of the working class and the planet. The movement is still at its beginnings. With a conscious coördination of building the mobilisations, from the bottom up, and arming them with collective demands that can involve the working class organisations, they can grow even larger and more powerful.
Michael Bouchez
Germany
Last Friday, 25th January, the Coal Commission in Germany presented its results. The commission composed of the federal government, local governments, energy companies, trade unions and environmental organisations, was set to discuss the end of coal energy in Germany in order to meet the climate protection targets. But their proposal is to wait up to 20 years to shut down the last polluting plants while giving billions of euros to big business.
The commission was meeting mass resistance all way through its existence. Over the last weeks, local school student protests, "Fridays for future", demanded an end to coal energy, as soon as possible. On Friday, school students were making their way in coaches through the whole country to protest the commission. Around 10,000 walked out of their schools onto the streets. Like the Swedish school student, Greta Thunberg, who has gained global atention for condemning climate change, they describe the coal commission results as unacceptable. But the big NGO's, like Greenpeace, and the Green Party, all agreed to the Coal Commission results!
In contrast, SAV (CWI in Germany) is part of the environmental movement and the school student protest. We call for an immediate end of using brown coal, for conversion to renewable energy, with a guarantee for every job at risk in the mines, and retraining at the expense of the energy companies. We demand the nationalisation of the energy companies, under democratic control and management, as a step to democratically plan of energy consumption and economic production.
Michael Koschitzki