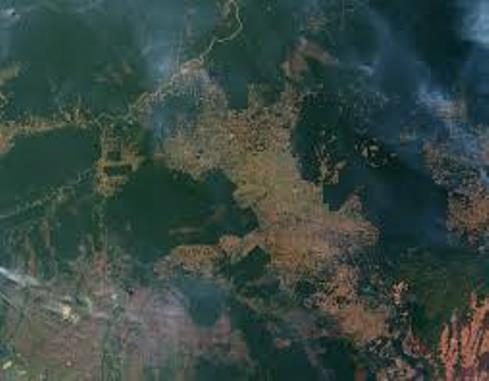 The Amazon rain forest in Brazil is battling massive fires. They are so extensive they can be seen from space.
The Amazon has been called the 'beating heart of the earth' and the 'lungs of the earth'. It emits more than 20% of the world's oxygen.
Worldwide, trees absorb 2.4 billion tonnes of carbon dioxide, each year. The massive Amazon absorbs a quarter of that total.
According to the Brazilian government's own satellite data, the number of fires, so far, this year, topped 74,000, up 84% from the same period last year, and the highest since 2013.
In July, 2,253 sq. km of rain forest were destroyed. This is a massive increase from 597 sq. km in July 2018.
The fires have been burning for around a month – the dry season means they have spread much faster than normal – made worse by the policies of Brazil's far-right President Jair Bolsonaro. He has promised to exploit the Amazon.
During the presidential election, Bolsonaro he said: "Not one centimetre will be demarcated for indigenous reserves."
Big business feels comfortable destroying the rainforest, because there are few sanctions in place to protect it.
Bolsonaro has cut $23 million from Brazil's environment enforcement agency. Yadvinder Malhi, an ecosystem professor at Oxford University, says it's been gutted by 95%. This year, fines for environmental violations have dropped by a third compared to the same period in 2018.
An area of the rain forest, the size of a football pitch, is lost every minute through the destruction. Brazil's ironically-named environment minister, Richard Salles, was a pro-big business lawyer before he joined the Brazilian government.
Described by the Guardian as a "gofer for agribusiness", Salles has insisted the only way to solve the problem of deforestation is for the private sector to bring in 'development'.
Bolsonaro has his own ideas on how to help the environment. In one interview he told a reporter to 'poo' every other day!
This president cares more about publicising himself than he does about the environmental health of the world. And now, he is threatening to impose austerity measures on the Brazilian people to pay for putting out the fires.
It will take decades to regenerate these forests, but only if action is taken now. The importance of these forests cannot be emphasized enough.
Some areas being destroyed by this fire are indigenous habitats. Sixty eight fires have been registered in indigenous territories and conservation areas.
An indigenous rights campaigner said: "It's hard to overstate the importance of these forests for indigenous peoples. They depend on them for food, medicines, clothing and a sense of identity and belonging."
Hundreds of indigenous women occupied Brazil's health ministry, on 12 August, against cuts to specialised healthcare for their communities.
Bolsonaro has ordered the armed forces to help fight the fires, using helicopters and planes to drop water. Bolsonaro's retreat, at least in words, is partly due to domestic pressure, not least the public outcry over the adverse effect of smoke on people's health in Brazil's cities.
Some capitalist governments have attempted to exert pressure on Brazil. Pro-rich French President, Emmanuel Macron, declared that because Bolsonaro lied at the G20 Osaka summit, his failure to promise to maintain biodiversity and now the forest fires, France would not ratify the large Mercosur trade deal with South American nations.
In contrast, British Prime Minister, Boris Johnson, and Germany's Angela Merkel have said Bolsonaro's domestic policies should not affect trade relations.
But Macron is no 'man of the people' for opposing a deal that will allow more Brazilian beef imported into the EU – land clearance for cattle ranching is one of the main causes of illegal fires in the Amazon. His opposition to Mercosur pre-dates the recent Amazon fires and is based on its negative impact on French agricultural interests.
EU hypocrisy
The EU and other capitalist powers criticising Brazil on the environment have terrible track records on this issue.
For example, the EU allows the dumping of untreated human sewage into our rivers. While the EU's Water Framework Directive sets a target for all rivers to be "good" by 2027, exceptions are allowed if the cost of doing so is considered to be 'too high'!
When the governments of Germany and Norway suspended donations to the Brazilian government's fund to protect the Amazon, Bolsonaro was able to point to deforestation in Germany and whaling in Norway.
Bolsonaro used a televised address to declare that forest fires "exist in the whole world" and "cannot serve as a pretext for possible international sanctions". Bolsonaro cares so much about this issue he has enjoyed routines by right-wing stand-up comedians while the Amazon fires rage.
Globally, the extent of the fires has only recently become clear. They were not even reported widely in Brazil. The coverage only came to light because of the #PrayforAmazonas and #PrayforAmazonia hashtags.
Yet, again, disaster capitalism brings out the profit vultures. Tech giant, Amazon, cut the price of their Amazon Fire tablet during the crisis. They were criticised for exploiting google searches of 'Amazon fire' as people try to discover what is happening in Brazil.
Bolsonaro and the capitalist class are only interested in furthering their own national interests and personal profits. They see climate change as an issue that gets in the way, something to be played down and ignored, or profited from.
Trade unions and other social movements must mobilise against Bolsonaro's policies. We need to build a united front of all working-class organisations to resist Bolsonaro's neoliberal agenda.
Worldwide, since 1988, just 100 companies have been responsible for over 70% of the world's greenhouse gas emissions. The energy and corporate giants that pollute and destroy must be nationalised, run by the working class, in the interests of workers and the environment, not for big shareholders or to maximise profit.
Protecting the environment requires international cooperation. This can only be possible on a socialist basis, eliminating the profit motive and introducing democratic working-class control and management of the economy. A socialist world will ensure that the environment is protected for generations to come, not exploited for the short-term gain of the rich.