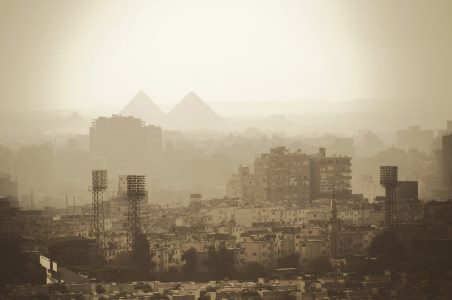 Those attending the COP27 United Nations climate change conference at the Red Sea resort of Sharm el-Sheikh won't see the environment most Egyptians live in. Blue sea and sky, coral reefs, air-conditioned hotels and conference centres contrast starkly with Cairo's choking smog. It's one of the world's most polluted cities.
Climate change threatens working-class and poor Egyptians with more hardship on top of the struggles they already endure. But they won't be allowed to demand action from world leaders at the conference. President Abdel Fattah el-Sisi's repressive regime will not permit demonstrations and protests that usually take place outside COP conferences, fearing these could lead to wider protests on the cost of living.
Food prices threaten uprising
Instead, Sisi will use the platform as a conference host to hypocritically claim his regime is in line with wealthier capitalist economies on climate policy. He hopes their governments will loan Egypt money, desperately needed to stave off a food crisis.
Egypt is running out of foreign currency to pay for imports. Reserves fell by $22 billion in the first half of this year, sparked by the war in Ukraine, and fell another 5% in August. Around 800,000 tons of wheat were trapped in ports in September, without the foreign currency needed to release them. Warehouses were completely jammed. Wheat prices rose and 80% of private-sector mills ground to a halt. "Today we have wheat that's locked up at the ports. Tomorrow we may not have any at all", said Walid Diab, former head of the mills' division at Federation of Egyptian Industries.
Bread is Egyptians' staple diet, and its price is rising as world prices increase, linked to the Russia-Ukraine war, foreign currency shortage, and the falling value of the Egyptian pound. Inflation is at its highest rate for four years. The government subsidises bread and some other food staples for poorer people. It would make life intolerable for millions if these were removed.
The International Monetary Fund (IMF), from which the Egyptian government wants a new loan (the fourth in six years), is pressing al-Sisi to cut these subsidies. Nevertheless, the IMF and al-Sisi are acutely aware the spark that set off the mass uprising in Sri Lanka in April was food and fuel shortages, due to a lack of foreign currency to pay for them. And Egypt has a history of mass uprisings linked to the rising cost of bread.
The regime's vanity projects threaten the environment
Al-Sisi may tell COP27 delegates that his government promotes green policies and is moving towards carbon-neutral targets. He may call the mega-construction of New Alamein on the Mediterranean coast, a 'green city.' But there have been no studies on its environmental impact. The coastline has been altered through land reclamation from the sea and the digging of artificial lakes, both posing huge threats to the local ecosystem.
Just a few miles away, the new Marassi resort and marina near Alexandria are being built with Emirati money to accommodate the super-yachts of the world's super-rich. Already construction has altered tidal flow, leading to beaches across the bay losing their sand and valuable ecosystems. Huge amounts of cement have polluted neighbouring beaches.
Environmental campaigners have come under similar pressure to human rights campaigners. Groups and researchers receiving foreign funds have been prosecuted and some are charged under anti-terrorism laws which carry high sentences, including the death penalty.
Campaigns and research are allowed on 'safe' subjects like recycling, renewable energy and food safety. But no criticism is tolerated of government failures to stop damage caused by big business interests. These include falling water resources, industrial pollution, and environmental harm caused by government large-scale infrastructure projects. The $59 billion new administrative capital being built in the desert is deliberately well away from the working-class and poor masses in Cairo. Any projects associated with the military and the president's office are also off-limits. The massive financial and environmental cost of these projects will be paid by the working and middle classes and the poor.
Cairo is one of the cities in the world with the least green space per head of population. An estimated 66% of its people live in districts with less than half a square metre of green space per head. Working-class areas were hardest hit when new eight-lane motorways were built towards the new capital, bulldozing trees, gardens and parks.
Thousands have been forcibly evicted from their homes in Cairo, the Mediterranean coast, North Sinai and elsewhere as big property companies take over their districts for redevelopment. As well as environmental campaigners, residents and small businesses in the path of big business developments are harassed and attacked by security forces if they resist. An estimated 60,000 political prisoners suffer in Egypt's grim prisons. Nevertheless, there have been a number of protests in recent years where crowds have tried to stop bulldozers, stood up to the police and chanted against al-Sisi and his regime, despite the threat of imprisonment and torture.
Failure to develop renewables
Egypt is well-placed for solar energy but remains reliant on fossil fuels for generating electricity. In 2016, a target was set of 20% electricity production from renewable sources by 2020. But in the twelve months to March 2021, renewable electricity production accounted for just 12%, with solar power contributing under 3%. Electricity consumption has risen almost threefold in the past 20 years. Yet for most of that period until 2017, its solar-power capacity hardly went up. Natural gas use tripled, but the government now wants to export this at high prices.
Renewable energy, protection and expansion of green space, and of the environment as a whole, cannot be left to al-Sisi or any other capitalist regime in Egypt. The interests of profit will always come first, whether this is banked by the owners of industry, land, finance or senior armed forces officers.
A socialist Egypt would make the most of its resources through democratic public ownership of the biggest companies and land estates. Local communities and workers could then control and plan their environment, with a national plan of sustainable production to meet the need for decent housing, health and education. Massive investment in clean public transport, parks and pollution controls of industry would cut greenhouse gas emissions.
Working-class and young people in North Africa and the Middle East facing similar problems would be inspired to take similar action. But to achieve this needs independent workers' organisations – trade unions and workers' parties – with socialists arguing for a programme and strategy needed to end capitalism's rule. Working towards this in illegal and dangerous conditions is very difficult, but the uprisings of 2011, and this year in Sri Lanka and Iran, show that powerful governments can be challenged and may be brought down by mass movements. But unless a socialist alternative is built, a new capitalist regime will then take power.