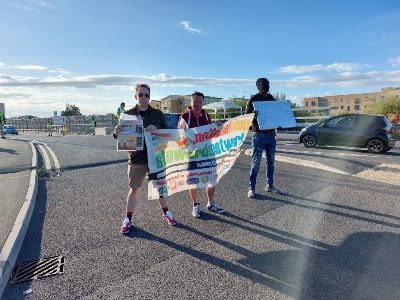 The Socialist (newspaper of the CWI in England & Wales) spoke to Amazon workers who have taken action recently in a struggle for better pay.
socialistworld.net
Tilbury
Socialist Party members stood with 'John Doe' (not his real name) outside the Amazon 'fulfilment centre' in Tilbury, Essex, the day after the dramatic work stoppage of Wednesday night and Thursday daytime, 3-4 August.
Video footage from inside the Amazon facility showed hundreds of workers spontaneously refusing to work, as a response to the company's 35p-per-hour pay insult.
HR addressed workers assembled in the staff canteen, arguing that they had "made their point" and calling for the election of "representatives" who could join in a "round table" so that normal working could be resumed.
According to John, the company promised to come back to answer concerns in a week's time.
Of course, the major concern is very simple: the GMB-organised staff has demanded £2 an hour, and there is very strong support for this demand from the workforce. We have reports from inside the Tilbury centre that there's a spontaneous go-slow today, and there are reports of a stoppage at the Rugely centre.
The action shows the need and the potential for workers to organise in a union. Both GMB and Unite have had organising campaigns.
Dave Murray, Eastern region Socialist Party
Rugeley
The morning after Amazon's Rugeley fulfilment centre was hit by the national wave of walkouts, Socialist Party members were at the gate speaking to workers. They told us about how, hours after the measly pay increase was announced by management, news broke that inflation could hit as much as 13%.
This is at the same time that Amazon's notorious performance targets are being ramped up to the extent that even longstanding employees are being placed under warning for taking the same number of breaks they have for years!
With a basic rate of barely £10 an hour, workers on the packing section decided they've had enough and walked off the job to join a canteen meeting. Management has said it'll respond to the workers' demands within seven days – many on the shop floor don't expect this to be the end of the fight for decent pay and conditions.
Nick Hart, Birmingham Socialist Party
Bromley-by-Bow
Members of the East London Socialist Party dropped by the Amazon warehouse in Bromley-By-Bow on Friday morning to talk to workers about the wildcat strikes spreading through other warehouses.
Virtually all the workers we spoke to – couriers arriving by car, warehouse staff passing via the foot gate, the yard marshals in charge of directing couriers, even the sub-contracted warehouse security guards – had heard of the Amazon strike in Tilbury. According to one warehouse worker, news of the strikes had mainly spread by word of mouth on the shop floor, though others we met said they had seen coverage on BBC news.
There was one student arriving for her 9 am shift who said she hadn't heard of the strike in Tilbury, but when we explained that the workers there had been offered a 35p-an-hour pay offer having demanded £2 from Amazon, she said: "I don't blame them". She told us she had taken up a fixed-term contract with Amazon to make ends meet while studying at college. We also spoke to a newly qualified teacher in the NEU who was likewise working at Amazon during the summer holidays to make ends meet.
A manager came out and told us he would "have a stern word" with the warehouse workers and inform them that they didn't have to speak to us if they don't want to.  It seems he misjudged the mood of the workforce, however, as a number of workers leaving their shift stopped to chat, with many telling us they want to strike too. One of them, another young worker, announced to us that he wants to help lead a strike in the warehouse. A yard marshal bought a copy of our paper, the Socialist, and said she would show it to her workmates. She told us that she and other yard marshals had had their hourly pay cut by £3 back in October. The manager we spoke to alleged that workers were "ecstatic" to have received a pay rise since then. But after speaking to the yard marshal, we later found out that, like in Tilbury, workers in Bromley-by-Bow warehouse have been offered a pay rise of just 35p!
The positive reception we received from workers frightened management. The same manager came out a second time and, in an alarmed tone, ask if "any more of us are coming" and if we were "planning a protest". Shortly after, site security overseeing the entire industrial estate was sent over. As we talked, we asked the security guards how they were managing the cost-of-living crisis. One replied: "Struggling, like everyone else". We raised the idea of him joining his union and fighting for a pay rise by striking alongside other workers, like those striking in Amazon. We made the same point to the manager, who himself admitted that the likes of Jeff Bezos have made tens of billions in profit during the Covid pandemic. The Socialist Party says: Take this wealth off the super-rich to give all workers an inflation-busting pay rise and a minimum wage of £15-an-hour!
Adam Powell Davies
Brimsdown, north London
The Socialist Party visited Amazon in Brimsdown, Enfield, three times in two days on 4-5 August. On our first visit, nobody had heard about the Amazon strike for a real pay rise yet, but they were supportive when we told them. On our latest visit, everyone had heard about it. And they were pleased it was happening. We also had a brand new leaflet reporting on Amazon strikes around the country.
Ian Pattison, Enfield and Lea Valley Socialist Party
Socialist Party members also spoke to Amazon workers in Newham and Bristol.