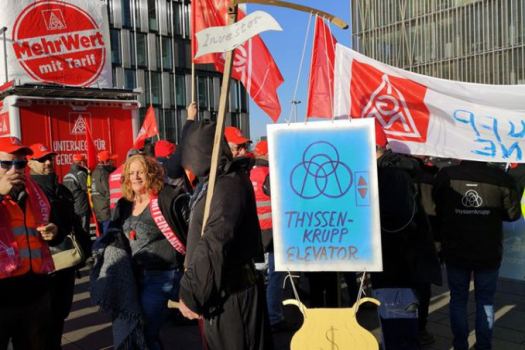 Hardly a day goes by in Germany without a new announcement of job cuts, dismissals in car plants and components industry and in companies such as Thyssen-Krupp or Siemens. The planned loss of hundreds of thousands of jobs is generating growing fear for the future amongst many workers.
The IG Metall engineering union reports that in the state of Baden Wuerttemberg, alone, 160 companies are planning to "implement rationalisation programmes, from job cuts to plant closures". Nationally, an IG Metall-chaired working group is forecasting 410,000 jobs to disappear in the auto industry by 2030, as production shifts to electric vehicles. While 2019 saw a sharp fall in manufacturing industry orders, down 6.5%, compared with the end of 2018, the recession has not yet hit the whole of the economy. A result is that in many sectors there are still great staff shortages, particularly among higher skilled and professional workers.
Frequently, job cuts are justified using buzzwords, such as, 'Transformation', 'Digitalisation' and 'Change', rather than terms which aim to mask the scale of the rationalisation programmes.
The bosses want to compensate for increasing competition, declining sales and profits by imposing wage cuts, job losses and redundancies. Simultaneously there is a growing low wage sector. Casualisation and flexible working, in particular, are being driven forward. One result is that the number of workers forced to have two jobs keeps rising – currently, it is over 3.5 million.
Partnership with government and bosses
The leaders of the trade unions making up the DGB (Deutscher Gewerkschaftsbund – German trade union federation) react to all this, as always, by proposing 'social partnership'. Using the title, 'Committee for the World of Work', the Minister for Work, Heil, established a 'panel of experts' led by the Siemens Personnel Manager Janine Kugel, and the former ver-di trade union national chair, Frank Bsirske.
These round tables bringing together representatives of big business, politics and trade unions are particularly favoured in times of crisis.
The employers' federation BDI and the DGB have also released a joint statement. The multi-billion investment programme demanded in this statement is not however aimed at solving the massive understaffing crisis in hospitals, schools and nurseries. Instead, it is aimed at safeguarding the profits of the corporations, for example, through subsidies to companies for the sale of electric cars, and the establishment of a million charge points, which, however, will not help reduce CO2 emissions.
The agreements negotiated with the then Merkel-SPD government during the last crisis in 2008/2009, for short term working and sales subsidies, were declared a success by the trade union leaders. However, it is totally unclear if, and for how long mass redundancies can, as previously done, be avoided with such agreements.
Unlike employers, workers have benefited very little from the economic growth of the last ten years. In 2018, alone, companies quoted in the DAX Stock Exchange have made profits totalling 95 billion euros. The wealth of the BMW heirs, Stefan Quandt and Susanne Klatten, increased by 6.8 million euros, a day, to a total of 34 billion euros just through dividends from BMW shares. This sum available to them personally equals about one-tenth of total government expenditure in 2019!
The threat of production relocation
The interests of the capitalists are diametrically opposed to those of employees. Despite this, the trade union leaders continue to promote the idea that workers and bosses have a common interest (the so-called, "Standortpolitik") in keeping jobs and production in Germany. As a result of this, instead of fighting to maintain jobs, wages and conditions, they are willing to make concessions as soon as companies threaten to relocate production abroad. Looking ahead to the coming national round of wage negotiations in the metal and electronics industry, the trade union leaders are, despite a few combative-sounding speeches, already far too defensive and willing to compromise, talking of achieving "at least an inflation increase in wages". They act as though the record profits of the last years have not happened.
ver.di
Despite some strong statements, even the newly elected national chairman of the ver.di trade union, Frank Werneke, is in favour of a 'social partnership' approach. He has begun talks with the Interior Minister Horst Seehofer (CSU – Christian Social Union) aimed at a 'national digitalisation agreement'. It is, of course, correct that any changes should be negotiated and agreed at a national level to avoid individual workplaces being left isolated. However, talks held behind closed doors and without the democratic participation of the affected employees are virtually pre-programmed to result in further concessions, such as on flexible working. The urgent need for wages to catch up in the public sector has resulted in large scale warning strikes and mobilisations. In addition, there were many disputes in sectors that are not usually regarded as the 'heavy battalions' of the working class, such as social services and education, hospitals, retail, Amazon, the security industry and many more. These disputes have revealed many good and combative methods, but the leadership of ver.di has far from exhausted all the potential to mobilise this.
Although the timing is unclear, workers will be faced with a new economic crisis which is likely to be more severe than in 2008/2009. There is, therefore, an urgent need for trade union leaders who will fight and mobilise workers in defence of jobs, wages and benefits.
This year's national negotiation rounds for over ten million employees in the Metal and Electronics industry, the civil service, transport, telecom and others can be used to mobilise employees, in order to firstly to raise the confidence of workers in their own strength and to send a clear signal to the bosses and government.
Popularising the demand for a reduction of working hours
The massive wealth built up in the last years has come at the expense of a great deterioration of working conditions. This has gone so far that many cannot imagine they will reach retirement age in good health. Opinion polls show that many workers want a reduction in working hours. A fatal error of the trade union leaders is to automatically associate a reduction in working hours with a cut in wages. What is needed instead is to take up the demand for a reduction in working hours without loss of pay, as was done in the 1984 campaign for a shorter working week. This must be linked to the demand for the creation of additional jobs (job equalisation) so that workers will not be forced to do the same amount of work in fewer hours.
Last year's ver.di congress rejected the original recommendation of the union's national negotiation committee and instead voted to make the demand for a 30-hour working week, with no loss of pay, and full job equalisation the centre point of national negotiations. Now it must be ensured this does not just remain a congress decision but is actually put on the agenda of national negotiations, linked to an information campaign as preparation for a fighting mobilisation.
Struggling together
The forthcoming round of national negotiations must be used to demonstrate strong unity and to build solidarity within each sector and across industries and trade unions.
The IG Metall union could set a strong marker with action as early as spring. There must be 24-hour warning strikes, as in 2018, but it must not be left there. United demands, such as the introduction of a 30 hour week, with no loss of pay and job equalisation, and a clear no to dismissals and job cuts, could motivate hundreds of thousands of employees to take action, including all-out industrial action. If, as is to be expected, the employers react with punitive measures, the trade unions must immediately organise solidarity industrial action, for example, in the public sector.
The ver.di union could also put forward similar clear demands to the employers at their national negotiations (such as a 35 hour week, as a first step to a 30 hour week). Even if the leadership of IG Metall does not seize this opportunity, ver.di could put forward this demand in the transport and local government sectors in the summer.  This could create a large national collective bargaining movement, with joint rallies and demonstrations of workers from different sectors.
Such a movement would transform the country. Trade union membership could be increased daily. It would open up many more opportunities to establish union structures in badly organised sectors. The strength and power of trade unions would be more visible than for decades and could motivate particularly younger workers to join up.
Public ownership
A struggle must be organised in those workplaces threatened with job cuts, instead of accepting lesser terms and conditions, allegedly to safeguard jobs. Nor are short-time working measures a long term solution for the workers affected. And when plant closures are threatened, the search for new investors merely means that another capitalist will apply new blackmailing methods, necessitating new defensive struggles. What should instead be proposed is the demand for the nationalisation of the company, under democratic control and management by the working population. This could stop redundancies, improve terms and conditions and safeguard wages. At the same time, it would be possible, where necessary, to organise a planned transition towards more environmentally friendly production.
We need a political alternative
Instead of calling for the continuation of the current grand coalition of Social Democrats and Christian Democrats, as DGB Chairman Reiner Hoffmann recently did, the trade unions should withdraw their support for any parties pursuing austerity and the interests of the bosses. A fighting trade union strategy, which offers a viable alternative for the mass of workers, could also make it difficult for the right-wing populist 'rat catchers' of the far-right AfD (Alternative for Germany) to establish a foothold in the workplaces. At the same time, it is necessary to campaign for DIE LINKE (the Left party) to adopt a socialist programme in the interests of the working class.
Uniting with community movements and DIE LINKE, the trade unions could mobilise for the implementation of an affordable housing programme, in line with society's needs, a legally enforced adequate staffing level in hospitals, and in health and social services, a decent state pension from age 60, a minimum wage of 13 euros an hour, free public transport, and a massive expansion of the railway network. To achieve this requires real mobilisations on the streets and in the workplaces, including work stoppages escalating to political strikes.
Such a course change by the trade unions will not come by itself and may seem far off, but it is necessary. Active trade unionists and workplace bodies must create networks and get organised to campaign for a political alternative, and a leadership that will fight for it, in whichever trade union they are in.
Angelika Teweleit is a member of the Sozialistische Organisation Solidarität National Committee. She is also a spokesperson for the Vernetzung Kämpferischer Gewerkschaften (VKG, the network for combative trade unions). The VKG is holding a national conference on January 25 and 26 in Frankfurt/Main.