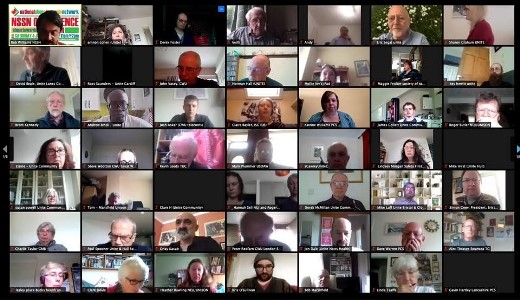 A fantastic virtual meeting of up to 300 trade union reps, workers, campaigners, socialists, and international visitors took place on the 4 July as the National Shop Stewards Network (NSSN) held its 2020 summer conference.
The NSSN conference is the biggest annual event that brings together fighting rank-and-file union members with campaigners, this year including the parents who have organised with education workers against the Tories' reckless reopening of schools, and the anti-racist protesters who have exploded into action after the killing of George Floyd in the USA.
Rob Williams, national chair of the NSSN, appropriately summarised the current struggles as "a fight for our lives and livelihoods''. If you want these words backed up with examples, look no further than how the biggest Covid-19 spikes are in factories, not parliament. A localised lockdown has been introduced in Leicester, fuelled by the Tories mad rush to reopen schools in an attempt to kick-start the economy. This is despite mass opposition from teachers and parents due to fears about their community's safety.
However, it was made very clear at the conference that it's not just verbal opposition but an organised fightback that workers are prepared for. Rob said: "Whether physically or virtually, the NSSN will remain the hot breath on the backs of the necks of the trade union leaders at this time, saying what needs to be said, and doing what needs to be done."
Speakers listed both the industrial actions and social movements unfolding across the country, which the NSSN has given solidarity to PCS members in the nation's Jobcentres, Communication Workers' Union (CWU) members in our mail depots, Unison members on the front lines of our healthcare services, RMT members in our transport systems, Unite members in the aviation sector, and much more.
Fightbacks
Industrial fightbacks are taking place at the same time as the amazing social fightbacks in the Black Lives Matter protests – protests fighting for racial justice, especially against systemic racism, but also linked to systemic injustices such as unaffordable and overcrowded housing, gentrification, Grenfell, low-paid work, PPE shortages, and how Black, Asian and Minority Ethnic (BAME) communities are four times more likely to die from Covid-19 due to all these reasons.
Linda Taaffe, national secretary of NSSN, made the important and relevant point of how it wasn't until 2015 that the British state had paid off reparations to slave owners! But in this lunacy, she points out, why not use the same tactic of borrowing money and spread the debt over 200 years?
But instead of putting the money into the back pockets of big business, put it into the back pockets of ordinary working-class people and their families! Making sure workers don't pay a single penny for a crisis they didn't cause. We all know how fast the Tories found the 'magic money tree' when their system was put at risk.
Howard Beckett, assistant general secretary of general union Unite, stated categorically how this Tory government was not just slow in its initial response to Covid-19 but "basically asleep at the wheel! It has failed in its duty to protect ordinary workers as it puts the profits of big business as its first priority." Howard also shone a light on the failure of the Labour Party and its response, now under the Blairite leadership of Keir Starmer.
The same Keir 'invisible man' Starmer, who instead of being the voice of millions of working-class people angry and prepared to fight the government, has been completely absent. Coming out with pitifully inadequate statements such as how he won't be "opposition for opposition sake", and how Labour must work with the Tories for 'national unity'.
As Rob pointed out, "does Starmer not realise the Tories only have national unity with their own class?" The man, who CWU member Clive Walder pointed out, was less brave than 67 Tory MPs who called for Dominic Cummings to be sacked, while his silence was deafening.
The government has been all too happy to throw the rest of us under the bus, or more grimly to let bus drivers die in droves due to lack of health and safety protection. Unite bus safety rep Moe, and Unison national executive committee member Hugo Pierre, (in a personal capacity) spoke about the situation in London.
It was Moe and his fellow workers who took their own initiative to seal up the cabs and close the front doors of buses, to protect bus workers' safety, before Transport for London was forced to make it mandatory policy (Labour mayor Sadiq Khan being also absent in support).
Strike
The first post-lockdown strike to take place has been in Tower Hamlets, east London, with a Labour council trying to sack over 4,000 workers and reengage them on worse terms. The conference sent a message of solidarity to the strikers, and it was reported that bin workers, members of Unite, had refused to cross the picket line in solidarity.
Suzanne Muna, Unite housing workers' branch in London said: "In our branch there is a new level of confidence and energy. We've recruited an enormous number of new trade union reps over issues of health and safety. One of our new reps has led a successful campaign to win better toilet facilities."
And Onay Kasab, a Unite officer in local government in London, speaking in a personal capacity, said: "Boris Johnson has said there will no return to austerity. But tell that to local government workers. We will fight the cuts that are coming."
The way forward for that fight was detailed by Hugo Pierre: "The blue-print of how to fight that struggle is the Liverpool council in the 1980s." The 1983-87 socialist-led Labour council won back tens of millions of pounds for the city by building a fighting working-class movement in the city and setting a no-cuts budget. The millions were invested into building new council housing, parks, nurseries, and to create jobs.
Jared Wood, Socialist Party member and RMT national executive committee spoke in a personal capacity about the battles to defend workers terms and conditions, and safety, on London Underground, and across the transport sector. He said: "There should be no trade-off between workplace safety and opening up the economy – a big issue for our workforce on tubes and tube stations. Instead of providing PPE, we're told 'just get on with it' – the same mentality that led to this crisis in the first place."
He also voiced anger at the profiteers WabTec for cutting jobs in Heathrow Express, and the 'vulture' consultants KPMG, proposing more austerity cuts for Transport for London.
Jared's solution was quite clear, and backed up by CWU member Steve Wootton, whose union is facing similar issues of privatisation in Royal Mail and telecommunication. Open up the books! Let workers follow the money and decide for themselves where resources should go, and fight to renationalise these vital services!
Other companies threatening thousands of job losses, particularly in the airline industry, should also be nationalised to save jobs. Sharon Graham, Unite executive officer, said about proposed job losses at British Airways (BA): "BA thought on the 15 June that they could sack 42,000 workers and reemploy 30,000 on crap terms and conditions because they thought they could get away with it.
"They thought we couldn't take industrial action because people were in lockdown, and they thought they would do it under the cover of Covid-19. Other companies are looking at BA to see what happens. We are in a huge moment for the movement. We have to start putting stakes in the ground to say you are not getting away with this."
Howard Beckett, echoed by other speakers, went on to say if the Tories want to use false World War Two themes and myths to act as cover for their failures, then let's use real facts from World War Two. Despite being a war-ravaged country, with tanking GDP, Britain, through collective action and sacrifice by workers was able to build homes, the welfare state, the NHS, and much more.
We need to once again say – we are not going back. This pandemic is a war, a war between ordinary workers saving the nation and bosses who are benefiting from it. More workers have died from Covid-19 than during the Blitz.
A poignant example of this was illustrated by Beckett when he told the story of a Unite retail member working in Sainsbury's, who was told by management that she is "feeding the nation" – she responded by asking for a pay rise so she can feed her family.
Amy Murphy, Socialist Party member and president of the retail workers' union Usdaw, spoke in a personal capacity fresh from her shift in Tesco. She reiterated the need for shop workers to receive a pay rise, spoke about their fight for safety, and how supermarket workers are prepared to fight against any attempt by the government to try to rejig Sunday trading laws.
She said: "Throughout the pandemic shop workers have been hailed by Boris and the government as heroes, keeping the nation fed, and now this is a real slap in the face to our members that we're being treated like this."
Shop worker and Usdaw rep Ryan Aldred pointed out: "The retail sector has seen both sides of the extreme – on the one hand we have seen retailers go out of business, and on the other hands the huge profits of the supermarkets which reported an extra £2 billion in profits and sales in March alone. We have a huge job to fight to save jobs that are being lost left, right and centre, and likewise a huge fight to win better pay and terms and conditions. We need to take those fights to the bosses."
Education workers and campaigners from Leicester told the conference about the campaign to defend safety in communities and schools – and the links between school opening, sweatshop operation, and Covid-19 outbreaks. Leicester National Education Union is organising to build a joint union and community campaign across the city.
The main session at the conference was followed by workshops on BAME workers, young workers, the NHS, unionising social care, education, workplace safety, housing, and fighting the cuts.
It has only been possible to lightly skim the surface of the fantastic contributions and energy that was present at the NSSN conference, but the same themes were interwoven in all of them: if you want a safe workplace and community join a union! Organise in your union to drive the labour movement forward for an organised fightback of industrial action, political strikes, and a clear anti-austerity programme to defend the working class against Covid-19 and the Tories; to fight for nationalisation under democratic workers' control; for full PPE; full pay rises; reversing of all austerity cuts, for teachers and parents to decide when it is safe for schools to reopen.
Claps don't feed nurses and workers were always 'key' before and after Covid-19.
BAME workshop: Union fightback needed to defeat racism
By Isai Priya
A well-attended workshop of the NSSN conference on the discriminating conditions of Black, Asian and Minority Ethnic (BAME) workers discussed how the NSSN can put pressure on the trade union leaders to build a movement to fight against racism and racial inequality in communities and workplaces.
The session was chaired by Lawanya Ramajeyam, NSSN steering committee and Tamil Solidarity member. She introduced the session by saying: "One of the key reasons why BAME workers are disproportionately affected by the pandemic is the inherent inequality that exists within this exploitative system.
"Black, Asian and Ethnic Minority workers have been on the front line, as key workers without insufficient PPE, and faced the brutality of this system – of poverty, low pay, long hours and living in overcrowded accommodation."
The main speakers were Hugo Pierre, Unison national executive committee member, speaking in a personal capacity, Moe, bus driver and Unite activist, and TU Senan, a member of the Socialist Party and Tamil Solidarity international coordinator.
Hugo mentioned the institutionalised racism in workplaces, where BAME workers are paid less on average and are less likely to be given promotions. He also referred to the Trade Union Congress resolution passed at its 2018 conference – and the need to implement it.
Moe gave a personal example of how workers got organised to protect their health and safety. He said: "We are the workers, we provide the services and we should make the decisions."
Senan explained why the Black Lives Matter movement was taking place now. The young people have seen the rotten nature of capitalism exposed by the pandemic and they are not going to put up with it. He also raised the need for workers' political representation in parliament to fight against austerity, racism and class inequality.
There was then a lively discussion, with passionate personal contributions and proposed actions. It was the beginning of the discussion on the set of demands that need to be raised at this period, in this crisis – to win back our rights. The NSSN can play a role in linking up rank-and-file trade unionists, to unite struggles and win better pay and conditions – this was brought to the fore.
The session agreed that the urgent task ahead is for all workers to join a trade union and to get actively involved. And for the workers in trade unions, to get organised – to put pressure of their leadership to fight for a £12-an-hour minimum wage (£15 in London), for jobs, homes and services for all.