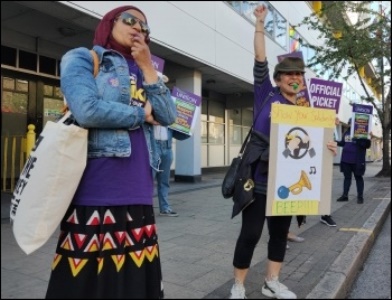 "We have been the key workers during the pandemic, but now the Labour-led council is sacking and reappointing all of us on worse terms and conditions. They are attacking us at the earliest opportunity".
These were the words of a striking social worker on the Albert Jacob House picket line.
The strike by members of public service union Unison working for Tower Hamlets council has huge national significance. A victory would give a boost of confidence to other workers facing similar conditions.
So far, there have been two three-day strikes, the first major strikes nationally since the easing of the lockdown. Further dates for strike action are yet to be announced.
The picket lines have been safe, with masks, hand sanitiser, and maintaining social distancing. The mood among strikers has been determined and confident.
On all six different sites, workers have received a lot of support and solidarity from people walking or driving past – with loud tooting and cheers from passing buses, bikes and cars.
Labour
This is yet another strike against a Labour-led council. A striker at the car pound pointed out that the union Unison is affiliated to the Labour Party, and nominated Keir Starmer as Labour leader. They said that Unison should stop giving money to the Labour Party until the dispute is resolved. The money should instead be used to support the workers during the dispute.
Hugo Pierre, who is a member of the Socialist Party, and on Unison's national executive council, is standing as a candidate for general secretary of the union (see below). Hugo got the loudest cheer at the picket line when, speaking in a personal capacity, he said that if Labour councillors are not going to stand up and fight, they should stand down and let those that will take their place.
Instead of attacking workers' pay and conditions and cutting services, Tower Hamlets council should use its reserves and borrowing powers to stop austerity, as part of launching a mass trade union campaign to demand that the government nationally pays up the money that is needed locally.
Socialist Party members have attended the picket lines and raised money from the trade union movement for the strike fund. A solidarity motion was passed at Waltham Forest Trade Union Council, calling out the anti-working class methods of Tower Hamlets Labour councillors. If this move goes unchallenged, then it will be used by other councils – and employers more generally – to attack workers' pay, jobs and rights.
Local government workers cannot be left to fight, council by council. Unison's leadership needs to set out a national strategy to support the Tower Hamlets action and prepare other councils to fight if necessary.
The outrageous tactics used by Tower Hamlets council – firing the whole workforce and then rehiring them on worse terms and conditions – are increasingly being used by other employers.
The same method is being used by construction equipment manufacturer JCB to cut up to 1,500 jobs.
British Airways plans a similar approach, with almost every BA employee threatened with redundancy, with one-third facing the axe, and the remainder rehired on contracts containing huge drops in salary and working conditions. Around 40,000 BA staff face the prospect of losing their jobs or signing contracts on worse terms and conditions.
British Gas owner Centrica issued 20,000 workers with a legal notice to sign a new contract or face a wave of redundancies. The new terms will make it easier for the employer to sack workers in the future.
The 'fire and rehire' strategy also threatens more than 8,000 Sheffield University staff, as part of the cost-cutting measure by the university.
Workers should not be punished for the pandemic. The trade union movement has to prepare the fightback to save jobs and workers' terms and conditions. There needs to be urgent co-ordinated action by the unions to organise a national fighting strategy to defend workers.
This means raising the demand of opening the books, for democratic workers' and union oversight of where the money is spent. The vast profits of the companies should be used to pay workers and save their jobs, rather than to pay dividends to speculators or fat cheques for management. In cases where the company is placed into administration, we call on the government to nationalise to save jobs.
Hugo Pierre for Unison general secretary
For a fighting, democratic general secretary, on a workers' wage!
The worst-kept secret in public sector union Unison is finally out. Right-wing general secretary Dave Prentis has announced that he doesn't intend to stand in the next general secretary election and will leave office.
He leaves a legacy of failures. He has not led any serious national fight against the decimation of local government, mass privatisation of public services, and endemic low pay – all brutally exposed in the coronavirus pandemic.
In order to cover up his failings, and to silence any opposition, Prentis also embarked on witch-hunts and attacks on democracy in the union. Members now have an opportunity to reclaim their union with a fighting and democratic leader.
While no candidates have formally announced yet, it looks like two from within the bureaucracy will try and inherit Prentis's crown, both of whom have not once challenged or opposed his regime, and deserve no support.
In stark contrast, the Socialist Party's Hugo Pierre, a local government worker, and currently an elected member of Unison's national executive council, is looking to be the candidate of the left.
Hugo has already faced elections in ballots of the entire membership, having successfully won and held his national black members' seat on a number of occasions.
Hugo has pledged to stand on a fighting and democratic programme capable of taking on the Tories and has said he will not take the £138,000 a year salary, instead pledging to only take an average worker's wage if elected.
Hugo's programme
We won't pay for the Covid-19 crisis!
Local authorities: a national fight for £10 billion funding – fight all cuts and demand Labour councillors don't vote for cuts
For a renationalised NHS and social care sector with full collective bargaining and national terms and conditions
Reverse all education privatisation. Academies back to local authorities. Full funding for further and higher education
For a real fight on public sector pay to reverse the 'austerity years' pay cuts – for a £15-an-hour minimum wage
Fight for jobs and homes, not racism. Black lives matter!
Not a penny of members' money to Labour representatives who back cuts, privatisation or austerity
For genuine members' control of our union, with the election of union officials
For a trade union fight to end the environmental catastrophe
A pledge not to take the £138,000-a-year salary. but live on a worker's wage