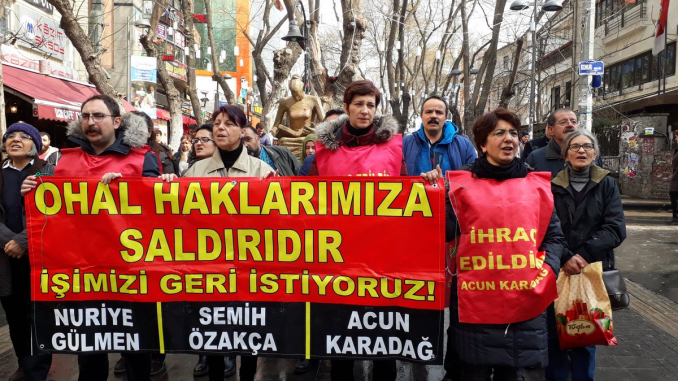 Public service workers in Turkey who were expelled in the aftermath of the failed coup attempt against the Erdogan government in July 2016 are continuing their determined resistance. Their struggle sets an example for the rest of the labour movement. They are fighting for their reinstatement despite the inactivity of public service trade unions and brutal police repression.
On 13 August, the houses of Acun Karadag, Alev Şahin, Armağan Özbaş, Mahmut Konuk, Mehmet Dersulu, and Nazan Bozkurt were raided by the police and they were taken into police custody. Eight days later they have been arrested after a court hearing.
These people are amongst the over 100,000 public service workers who lost their jobs in the aftermath of the failed coup attempt against Erdogan's regime. Even though the coup was initiated by a right-wing religious clan, known as the Gulen movement, Erdogan used this opportunity created by the coup to sack all those left-wing civil servants who were against Erdogan's regime, in an attempt to tighten his grip on the state machinery.
After declaring a state of emergency to increase his power, President Recep Tayyip Erdogan issued decrees (KHKs) to purge all opposition members within the civil service. As a result, thousands of teachers, healthcare workers, and civil servants were purged. Because they lost their jobs as a result of a presidential decree, these public service workers are also deprived of any civic rights. Not only did they lose their job without any employment hearing, but they also cannot get another job or leave the country. Their rights are severely limited.
In 2016, Nuriye Gulmen, an academic who lost her job, began a sit-in outside the Human Rights Statue on Yuksel Street, Ankara. Semih Ozakca, a primary school teacher, later joined her in these daily protests to demand their reinstatement. They then went on a hunger strike for 324 days, to raise awareness of the massive injustice faced by workers who were expelled after the coup. They said they had no choice but to go on a hunger strike because they were not allowed to get another job or to leave the country.
Despite the attempts of the police to stop these gatherings, the determined struggles of Nuriye Gulmen and Semih Ozakca quickly attracted several other public service workers to join the daily protests at Yuksel Street. Soon, hundreds of people came to Yuksel Street to support the action.
Several other workers continued organising sit-ins at Yuksel Street, including Acun Karadag, another teacher who was arrested by the police last week. These daily protests have lasted more than 1000 days.
On 11 August, Nuriye Gulmen was arrested, once again, without any reasonable grounds. The Turkish state is refusing to impose conditional bail , even though they have powers to do so. Acun Karadag was also arrested last week, together with other Yuksel protestors.
No matter the amount of violence and torture against the Yuksel protestors, the AKP (Justice and Development Party) government failed to break the spirit of the protestors. The AKP resorted to such tactics because they fear that Yuksel protestors are "attempting to create a resistance like Gezi and Tekel".
The Gezi Park protests, and the Tekel strike, organised by tobacco workers, were two instances where the Erdogan regime was terrified because both actions led to a mass movement against Erdogan's regime in Turkey.
Fourteen workers have also been fired by the multinational company, Cargill, due to their membership of TekGida-Is union. The workers have been organising protests for over 860 days against this union-busting and for union recognition in their workplace. There are other examples of workers taking militant action for the right to join a trade union and to get their jobs back after being sacked.
Unemployment and inflation are skyrocketing, as the economic crisis in Turkey deepens. The struggles of Yuksel protestors against the arbitrary actions taken by Erdogan, and the numerous militant actions taken by workers for union recognition, can be a spark which could lead to a mass movement. The need for such a movement, led by the organised working class, is becoming even more important every passing day.
Urgent solidarity needed!
The Yuksel protestors did not bow down to Erdogan's dictatorial regime despite heavy police repression. The Turkish government is clearly worried that these protests can set an example to other workers who are in a similar situation.
International working-class solidarity is needed to support the Yuksel protestors and to put pressure on the Turkish government.
Please protest against the job losses of public service workers by presidential decree, to the following addresses:
Republic of Turkey Ministry of Interior
diab@icisleri.gov.tr
bakanyrd.mince@icisleri.gov.tr
bakanyrd.mersoy@icisleri.gov.tr
bakanyrd.icatakli@icisleri.gov.tr
bakanyrd.tserdil@icisleri.gov.tr
Republic of Turkey Directorate of Security Services
bhim@egm.gov.tr