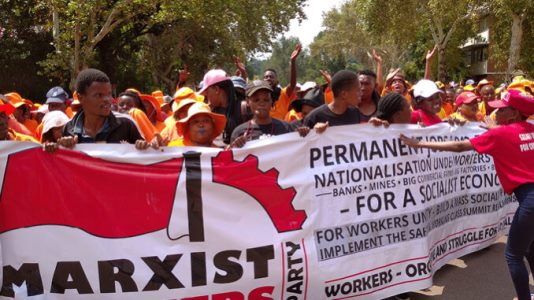 The Marxist Workers Party (CWI South Africa) published an Open Letter to the South African Federation of Trade Unions (Saftu) in three parts on 18 August, 22 August and 24 August, ahead of Saftu's upcoming NEC meeting.
Saftu was founded in 2017 as the newest trade union federation in South Africa. It emerged from upheavals in the workers' movement set in motion by the 2012 Marikana Massacre. This state killing of striking miners split the once-dominant Congress of South African Trade Unions, which is aligned to the ruling African National Congress (ANC) and South African Communist Party.
Saftu had a promising beginning, founded on the explicit rejection of Cosatu's policy of class collaboration with the ANC. At its Founding Congress, a process to lead to the formation of a workers' party was agreed upon. Unfortunately, Saftu's progress stalled in 2019, and deepened in 2020, even as the pandemic accelerated South Africa's political and economic crisis, creating opportunities for the federation to lead the working class in a fightback.
The Marxist Workers Party wrote the Open Letter to help Saftu members understand the issues holding back their federation, that so many sacrifices had been made to create, and, crucially, to point out a way forward. Part 1 of the Open Letter deals with perspectives for the class struggle in South Africa and the huge opportunities despite the severe health, economic and political crisis that has developed. It puts forward proposals on the kind of programme of action Saftu should adopt. Part 2 analyses the causes of the paralysis in Saftu, looks at the factional blocks that have consolidated and examine some of the unhealthy methods that have taken root in the federation, imported from Cosatu and the SA Communist Party, tracing back their origins. Part 3 looks at the ideological and programmatic mistakes that lie behind these and puts forward a bold call for a struggle to win Saftu to a genuine Marxist programme of revolutionary trade unionism.
In the days following the publication of the Open Letter, Cosatu has announced a "general strike" against corruption on 7 October. This builds on the programme of action its health workers' union has already unrolled, possibly culminating in a national health strike on 10 September. For the Cosatu leadership, this is all an exercise in dissipating the anger of workers in order to save their ANC Alliance partner. But these developments have borne out – rapidly – the central warning of the Open Letter – that Saftu risked being outflanked if it did place itself at the head of the seething anger of the working class and poor masses.
However, it is not too late. Saftu must support the strike on 7 October and help make it a truly general strike by proposing a united front with Cosatu. Over the heads of the Cosatu leadership, Saftu should appeal to the Cosatu members to break the Alliance with the ANC government and work together to found a socialist mass workers party.
Marxist Workers Party (CWI South Africa)
PART 1: Open Letter to Saftu Members
PART 2: The Crisis in Saftu, the Struggle for Class Independence & the Workers Party
PART 3: The Crisis of Programme