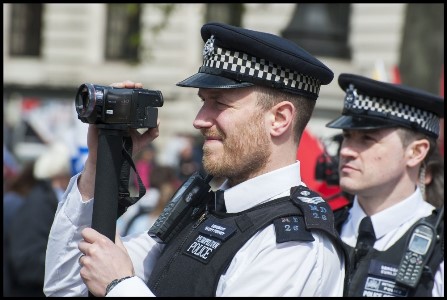 The 'spycops' inquiry has finally opened in Britain, six years after Theresa May, then Tory home secretary, set it up. May was forced into establishing the inquiry when one ex-police spy, Peter Francis, went public about his years-long infiltration of Youth against Racism in Europe (YRE) – a mass democratic, anti-racist youth organisation – and Militant Labour (now the Socialist Party).
The inquiry, therefore, had little choice but to accept Socialist Party members Lois Austin and Hannah Sell, then leaders of YRE, as 'core participants'. Socialist Party member Dave Nellist is also a core participant. A 2002 BBC documentary revealed that West Midlands police spied on Dave, at the behest of M15, when he was Labour MP for Coventry South East from 1983 to 1992.
Being a core participant doesn't get you any information. None of the police files have been released.
Those accepted as core participants are a minute fraction of the socialists and trade unionists that have been spied on. Around a thousand organisations were spied on by the Special Demonstration Squad (SDS) that employed Peter Francis.
The inquiry has not released the names of those organisations, nor has it given us the real – or even the cover – names of the spies. However, the vast majority spied on were on the left. Only four right-wing organisations are known to have been infiltrated by SDS.
None of this is a surprise. Five hundred Scottish miners were finally pardoned on 28 October, 35 years after vicious police brutality was systematically used against striking miners.
The state, including the police, is not neutral, but ultimately plays a vital role in maintaining and defending the dominant interests of the capitalist class. Today, Britain's billionaires are a third better off than they were a year ago, while mass unemployment soars. The capitalists' need for a police force that defends their system is clear.
While the spycops inquiry opens, Tory prime minister Boris Johnson is proposing a bill that protects current and future spycops from prosecution if they commit crimes while undercover. They will be allowed to do so, for example, against trade unionists in order to maintain 'economic wellbeing'.
What does that mean but protecting the 'wellbeing' of the bosses when workers go on strike? Disgracefully, the Keir Starmer leadership of Labour – who also want to play their role in defending the capitalist system – did not vote against the bill.
Socialist Party core participants in the inquiry will be using it to expose the class character of policing. We demand an end to all political policing, and for a police force that is genuinely democratically controlled and accountable. Fully achieving this is part of the struggle for a socialist society.
Go to socialistparty.org.uk for updates during the inquiry