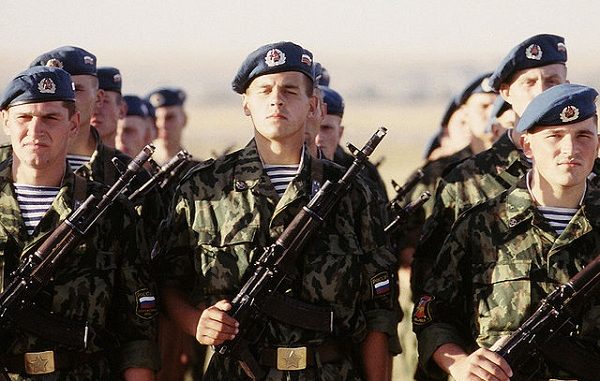 A massive build-up of Russian forces on the borders of Ukraine last week saw the US president, Joe Biden, move swiftly to suggest a summit meeting with Vladimir Putin in the coming months. This was followed within days by the imposition by Washington of widespread sanctions against Moscow for alleged serious cyber and hacking attacks on US institutions, including interference in the US electoral process. Then, on 16 April, came Russia's expulsion of US diplomats and imposition of further sanctions. But also on the same day came the expression by Foreign Minister Sergei Lavrov of Moscow's "positive reactions" to the summit proposal from Biden. French and German governments joined Ukraine in calling for the reversal of Russia's build-up of troops.
An overarching reason for the military tensions lies in the steady expansion of NATO up to the borders of Russia since the dissolution of the former Soviet Union. But President Putin's sabre-rattling is, no doubt, aimed at getting adequate recognition of Russia as a super-power in its own right and not just in the shadow of China. Putin will be aiming to use conflict and any armed clashes with Ukraine as a diversion from problems in the Russian economy. His popularity has been falling and mass protests against his dictatorial rule earlier in the year are set to reignite this week, as the health of the jailed opposition figure, Alexei Navalny, deteriorates and his doctors are refused access to him.
The Economist of 17 April writes: "Mr Putin's political ratings have slumped ahead of parliamentary elections in September. Over two-fifths of Russians say that the country is moving in the wrong direction and the economy is stagnating".
Last week an editorial in the British Guardian pointed to "Mr Putin's military adventures" allowing him to "pose as a strongman who defies the west" and "restore national pride after the loss of superpower status". It adds that "Endemic corruption and bullying authoritarianism have produced economic stagnation". Mobilising support in defence of Russia's national interests could turn the electoral tide in Putin's favour but on this occasion, it might not be sufficient to do the job. "Fear of a domestic backlash once casualties start mounting would be a bigger restraint", the same paper suggests.
The causus belli of the conflict with Ukraine is Russia's claim to be defending the rights of ethnic Russians in the east of the country and in the annexed Crimean peninsula. Enemy No. 1 is the once-popular Ukrainian president, Volodymir Zelensky, elected two years ago to finish with the rule of corrupt, often pro-Moscow, oligarchs. His mandate also includes getting Ukraine into the North Atlantic Treaty Organisation for the country's defence and into the European Union, supposedly to boost its economic prospects. But neither of these looks likely in the near future. Zelensky has no programme for finishing with oligarchic capitalism and nor are western powers keen to give Ukraine official membership of either NATO or the EU. As has been shown, such moves indeed seriously risk worsening relations with Russia.
War
It is seven years since the war between Russia and Ukraine officially ended. After more than 13,000 deaths, the first OECD-brokered peace protocol was signed in Minsk in February 2014 but has never really held. Up to 30,000 people have been wounded in the conflict, 1.4 million displaced and 3.4 million have needed some form of humanitarian assistance. To this day, sporadic fighting has continued along the "Line of Contact" – a 250-mile-long frontier that divides Ukrainian forces from Russian-backed separatists in the Donbas region. Plans for truly representative elections to take place on both sides of the divide have not come to fruition and critics of Ukraine's president, Volodymyr Zelensky, had been complaining of his apparent lack of interest in solving the ongoing conflict.
The latest flare-up in Ukrainian-Russian relations came after Zelensky visited frontline Ukrainian soldiers after another four had been killed by a Russian-backed artillery attack. The Ukrainian armed forces have had 34,000 servicemen deployed along the contact line. The Russian-hybrid armies within Ukraine are reported to be approximately 50,000 strong, including 11,000 Russian nationals and 3,000 regular troops among them. Ukraine has recently more than doubled its spending on defence, but that of Russia is at least ten times greater. Zelensky's visit was made just days before the massive build-up of Russia's forces on and around Ukraine's eastern border. Ukraine's parliament demanded that Russian forces immediately halt hostile activities and adhere to the ceasefire called last July.
Background
In Eastern Ukraine, the overwhelming majority of the population in the semi-autonomous Donetsk and Lukhansk regions is ethnic Russian. The same is true of the population of the Crimean peninsula, which was taken back into the Russian Federation rule after a hurriedly organised referendum while thinly disguised Russian forces were in the country in 2014. (Crimea had been allocated to Ukraine under Krushchev in 1954 when both Russia and Ukraine were part of the USSR, which broke up at the end of 1991).
The building of a road and rail bridge linking Crimea with Southern Russia was started as soon as Russian control was established. Nearly 20 kilometres long – the longest bridge in Europe – it was rapidly completed and assures a direct route for travel and trade, but also for the movement of troops. The port of Sevastopol in Crimea is the main base of Russia's Black Sea Fleet, put on high alert last week as US frigates made their way through the Bosphorus to defend 'western' interests in the region. Over the recent period, Russia had forged closer links with Turkey, nominally a member of NATO. President Tayep Erdogan has been keen to pursue common interests against western powers in Syria, the Caucasus and Iran. But Erdogan does not support Russia's annexation of Crimea and Turkey has been involved in selling military drones to Kiev (as it did to Azerbaijan in last year's bloody dispute over Nagorno Karabakh).
Intentions
Speculation is rife about what the intentions of Russia's dictatorial president, Vladimir Putin, might be. The director of the US' Central Intelligence Agency, William Burns, suggested to the Senate Intelligence Committee on 14th April that: "Russia could simply be sending a signal to the United States or trying to intimidate the Ukrainian government, but it has the abilities in place to do more". Russia does not usually advertise its troop build-ups, prompting speculation that this current quite massive and ostentatious mobilisation could be designed simply as a signal to President Biden to take Russia into account and not ignore its interests. It certainly had the immediate effect of prompting Biden to make only the second phone call of his presidency to Vladimir Putin on April 13th to suggest a meeting "in the coming months" to discuss bilateral relations. The first call, soon after Biden's inauguration, had included proposals to renew nuclear non-proliferation treaties. In between the two calls, however, relations had somewhat soured with Biden calling Putin a "killer" for his treatment of the now-imprisoned opposition figure, Alexei Navalny. Putin's relations with Biden are certainly not as friendly as they were with his predecessor, Donald Trump.
Moscow claims its war-like manoeuvres are in response to plans drawn up by the North Atlantic Treaty Organisation to mobilise forces close to Russia and Ukraine. Russian Defence Minister, Sergei Shoigu, said last Tuesday (13th April) that Moscow's military build-up near Ukraine was part of a large (three week) "snap drill" meant to test combat readiness to respond to what he called threatening military action by NATO. It was due to wrap up in the next two weeks, he said Shoigu claimed that NATO was deploying 40,000 troops and 15,000 pieces of military equipment near Russia's borders, mainly in the Black Sea and also in the Baltic region. The western Alliance denies any such plans.
Ukraine is not a member of NATO, but on 13 April, the same day as Biden's call to Moscow, Ukraine's foreign minister Dmytro Kuleba, was at a press conference with NATO's head, Jens Stoltenberg. He claimed that Russian troops had been built up in the North-East of Ukraine, as well as in Crimea and the Donbas area. He accused Moscow of "drastically intensifying" its propaganda against Ukraine and Ukrainians. NATO leaders have warned Russia over its escalation of tension, some claiming nearly half a million troops are being moved into battle-ready positions. Satellite photos have shown short-range ballistic missiles within 150 miles of Ukraine's border. Zelensky complains that he has had no response to his request for a phone call with Putin while Putin has taken their long-running regional dispute onto the world stage.
Prospects
Capitalist commentators often now refer to a new 'Cold War' developing between two rival blocs – China, Russia and their allies, on the one hand, and the US, the main European powers, and allies on the other. There is not the same ideological basis of the first Cold War for such a divide between the blocs, and within the blocks today there are many economic and political tensions.  Nor does the European Union speak with one voice on the question of relations with either China or Russia. Germany fears losing the prospect of further relatively cheap fuel supplies from Russia if completion of the Nord Stream gas pipeline through the Baltic Sea is blocked. Germany's Health Minister Jens Spahn, has urged support for buying mass supplies from Russia of its Sputnik V Covid vaccine (2.5 million doses of which had already been "pre-contracted" by Bavaria's minister-president).
Future
Heightened tensions between nations and classes have built up worldwide over more than a year of the deadly covid pandemic. It has revealed all that is rotten in capitalist society. The task of building peaceful and harmonious relations begins with the struggle for a socialist world in which all nations would have the right to determine their own future and to forge mutually beneficial relations on the basis of the elimination of capitalism. Socialists in Ukraine and Russia need to build workers' organisations independent of these rival capitalist interests and which reject the legacy of the Stalinist dictatorship. . They need to argue for unity against the oligarchs and the war-mongers and for basic democratic rights: free speech, the right to peaceful protest and independent, working-class representation.
The CWI has consistently argued for a united working-class struggle in Ukraine, involving workers of all nationalities – Ukrainian, Russian, Hungarian, Tatar and other workers – in fighting for the rights of the different national groups, including language rights. A genuinely independent and socialist Ukraine would unite all nationalities in resolving these problems by allowing nationalities to democratically decide whether they want to stay in a unified or a federal Ukraine, or even leave as an independent entity. As long as the country is being torn apart by the imperialist states or by the struggle between oligarchs for wealth and power, alongside the intervention of outside powers, there will be no lasting peace.
The struggle for national rights needs to be conducted in parallel with the struggle to get rid of the system that causes poverty, authoritarianism and ethnic conflict. Establishing genuinely democratic socialism would involve spreading the struggle throughout the former 'Soviet Union' to establish a new confederation of socialist states. In the year of the 30th anniversary of the collapse of the USSR and the return of capitalism, there can be no greater goal.