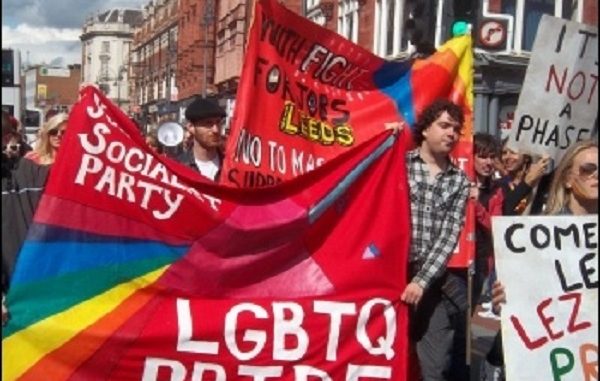 We need political struggle for LGBTQ+ liberation. It is becoming scarier and less safe to be out. One in five British LGBTQ+ people suffers hate crime every year. In Britain, we have seen a spate of anti-LGBTQ+ violence in Liverpool, alongside a vicious assault in Cardiff, and a mural in Manchester defaced.
Abroad, just this month, a pride event in Georgia had to be cancelled after a camera operator was killed by far-right thugs while covering an anti-LGTQ+ protest, and a gay man in Spain was murdered. The protests against these attacks point to what is needed.
Unfortunately, the biggest pride events have become completely divorced from the real political struggle they came from. Pride is meant to be a protest where LGBTQ+ people and their supporters can make their voices heard and demand better. You don't get that at London Pride, or at Brighton, Birmingham, Manchester, because they are now funded and headed by banks and big businesses.
They don't have the same goals as us. Bankers and bosses, whether LGBTQ+ or not, will put profit first. Banks will turn their logos rainbow colour to bring in the pink pound while doing multi-billion pound deals with homophobic governments. They have been uninvolved in, and in many cases hostile to, fights for equality and to build and defend the services LGBTQ+ people need. They want to keep the status quo – a capitalist profit system based on exploitation and division. And because they have money, they've ended up being the ones running most Pride events.
That's why we need to reclaim pride, as part of building a movement to win change that will meet the real needs of LGBTQ+ people.
We welcome Peter Tatchell's call for a protest pride, and the next step needed is a democratic discussion about the slogans and demands that the movement is fighting for. Central to that has to be involving the trade unions – democratic organisations of 6.7 million workers in Britain.
By organising together with the mass of the working class, against the bosses who exploit and divide us, LGBTQ+ workers have the power to win against the capitalist system that oppresses us.