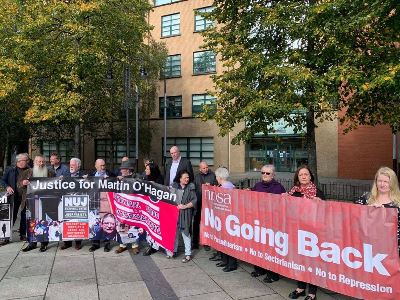 On Tuesday, 28 September, the National Union of Journalists in Northern Ireland held vigils in Belfast and Derry to mark 20 years since the murder of journalist Martin O'Hagan. The vigil in Derry was addressed by Sara Canning, partner of Lyra McKee, the second journalist to be murdered. The NUJ protests were joined by other trade unionists in solidarity, including Carmel Gates, General Secretary of NIPSA, the largest union in the North, who is also a supporter of Militant Left (CWI Ireland).
Martin was the first journalist murdered in Northern Ireland. Nobody has been convicted, or even stood trial, for Martin's murder. The names of his killers are well-known, and several are believed to be state agents.
Five men were charged in connection with the murder. One became a 'supergrass' in return for a reduced sentence. However, the Northern Ireland Director of Public Prosecutions decided there was not enough evidence to go ahead with a trial.
Martin was killed to stop him from shining light into dark places. At the time of his murder, he was investigating links between police officers and the Loyalist Volunteer Force (LVF).
The LVF murdered him. This was a splinter group from the loyalist paramilitary organisation, the Ulster Volunteer Force. Martin was walking home from the pub with his wife in their home town of Lurgan when he was shot.
The murder was a blow to society because he was courageous and driven by a hatred of injustice. He worked very hard to expose the collusion between the security forces and loyalist paramilitaries. He had a particular focus on the LVF, which was heavily manipulated by the security forces.
Martin had also fallen foul of Republicans. He was lured to South Armagh, then held for two days with a hood on his head. IRA Internal Security interrogated him until, fortunately, they accepted he was not an agent.
At the time of his murder, Martin was Secretary of the Belfast and District Branch of NUJ. That means he was the most senior trade unionist killed in the 'Troubles'.
His murder occurred three years after the signing of the Good Friday Agreement. Internationally this is mis-sold as a successful peace process. Eighteen years after Martin's murder, Lyra McKee was murdered in Derry's Creggan, while reporting on a riot.
State agents
Unrestrained by the 1998 Good Friday Agreement, threats to journalists are escalating to dangerous levels in Northern Ireland. Most have come from elements of the loyalist Ulster Defence Association (UDA), some from elements around the New IRA in Derry, and some from criminal elements. Police have been passive in dealing with these threats. A drug dealer with loyalist paramilitary connections threatened to rape the baby son of Patricia Devlin. Police claimed he could not be found. Patricia was able to locate him in Scotland.
Northern Ireland's Police Ombudsman upheld a complaint from Patricia about failure to deal with the threats. Her solicitor, Kevin Winters, said: "(We) have to ask why such selective incompetence was allowed to facilitate the suspect in evading prosecution." He was hinting at this individual, and others responsible for threats, being state agents.
Before Christmas last year, Northern Ireland journalists staged demonstrations against threats. There is a determination to do so again, if necessary.