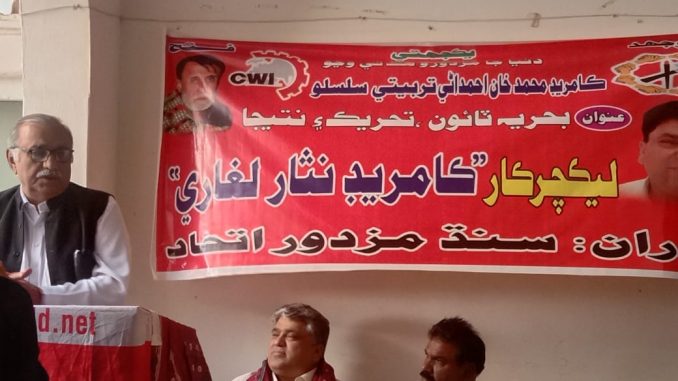 On 31 October, the Sindh Workers' Alliance organized a discussion at the organisation's office in Mirpur Khas, regarding Pakistan's largest private housing project, the 'Bharia Town', and the protest movement against it and its aftermath.
Bahria Town is the largest privately-owned real estate development company in Pakistan and Asia. In 2019, its owner, Malik Riaz, had to hand over £190 million pounds worth of cash and property to a British court after losing a case (the case was then handed over to a Pakistani court). While the British authorities said that this seizure was not "a finding of guilt", the court order was made under the British Proceeds of Crime Act.
The government offered 16,000 acres of land, at a cheap price, to allow the building project. Malik Riaz, the big private investor behind the development, seized 76,000 acres and harassed local villagers who protested, using the police and his bodyguards. Malik Riaz has since cleared the land. Protests against Bahria Land and other developers took place earlier this year in Sindh.
The main speaker at the meeting was comrade Nisar Leghari, a columnist and writer. The meeting was chaired by CWI comrade, Hameed Channa. The event was attended by over 50 female and male comrades from different areas of the Sind.