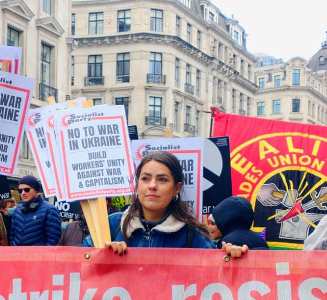 The Committee for a Workers' International extends heartfelt greetings to working and poor women of all countries on the Day of International Working Women's Solidarity.
This special day in the calendar of socialists, established by the pioneers of our movement, comes at a time of mounting crises on a world scale. The catastrophic failure of capitalism to control the deadly pandemic of Covid has been followed by rampant inflation that hits working and poor people hardest. Now the outright horror of the devastating war in Ukraine!
On Thursday, 2 March, Lyudmila, a 45-year-old teacher, spoke by phone with the CWI. She was in a basement in Kharkiv – Ukraine's second city – under siege by Russian forces. She was pleading for help and described the nightmare conditions she and her elderly parents were facing. In the basement that they shared with 27 other people, there were no toilet facilities and a few rags to clean up with. They were terrified and did not know if they would survive another day.
The next morning, 3 March, Lyudmila texted: "… Shells are constantly raining down on us. We are all still sitting in the basement, not generally looking outside. Really terrifying! Thousands of people at the station. All trying to get away. But you first have to get to the station, with constant shooting going on.
"In the shops, there's already nothing left. Volunteers are bringing round bread. The pharmacies have run out of medicines for people with heart problems. It's frightening even to put your face out into the street.
"There needs to be a ceasefire and an end to war. There must surely still be levers of influence that can be pulled against this madness. Stop this, I implore you! Peaceful people are dying for nothing! Huge gratitude to you for thinking of us!"
Capitalism means war
Of course, as socialists, we deplore this war. We call for an immediate end to it and for all Russian forces to be withdrawn. We give no support to the war machines and military alliances constructed by capitalist governments. While railing against Russian oligarchs, none of them has moved against the very rich capitalists in their own countries.
This nightmare comes at a time when worldwide millions of people's lives have been devastated by the Covid pandemic. Workers and poor farmers have been suffering ever greater hardship and the lives of women have become unbearably hard. Yet the ten richest men in the world have doubled their vast fortunes. They owe every dollar of their wealth to the labour of workers, on the land, and in the factories.
We want an end to war and exploitation. We fight to organise workers and poor farmers into trade unions and parties that will take the banks and big companies out of private hands – in our own countries and internationally. We are for public ownership and democratically controlled planning under the control and management of elected representatives.
As always, during wars, as with natural disasters and famine, it is women with their children who are the most vulnerable and constitute the majority of refugees. But women have also been on the streets of Ukraine's besieged cities, preparing to fight, arms in hand. They have been seen appealing to Russian soldiers – many of them raw conscripts – to come over to their side.
Women in Russia will also be suffering – the mothers, aunts, and sisters of the conscripts who have been sent to Ukraine. They will be dreading they will never see them alive again. Many women – young and old – are joining the mass protests across Russia against Putin's war and increasingly calling for him to resign. All working-class households are being hit by rocketing prices and shortages of food and fuel.
Finland
Socialists in nearby Finland have been joining demonstrations against Putin's war. There is fear of attack across the common border and an increase in support for the idea of joining the capitalist military alliance, NATO.
A CWI correspondent in Finland writes: "The press around the world hailed Finland's government parties for all being led by women. But 2021 showed once again how these leaders are first and foremost loyal servants of the ruling class. The percentage of women managers might have risen, but the gender pay gap has remained static overall.
"During continued pandemic lockdowns and restrictions on public activity, the harassment of women and violence against them has risen again. Job losses have also hit women the hardest, especially immigrant women.
"Prime Minister Sanna Marin's government has rushed to debate Finnish entry into the military alliance, NATO, while delaying for another year issues with strong popular support. There was the proposal to expand the definition of rape (with the aim of defending more women against men's violence) and the promised reform in relation to the rights of trans people.
"With military spending going up, Finnish capitalism's apparent war on women is set to open a new front. If the government follows through on a 2021 cross-party report, the role of women in Finland's mostly-conscript armed forces is set to increase substantially."
Asia
While street demonstrations against the war in Ukraine are multiplying across the globe, the tradition of working class women celebrating their day of international solidarity and demonstrating on March 8th has not been totally lost.
The forces around the CWI in Pakistan are engaged in the unionisation of women health workers and domestic workers or 'Housemaids'. They are organising an International Women's Day march – an independent CWI Sindh initiative – with CWI with flags at the front of the march. The demands were drawn up at a meeting on March 5th of leading women comrades who discussed all the many issues affecting working and poor women and drew up the demands to be put forward at the rally.
The CWI in Sri Lanka has always seen 8th March as an important date in the calendar of the workers' movement. But here, as elsewhere, heavy restrictions on public activity have severely limited the campaigning activities.
Srinath Perera of the United Socialist Party writes: "Women in Sri Lanka are the section of society most gravely affected in the recent period under the impact of the Covid 19 pandemic. Those employed abroad in the Middle-East, those working in the plantation sector and women workers in the clothing industry who all  sustain the country's economy in a very real sense, have been abandoned by the inaction and apathy of the regime and left to be exploited by unscrupulous employers.
Large numbers of women workers abroad, mainly housemaids to rich families, have often been summarily sacked by their bosses under the cover of the pandemic.  There were many videos broadcast on television channels of many of those women crying and pleading with the Sri Lankan government to be brought back to Sri Lanka without delay. As these women were evicted by their employers, they did not have proper shelter or even enough money for their basic needs. Some of them were forced to beg in the streets and even into prostitution. President Gotabhaya Rajapaksha's regime was very slow to get them repatriated and was only moved to take action because of mounting public anger.
Women workers on the plantations and in the clothing industry were also left to be exploited by bosses. In the plantations, they were forced to work during the height of the pandemic without being supplied with any healthcare facilities or any precautions being taken. Garment workers were also forced to come to work and any health facilities provided for them were minimal. It was from these workers that the second wave of Covid 19 actually spread.
As elsewhere across the globe, women have generally been made to bear much of the additional burdens of housekeeping during the epidemic. As men and children stayed at home, women had to handle extra work in relation to cooking, washing, cleaning, and childcare. At the same time, as nerves frayed, police reports indicate that they had to endure increased levels of domestic violence from husbands and partners.
In India, as Rashme Madhavan writes, "The condition of working women has always been distressing. This vast country, with its remnants of feudal rule, has consistently tried to keep women at their traditional duties. They have to work harder compared with their male counterparts just to hold on to whatever they have – job, position.
The Covid pandemic had its worst effects on working conditions worldwide. As the New Socialist Alternative (Indian section of the CWI) has discussed time and again, Modi's regime used the opportunity to bring draconian changes to the labour code. It undoubtedly pushed women workers into a sub-human condition. A vast number of the huge population of workers in India is unorganised and women in these sectors have paid the price for the government's mismanagement and capitalist greed.
A worsening of the working condition, the economic crisis, inflation, pay cuts, and so on have resulted in children being deprived of educational services – a majority of them being girls. A recent study shows that throughout the pandemic, a majority of adolescent girls in urban slums have been deprived of basic health and education services. "Many can't afford to attend the classes online, and those who benefited from the midday-meal scheme are now suffering malnutrition".
Another attack on women has been the ban on the wearing of the hijab in the classrooms in Karnataka. The college administrations' stand created a controversy. The 'saffron', (pro-government Hindu) terrorists used this opportunity to attack women of the Muslim community. We have always supported women's right to choose their own clothing. But this is also an attack on Muslim women's right to education.
Capitalist society and religious authoritarianism is wrecking the lives of women of all generations. They have shown themselves capable of heroic battles for their rights in the past and will do so again.
Women's rights
A fundamental part of the programme of all the sections of the Committee for a Workers' International has been the right of all women to choose whether and when to have children.
This means not only the right to free and safe contraception, abortion, and fertility treatment. It means adequate wages – equal for women and men, free health and social services, and free education for all at any age. It means a crash house-building programme is only possible through the nationalisation under democratic workers' control and management of building companies and of land.
An article carried in the Socialist newspaper  – the weekly paper of the England and Wales Socialist Party (CWI) – for International Women's Day, gives more detail on how women are particularly affected by cuts in local and national government spending and how to fight back [https://www.socialistparty.org.uk/articles/92033/02-03-2022/international-womens-day-build-a-working-class-political-alternative-to-inequality-oppression-and-austerity/]
Angelika Teweleit of Sozialistische Organisation Solidaritaet – the CWI in Germany – describes how the lockdown has set back the position of working women.
A study by WSI (a socio-economic institute) shows that in January 2022, one in five women with children reduced their working hours in order to look after them. Only in 2020, at the height of the first lockdown, had it been so many – despite schools and kindergartens being open. This had been through the high number of infections.
Sixty percent of women also said that they are carrying the main workload of housework and raising children. The study says that this is much higher than before the pandemic. It does not say the exact figure,- but it says that at the beginning of the pandemic there were more fathers reducing their working hours in order to stay home. Now it is mainly women, probably due to the income gap of around 20 percent.
The newspaper Süddeutsche Zeitung says: "The old role models that were believed to have been overcome are creeping back". While workers both male and female said the conditions of work and life have worsened, the number of women saying that is the highest.
In general, the number of workers who are worried about their financial situation is increasing. There is high inflation in energy prices, but increasingly also food prices (expected to rise by 7% in the next months). This means those with lower incomes are hit worst. It will hit many women hardest. Already 43% of single parents in Germany are at risk of actual poverty and 88% of them are women. But also for women who live with partners, the question of economic independence becomes even more of a problem – especially against the background of ever-rising rents for flats.
On a positive note, the magazine Spiegel reports a poll of young people, between the ages of 16 to 29, who are losing faith in a social market economy: 58% say a social market economy does not function or is "not real". Out of those, two-thirds are young women. Under half of this age group think capitalism is a good system, out of which only 39% of the young women held that view.
International Working Women's Day was pioneered by socialist women in Germany at the beginning of the last century. This 8 March there will be special warning strikes across the country of workers in nurseries and social work, demanding higher wages and better working conditions. Eighty per cent of this workforce is women; in the kindergartens it is as much as 95%, according to their union 'ver.di'. They will be joining the marches organised for this Tuesday, 8 March.
Another threat of industrial action has been announced in a number of hospitals in their struggle for better working conditions. They were bad before the pandemic but now have completely deteriorated.
Sol will support these strikes, raising the need for a generalised struggle. We call for massive investment in education, in the health system, and generally in the public sector. We argue for overcoming capitalism as the only way to provide what is needed for a decent life and economic independence for working women. This is a precondition for living a life without discrimination and suppression. It is also the only way to provide an adequate future for the next generation.
France
Virginie Pregny of Gauche Revolutionnaire (CWI in France) recalls that Macron declared that the fight against gender inequality would be "a great cause" of his five-year term. However, his whole pro-business policy has meant exactly the contrary for all women workers.
While the government has been talking about violence against women and gender inequalities (and organised a national debate on the question), the budgets for shelters, healthcare, justice, education have all been cut back. In their plan to slash workers' rights, they have abolished the Health and Safety at Work committees where unions could complain about all problems related to working conditions and psycho-social risks. The budgets allocated to the labour inspectorate were also cut. It is now more difficult to denounce harassment and sexist aggression in the workplace.
The pandemic has shown how society relies on women workers. In the sectors of health, social care and education women are a majority, but their pay and working conditions have not been improved under the Macron government; rather the contrary.
It is women workers who have been at the forefront of struggles in the last period as they work mostly in low-paid, precarious jobs. The bold strikes by workers in schools who accompany students with disabilities have brought to light their outrageous pay and working conditions. They mostly work part-time and earn on average €760 a month.
This year, the main trade unions have called for all workers to take part in a "feminist strike" on March 8 to obtain satisfaction with our demands on wages, public services, free health care, etc. This gives the day a more militant outlook. Fighting for the satisfaction of the wage demands of women workers serves to construct the unity of our social class – of workers, against the exploiters.
North and South America
Claire Bayler of the Independent Socialist Group in the USA writes: "This International Women's Day – March 8, 2022 – Trump is out and Biden is in! But conditions for women in the US have really plummeted in the last two years. Three and a half million were forced out of their jobs during the pandemic because they were caring for children at home or for sick family members. The Texas abortion ban indicates another wave of attacks on women's rights.
"None of the demands of the women's movement – an end to sexist violence, the right to choose, an end to the wage gap, or affordable childcare, etc. – will be won without a well-organized mass movement that returns to the streets."
Major battles over women's rights have been ongoing in the recent period in Latin America. This year has seen a major advance for abortion rights in Colombia and similar struggles across the continent. Pamela Meza of Socialismo Revolucionario, Chile, writes about the particular problems of violence and discrimination against women workers.
"Despite advances in women's rights at work, there is still discrimination, ill-treatment, and inequality. Fixed-term contracts are more common for women than for men and there is still a significant gender pay gap against women.
"Precarious contracts (fixed-term) are of course associated with job instability and fear of dismissal, which increases tolerance to unfairness and ill-treatment and reduces the capacity to cope. In addition, a significant percentage of women workers are heads of households and without the existence of a strong trade union organisation that can defend them, the fear of losing their jobs means that they themselves tolerate bad treatment more than men.
"It is urgent and necessary for women workers to organise to defend our rights. If the union leaders are not really committed to confront the employers when necessary, they must be dismissed by the rank and file and replaced by new, honest and fighting leaders.
"Support is needed for working women who have children by the provision of crèches and nurseries in all enterprises and special financial support for women with children. A real fight for equal pay for equal work is needed along with gender parity at the top.
"Our task is to fight for a more just society, a socialist society."
Ireland
"In Ireland in January of this year", writes Carah Daniel of Militant Left (CWI Ireland): "The murder of a 23-year-old school teacher called Ashling Murphy sent shockwaves across the country. It sparked huge anger over the issue of violence toward women. Vigils took place in cities and towns across the country in the immediate aftermath, with tens of thousands attending them.
"Although the anger is clear, it has not yet manifested in an organised protest movement against violence towards women; but it continues to bubble under the surface.
"In general, working-class women in Ireland remain economically disadvantaged across the board. Lone parents, who are mostly women, and their children, currently make up more than half of all homeless families. Ireland has some of the most expensive childcare costs in Europe. Despite the victories of reproductive rights north and south, women are still coming up against underfunded and inaccessible services.
"In the North, we have seen a number of industrial actions lead by mostly female workforces. The Queens University Belfast crèche workers started an extended industrial action on International Women's Day last year which ended in a victory. Education Welfare Officers continue their strike action for pay parity with other workers.
"In the South, the Debenhams dispute came to an end last April. This was a predominately female-dominated workforce that took part in industrial action for over a year across the country, fighting for a fair redundancy package. While it did not succeed in winning the desired outcome, it showed the determination and will to fight that are characteristic of women's struggles. These examples show the beginnings of militancy among women workers who are predominant in low paid and precarious jobs."
Under capitalism, around the world, women have so many stories of discrimination and oppression and also of struggle and victory. The CWI will continue to carry further reports of ongoing working women's struggles from as far apart as Nigeria and Scotland. Join us in the fight to end all exploitation and to build a socialist and peaceful world!