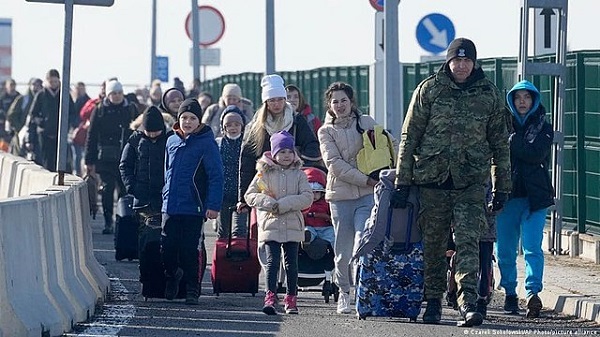 The Ukraine war has again brought to the fore the plight of refugees. It has created 3.5 million Ukrainian refugees, making it the largest refugee crisis faced by Europe since World War Two.
Scenes of desperate people escaping bombs and leaving behind their possessions, homes and families have been shown on the mainstream media. Everyone knows that war means destruction, but for those in it, it really is a matter of life or death. The sounds of bombs falling, shaking the very floor you stand on, will be one that will be remembered for the rest of your life if you manage to survive and find safety.
Unfortunately, Ukraine is also not the only war that is going on at the moment. The same day as the airstrikes in Ukraine started, there were also attacks in Syria, Yemen and Somalia. The list of ongoing armed conflicts around the world causing misery and threatening the lives of innocent people shows that this rotten capitalist system means war.
The number of people displaced from their homes worldwide has been growing exponentially in the last two decades. According to the UNHRC Global Trends report, 2011 was a record year for displacement across borders. Then there were 42.5 million displaced people, 15.2 million of whom were refugees and 26.4 million internally displaced. This was up from a total of 33.9 million at the end of 1997.
By the end of 2020, 82.4 million people were displaced globally; 20.7 million of these were refugees. This means one in every 95 people on earth is forced to flee their homes. The long list of ongoing conflicts is further fuelling the refugee crisis. While we haven't got the latest figures, the UNHCR estimates that global forced displacement had surpassed 84 million at mid-2021. And that was before the Ukraine war.
Even the UNHRC report agrees with socialists when we say that war, conflicts, repressive regimes, attacks on human rights and environmental disasters are the reasons for this large number of people being displaced. Let's be clear, no one just decides to be displaced or become a refugee. It's not a choice: it's desperate people taking life-threatening journeys to have a life. No person in that situation should be made to feel like it's their fault.
The 11th year of the Syrian war has left 11.1 million people in need of humanitarian assistance. 13.5 million Syrians have been internally displaced by violence, which is more than half the country's population. It is estimated that 350,000 people have been killed since the beginning of the conflict.
Eight years into a devastating war in Yemen, 15.6 million people are living in extreme poverty, and 2.3 million children under the age of five are suffering from acute malnutrition. 24.1 million people across Yemen are in need of humanitarian aid. Since the start of the conflict, at least 377,000 people have died. The latest report from the United Nations Development Programme predicts that the number of those killed as a result of Yemen's war could reach 1.3 million by 2030.
The Iraq war and the war in Afghanistan have also left millions of victims who are paying the price of wars they never wanted or caused.
Sowing division
For once, the capitalist media in Britain are showing the misery of war and the plight of refugees in Ukraine because it suits the interests of the ruling classes to do so. If this was a war supported by British capitalism, it would be a different story altogether.
Capitalism is a system based on the drive to make a profit and capitalist governments in different countries carry through policies to further their interests. They do not carry out domestic or foreign policies in the interest of ordinary people, the working-class and young people. Similarly, they are no friends of refugees and asylum seekers.
For them, migrant workers, refugees and asylum seekers are a group of people to blame for the lack of services, austerity and the crises caused by their system, and to be exploited to make a profit. Anti-immigration propaganda might be on pause in the capitalist media during the Ukraine war, but it will be used again to divide communities. Particularly as the cost of living continues to increase and governments prepare for an offensive on working-class living standards.
In 2015, a year of another refugee crisis in Europe caused by war in Syria, Afghanistan and Iraq, the EU Commission met for detailed discussions on brutal measures to stop refugees entering Europe. Measures included building higher fences, cutting financial support, tightening immigration laws and increasing the European border guard by 10,000 by 2020. These armed border forces will have extensive powers to detain and deport migrants, asylum seekers and refugees. There were also cuts to rescue boats in the sea which contributed to the death of at least 3,770 people when they tried to cross the Mediterranean Sea.
Last year, an analysis by the Guardian (London) found that EU member states have used illegal operations to systematically push back 40,000 refugees, including children fleeing from wars from Europe's borders during the pandemic, methods linked to the deaths of more than 2,000 people.
But now the vast coverage of the Ukraine war in the media means that capitalist governments are under pressure to take action to help refugees because of the sympathy and human solidarity expressed by ordinary people.
Hostile environment
The UK response has been shameful. But the UK government's attitude is consistent with its hostile immigration and asylum policy. It had only issued 500 visas to Ukraine in the first two weeks of the war. Under extreme pressure, it announced measures to make it easier for Ukrainian nationals to apply for a visa, including setting up an online application form.
It has also set up the Homes for Ukraine scheme, which promises that households will be paid £350 a month for accommodation for Ukrainian refugees. But the scheme needs proper funding and should be extended to all refugees, otherwise, it will end up like the previous failed schemes. The Syrian resettlement programme, for example, only rehoused 500 out of a total of 20,000 Syrians who were brought to the UK.
The current, temporary puny measures by the Home Office to help Ukraine refugees won't fool the migrants, refugees and asylum seekers living in London. Nor do they change the hostile immigration policy. There are many examples to illustrate the discrimination of the UK immigration system, including last year's response to Afghans fleeing the Taliban. The Windrush scandal, when people who had spent most of their lives in this country faced deportation and mistreatment, really exposed the brutality of Home Office policies which disproportionally affect black and Asian people.
The Tories and the capitalist media are blaming Home Secretary Priti Patel for the lack of action to help refugees. The Financial Times, for example, wrote: "Making asylum as difficult as possible is exactly what the Home Office under Patel – who is herself a child of migrants – has strived to achieve." But Patel, like her predecessors Theresa May, Amber Rudd and Sajid Javid, is loyally carrying through policies in the interests of the capitalist class.
The 'hostile environment' policy, which came into effect in October 2010, is a series of discriminatory legislation to make it as difficult as possible to stay in the UK and to bully and force people to voluntarily leave. Theresa May, as home secretary in 2012, said: "The aim is to create, here in Britain, a really hostile environment for illegal immigration."
The term 'hostile environment' was first used by Alan Johnson as home secretary in Gordon Brown's government in 2010. 'New Labour' under Tony Blair introduced a series of laws restricting the right of those fleeing repression and war to claim asylum. It also introduced a racist points-based immigration system for non-EU workers. And the Blairites backed Theresa May's 'hostile environment' measures.
The UK government has sold £20 billion worth of arms to Saudi Arabia, which was then used to bomb Yemen and Gaza. It's worth remembering that 100 Blairite Labour MPs voted with the Tories to block a parliamentary vote to stop arms sales to Saudi Arabia. Both Tories and Labour voted for wars in Iraq and Syria, against protests by millions of people.
Even tougher measures against refugees and asylum seekers are now being prepared. If the Nationality and Border Bill become an act, it will legalise the Home Office treating refugees as criminals. Under the bill, people fleeing war, persecution and oppression will be denied asylum based purely on how they arrive in the country. Refugees and asylum seekers arriving by boat, many of them already severely traumatised, will be formally classified as criminals and face the prospect of punishment, including being jailed for up to four years.
The bill proposes spending £412 million a year jailing refugees who cross the Channel – five times more than the cost of housing them in the asylum support system. There is huge controversy over this bill. The UNHCR has warned that it undermines the 1951 Refugee Convention, the agreement which has protected refugees for decades, and of which the UK is a signatory. Even the House of Lords voted against sections of the bill at its third reading.
Anger about the way refugees and asylum seekers are treated can be built on to scrap this bill and to create a fairer immigration system. We say such a system needs to be democratically discussed and implemented by the working class. The Tories and Starmer's Labour Party cannot be trusted to help refugees and asylum seekers or working-class people generally.
Socialist alternative
No amount of barriers and brutal treatment are going to stop people from risking their lives to escape poverty, repression and conflict. Even during Covid, tens of thousands of people continued to leave their homes and embark on dangerous journeys across deserts and oceans. The International Organization for Migration (IOM)'s Missing Migrants Project recorded over 3,000 deaths on migratory routes worldwide in 2020.
The reaction from right-wing governments is often very different from that of ordinary people. While capitalist politicians think of ways to increase their influence, career and profit, ordinary working-class and young people show humane solidarity in support of some of the most desperate in our society.
In 2015, for example, the shocking image of a toddler found lying face-down on a beach, one of 12 Syrians who drowned attempting to reach Greece, went viral on social media. It was the spark that led to massive demonstrations in several cities around the world. In London, tens of thousands of people marched through the street on the UN anti-racism demonstration. It was the outrage and anger of ordinary people that pushed the government to take action, with David Cameron agreeing to take in 20,000 refugees over the following five years.
The Socialist Party (CWI England & Wales) intervened in those demos with the Refugee Rights Campaign and raised demands for basic rights, including the right of refugees to work, and a decent standard of living for all.
It's not enough to say that refugees are welcome here. A decent standard of living must be offered to them. There should be support like language help, free law centres and adequate medical treatment – particularly for post-traumatic stress disorder. And the money must be made available to adequately fund local schools, GP surgeries, housing and other services that have been cut to the bone by both Tory and Labour administrations.
Our call for mass investment into jobs, homes and services for all was well received on the demos. We highlighted that there is enough money to provide these things. But we need to take the wealth off the 1% and share it in the interest of the 99%.
The Ukraine war has also raised the issue of the super-rich owning big mansions. Michael Gove, the levelling up, housing and communities secretary, has confirmed that the government is exploring the idea of seizing the UK mansions of sanctioned Russian oligarchs to house Ukrainians. But why stop at only seizing mansions owned by Russian oligarchs? The Socialist Party is calling for the tens of thousands of empty properties owned by millionaires, billionaires and big multinational companies to be brought into public ownership.
There are 600,000 empty properties in the UK. This would be more than enough to house the 274,000 UK residents that are homeless. Two years ago, at the peak of the first wave of the Covid-19 pandemic, the government was able to provide homes for all the homeless people. We demanded that this should be extended beyond the Covid-19 pandemic.
But for these policies to be implemented, the working class and young people need our own political representation. A new mass workers' party that will implement domestic and foreign policies, which will improve the living standards for all. A party that has an internationalist approach and fights for socialist policies. Only a socialist programme will be able to unite the working class in a global fight to end the capitalist profit system that causes war, poverty, repression and oppression that in turn forces people to flee their homes, and for democratic control and management of all the different aspects of our lives.