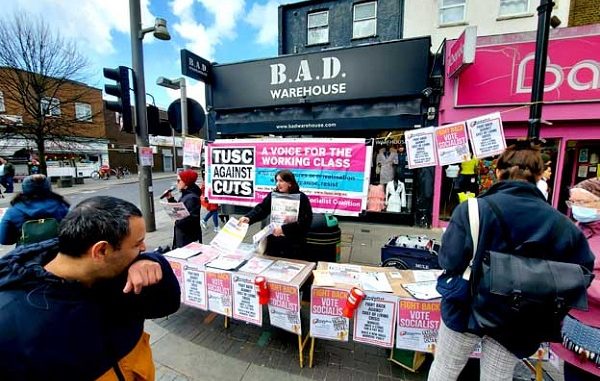 The Socialist Party (C WI England & Wales) is part of the Trade Unionist and Socialist Coalition (TUSC), an anti-austerity electoral alliance, including the RMT transport union.
TUSC will be standing hundreds of candidates in the May local elections, as an alternative to the establishment parties, whose cuts to jobs and services are attempting to make the working class pay for the crisis of capitalism.
Below, Jane Nellist explains how we can start to challenge the system that is attacking our communities – by refusing to implement cuts, utilising the huge resources that councils have, and building a movement to win more resources we need to tackle the crisis.
It's very hard to believe that we live in the fifth-richest country in the world when you witness daily, the absolute, abject poverty that millions are forced to endure. And it's getting worse!
Even the capitalist media is full of stories of how our communities are suffering. Life is a huge struggle for an increasing number of families and vulnerable members of our society. People are running out of options to be able to house, feed and heat themselves and their families adequately. Many of these people are in work, with some holding down more than one job.
Inequality
The biggest problem that is driving this epidemic of misery is that we live in a country with a huge imbalance of wealth. Inequalities permeate throughout society. And while the rich are getting richer, it's at the expense of the poor and increasingly the middle class, who are being ground down with more cuts and hardship.
The gap between the richest in society and the rest of us has widened over a 10-year period, according to the Office for National Statistics. The wealthiest 10% of households held 43% of all the wealth in Britain in the latest period; in comparison, the bottom 50% just 9%.
After 12 years of austerity, the cost of living crisis – forced on us by this Tory government and with the lack of any real opposition or alternative from Starmer's Labour Party – is sucking away our dignity.
All of this comes on the back of a pandemic that has had – and is still having – a brutal impact on our communities and services, especially our National Health Service (NHS).
The leadership of the Tory party, who partied while we stuck to the rules and mourned those who died from Covid, have shown they just don't care about the lives of the majority.
But we need to nail the lie that there is no money to tackle the crisis. The country's overall wealth has grown in value by 84% (or £3.8 trillion) over the last decade, while property has increased in value by £2.1 trillion (61%).
But at the same time, millions of people are having to make choices about heating or eating, or even the type of food to buy which doesn't require lengthy cooking times, because they can't afford the huge hike in energy costs.
What a disgrace that we have more food banks than branches of McDonald's. Yet, food banks are increasingly turning people away because they cannot keep up with the massive increase in demand. Recent figures suggest that 9% of the population will be forced to turn to foodbanks. This, at a time when there are a growing number of millionaires and billionaires.
The steep rise in the cost of food, energy and fuel is creating conditions the likes of which we have not witnessed for decades. Rampant inflation, coupled with the cuts to the NHS, council service cuts, social care and benefit cuts, will leave many of us without any safety net at all.
On 1 April this year, tax credits and benefits, including pensions, went up by just 3% – well short of inflation, now running at 8% (and rising). However, food, transport, and childcare are areas of household spending that impact those on low wages or benefits greater. For example, it is estimated that average food costs could rise by 15% this year. No amount of household budgeting is going to solve this crisis!
This is why we urgently need to build a political alternative capable of providing what our communities need now.
We need to demand that local councils start to mitigate the huge cost of living crisis, by utilising all the resources and means they have to protect our communities.
So how can we do this? For a start, councils are not powerless. What is lacking are elected representatives who are prepared to fight and organise. TUSC candidates are prepared more than ever for that fight because it is our communities who are being hit hard.
Labour councillors however, instead of fighting for the class they are supposed to represent, the working class, have abdicated their responsibility while shedding 'crocodile tears'.
Indeed, they have willingly carried out Tory government cuts, with little or no resistance.  We say: 'Enough is enough'! TUSC candidates have pledged to fight back against cuts and inequality, and I am one of them.
Local councils are still responsible for over one-fifth of all public spending.  Despite huge, decades-long, cuts in central government funding, which councils have disgracefully accepted unchallenged, councils still hold billions of pounds in usable reserves. The amount held in local authority reserves in England has increased to £29 billion this year from £19 billion in 2019-20.
Those reserves could immediately be used to invest in services that our communities need now.
Borrowing powers
Councils also have borrowing capacities which they could utilise to start plugging the holes in our service provision.
For example, the trade unions have been urging Labour councillors in Coventry to mount a city-wide campaign to win back resources that have been stolen from our city over the years. But it has fallen on deaf ears, and these councillors have continued to just manage the decline and impose cuts on the services for our most vulnerable communities.
What is shocking is that, as our services have been cut, Coventry council has invested millions of pounds of our money, buying businesses such as a waste company and one of the most expensive hotels in the Midlands for millions of pounds. This waste company is now being used to undermine the council's own workforce – especially Coventry refuse drivers who are striking to achieve the proper pay rate for the job. This union struggle is being replicated across the country.
TUSC members across the country have also been organising campaigns to adopt a 'People's Budget'. This entails identifying areas of spending that could immediately be implemented, and which would begin to relieve the pressure on our communities, while organising and building a national fightback against the Tory government.
TUSC has produced comprehensive briefing lists of some of the ways this could be carried out by councils now, using their reserves and borrowing powers to temporarily finance them, while launching a mass campaign locally and nationally – building the pressure – for extra funding from central government.
Real 'levelling-up'
Councils have enormous powers and influence – they need to use that to force the government into acting now to bring about the changes that will fundamentally provide the means for the relief of years of devastating austerity and cuts.
The Tories 'Levelling Up' strategy is a sham! It is unclear, underfunded and too centralised. It will, as we have seen with many Tory government plans, put public investment into the hands of private profiteers and ultimately will not address the real problems we face.
The Socialist Party and TUSC candidates want to go further and faster to defend our communities and ensure that a genuine 'levelling up' is achieved.
TUSC is declaring 'war' on poverty and is challenging those who get in the way.
see tusc.org.uk
---
Here are some ways that councils could begin to make a difference to our communities.
Children and young people
Childcare costs have risen 42% since 2008, twice the rate of inflation. Many workers would like to work more hours to enable them to earn more, but high childcare costs deny them that opportunity
We could ensure universal free childcare for all that need it
Parents need fully funded wraparound childcare for school-age children so that they have access to a quality service, through extended schools
Increase the support and number of children's centres in our communities. The Surestart services, cut by the Tories, should be restored and extended, to provide much needed support for families.
We could ensure that no child goes hungry, with free breakfast and lunches around the year for all those who need it
Introduce local replacements for the Education Maintenance Allowance for all 16-18 year-olds who stay on in education
Older people
10,000 deaths a year are linked to living in a cold home. With pensions not keeping up with the cost of living, more of our vulnerable older community are at risk
Councils could put in place foundations of a fully funded, publicly owned, health and care service
Ensure that emergency payments are issued to enable them to heat their homes and cook their food
We could increase ring-and-ride services so that they have access to public transport more easily and enable people to visit friends and family or go out socially. This is especially important in more rural areas, where current public transport provision is dire
Housing and homelessness
More than 274,000 people are officially homeless in England – with a rising tide of evictions leaving many families facing a desperately uncertain time
Nearly 3,000 people are sleeping rough. 15,000 single people are living in hostels, and nearly 250,000 people are living in temporary, unsuitable accommodation – most of whom are families
Walk down any high street and you see an increasing number of homeless people huddled in doorways. It is evidence of our failed system. Many have been crushed by a system that is failing to provide for their basic needs
More resources could be provided for alcohol and drug dependency, with well-supported suitable accommodation
With Covid protections now gone, thousands more will become homeless
Freeze council house rents, and compulsorily register all landlords to combat rising rents and overcrowded conditions in privately rented accommodation
Many homes are energy guzzling due to poor insulation – they need to be bought up to proper standards. Too many families are living in damp, cold homes causing many health problems. Councils could start to invest in repairs and upgrading work, thereby saving families huge energy bill
Repossess empty properties and make them habitable to immediately end homelessness
Use resources to give families emergency payments to help with crisis needs so they can avoid becoming homeless
Councils could use their borrowing powers to begin the task of building good quality council housing to meet the needs of all
Council workers – pay and jobs
End immediately the use of zero-hour contracts
Councils could begin to provide real opportunities for good quality jobs in-house, with proper training, providing the services that our communities need
Councils should ensure that they pay at least £15 an hour, as a minimum, and ensure future inflation-proof pay
Introduce high-quality apprenticeship schemes, with trade union rates of pay, quality training, and a guaranteed job at the end. Outside contracts should comply with these terms
Leisure
So many sports facilities have been sold off or left unfunded. By bringing them back into public control, and investing in free-to-use sports and recreation centres, it would help to reduce the huge health inequalities in our communities
Ensure that every community has access to green spaces and playing fields. Too many green areas, especially in city centres, are sold off to developers to build high rise flats for private landlords or offices
Youth services
Young people are often seen as a 'problem', but they are our future and deserve a good start in life and a great deal more support than they are getting now
Research by the YMCA reveals the true extent of cuts to youth services funding by local authorities in England and Wales since 2010, with an allocation of just under £429 million in 2018-19, compared to £1.4 billion in 2010-11 – a real terms decline of 70%
Councils could create the foundations of a national youth service
Work with schools to open up facilities in the evening, weekends and in school holidays to provide safe hubs for young people to gather. These could provide sports, arts and other groups
Climate Emergency
Local authorities have powers to intervene in the provision of public transport and ensure that it is improved so that it is more affordable and meets the needs of local people, taking more polluting cars off the road. They could also introduce free public transport
Councils need to urgently ensure there is a fully-funded home insulation energy efficiency programme
They could call in all development projects in order to review the environmental impacts, especially the provision of good quality social housing
Councils could draw up a detailed local risk assessment and plan to combat flooding risks, as well as drawing up a local Climate Emergency plan. Working to ensure that targets are identified based on the carbon footprint, not just of council-run services but capturing total emissions for the local area, giving a real picture of what needs to be done to tackle the climate crisis