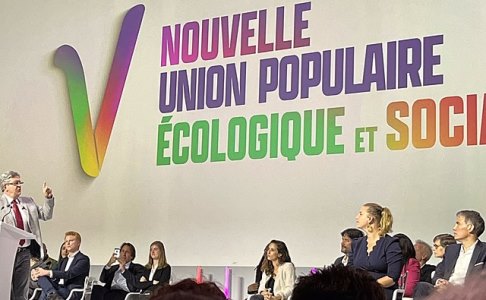 Just two months after retaining the presidency, Emmanuel Macron's party has lost its majority in the 577-seat assembly and, as French newspaper 'Le Monde' headlined, "The National Assembly plunged into the unknown". Macron, viewed by workers in France as 'the president of the rich' due to his pro-big business policies over the last five years, has been severely weakened.
Although his 'Ensemble' coalition emerged with the largest number of assembly seats, he now faces a battle to implement his policies, not just from within the assembly but also against stepped-up struggles from the trade union movement. He is now in a fragile position as workers fight against his planned increase in the retirement age, the escalating cost of living, and other attacks on living standards.
Adding to Macron's problems is the loss of some of his top team and allies, as he had pledged that those who lost their seats would stand down from their government positions. This happened to his ministers for health, environment, and maritime affairs. Also losing their seats were former interior minister Christophe Castaner and the head of the assembly Richard Ferrand.
Most of these individuals were defeated by left candidates in the NUPES alliance led by Jean-Luc Mélenchon. NUPES, the 'New Ecological and Social Popular Union', was formed as an electoral alliance of Mélenchon's FI (France Insoumise) with the PS (Parti Socialiste), EELV (Greens), and PCF (Communist Party) after April's presidential election – in which each of those parties had stood separately.
NUPES did well in the legislative elections first round on 12 June but didn't manage to increase its appeal enough seven days later in the second round to win a majority of seats in the assembly. Achieving that would have meant attracting a layer of the abstaining workers and youth out to vote. Instead, over half the electorate once again abstained, disillusioned as a result of declining living standards imposed by previous assemblies, whether composed of political parties on the right, the 'centre' or the so-called 'left' – the latter having been the PS which adopted a pro-capitalist agenda.
Nevertheless, FI now has 72 seats in the assembly, over four times more than its 17 in the last election five years ago. This much larger bloc needs to give a lead in opposing the policies of Macron's party and others with which he might ally. The 6.4 million votes won by NUPES represent a big potential. It is now crucial that FI structures itself, so as to allow a new layer of people to organise to fight not only Macron but all capitalist policies.
Marine Le Pen's RN (Rassemblement National), the far-right party that has evolved from the National Front, which contained neo-Nazi elements, created shockwaves by winning 89 assembly seats, due to a campaign focused on social issues. This is its highest number ever, up from just eight in 2017. That serves as a major warning to the workers' movement. Contrary to Le Pen's populist rhetoric, the RN's policies are at root staunchly pro-capitalist as well as vilely racist and will have to be countered and defeated in the political and industrial struggles to come.