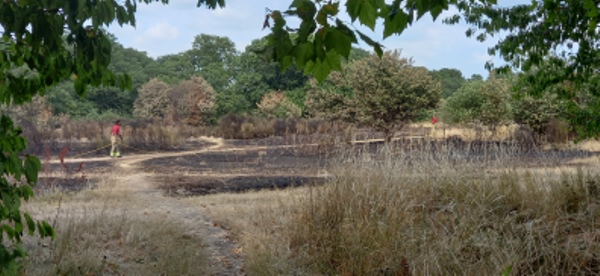 Record-breaking temperatures have affected much of Europe and most of the UK, with temperatures exceeding the highest previous temperature by several degrees in Wales and touching 40 degrees in England.
Despite health advisers and the Met Office sending multiple warnings – reflected in the red weather warning issued for large sections of England – the government again showed itself unprepared.
Deputy prime minister Dominic Raab suggested people should "enjoy the sunshine". Meanwhile, Boris Johnson was photographed in a fighter jet at the Farnborough Air show – missing an emergency COBRA meeting on the heatwave!
The NHS and other public services were unprepared and already overstretched because of Covid and long-term underfunding. It is estimated that thousands of excess deaths will be recorded because of the heatwave.
More than 100,000 vacancies currently exist in the care sector, leaving vulnerable people at greater risk, without provisions to help them stay cool and hydrated.
Most older hospitals have no air conditioning or ventilation systems, causing some wards to rise to 30 degrees by lunchtime on 18 July!
Meanwhile, a lack of investment in key infrastructure to mitigate against high temperatures resulted in widespread disruption mainly to transport as trains were either cancelled or subject to speed restrictions, and flights were grounded at some airports.
Exceptional heat
Many workers had to carry out duties despite the exceptional heat. The advice from the Trades Union Congress is that temperatures indoors at work should not exceed 30 degrees. But, unlike elsewhere in Europe and in the US, there are no legal limits. Workers' organisation is needed to fight for temperature safety measures. Workers well organised in trade unions will be best placed to negotiate changes in working practices. If necessary, collectively using Section 44 of the Employment Rights Act, giving an individual worker the right to refuse to work in unsafe conditions, as teachers did earlier in the Covid pandemic.
The heatwave also exposes other inequalities in society – temperatures are higher and harder to manage in built-up urban areas where residents have limited access to green spaces or shade.
London Mayor Sadiq Khan has triggered an "emergency response", including distributing water and suncream to the street homeless, but why not offer accommodation?
Pro-capitalists would like people to believe this to be a one-off, but it is becoming clear that extreme weather events, including heatwaves, are becoming more common. Nine out of the UK's ten hottest days have occurred since 1990.
If global temperatures continue to rise, we will see far hotter summers in the future. Planned investment into building quality, well-insulated housing, opening community spaces, and resilient transport infrastructure is all needed, but won't happen under profit-driven capitalism. To save the planet from climate catastrophe, and deal with its consequences, we need democratic socialist planning that prioritises the needs of people and the planet.