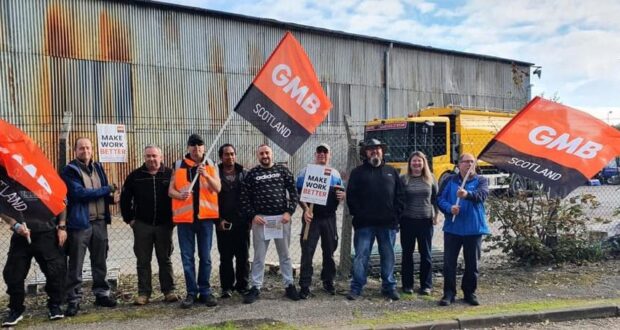 Scottish council workers have received a fifth pay offer for 2022/23 from the employers. This follows strike action across a majority of Scotland's councils involving waste workers which brought bin services to a halt across 21 councils.
Day after day, the news bulletins were dominated by pictures of rubbish piling up in towns and cities across Scotland. Despite this, the public support was overwhelming with social media and comments on news websites full of supportive comments.
An escalation in the action was planned for this week when bin workers were due to take further strike action, as were thousands of workers in schools and nurseries which would have closed all schools in cities including Glasgow and Dundee.
Faced with a growing strike wave across local government and mass public support, the council employers, CoSLA, and the Scottish government were forced into a series of retreats.
At the start of 2022, the joint unions – Unison, Unite, and GMB – tabled a pay claim for a £3000 uplift, and over the summer balloted workers in waste services and schools and nurseries for action.
CoSLA's pay offer was initially a derisory 2%. This was increased to 3.5% and as the selective action ballots were coming in from all three unions the offer was increased again to 5%.
The strike action began in Edinburgh by bin workers in mid-August. A week later, the action spread to a further 20 councils in waste services.
During this wave of strike action – and with all three unions announcing plans for a second wave of bin strikes and three days of school and nursery strikes beginning September 6 in those councils that had surpassed the anti-union turnout threshold – CoSLA and the Scottish government retreated again.
The 5% offer was to be supplemented by "one-off cost of living" payments that would increase most council workers' pay by £1925. However, this element would be non-recurring and would not be included in the hourly rate going forward.
This 'offer' was described by CoSLA as being at the "absolute extremes of affordability". The SNP deputy first minister, John Swinney, railed that "the government cannot offer any more money."
Socialist Party Scotland members visiting the picket lines found an overwhelming rejection of this insult. Our members in the local government unions argued for the rejection of the offer and that the planned strikes should go ahead.
All three unions rejected the proposed deal and agreed the planned strikes would go ahead. Swinney was then bumped and first minister Nicola Sturgeon agreed to meet with the employers and the unions.
Arising from these talks, a new proposed deal emerged on Friday 2 September.
The new offer, financed by around £600 million of CoSLA and Scottish government money, will see full-time council workers gain a £2,000 rise for those earning up to £20,500 and a £1925 increase for those on up to £39,000.
This is to be fully consolidated into pay for 2022/23 and beyond.
For bin workers on around £20,000, that's a 10% rise. For workers on £25,000 it's around 8%, and just under 7% for those on £30,000.
Half of Scotland's 250,000 local government workers earn less than £25,000.
All in all, CoSLA and the Scottish government have been forced to concede much more that they had planned.
All of it is a result of the preparedness of workers to take strike action. All council workers will also get an extra one day of annual leave.
More to be won
The view of Socialist Party Scotland members in the council unions and many union activists who we work with is that there was more to be won.
More than £400 million was added to the pay offer as a result of the trade unions refusing to accept the initial offers and moving to strike action.
However, the action was due to escalate this week, including the shutting down of hundreds of schools and nurseries. 19 of Scotland's councils were also going to see more strikes in waste and recycling.
Moreover, thousands of other council workers were likely to join the action in October, after the re-ballots of those branches that did not quite reach the 50% turnout over the summer.
We, therefore, argued, for example at the Scottish Unison local government committee, for the strikes to continue and to use that as a platform to win further concessions on pay.
As it is all three unions will now consult their membership on the offer. Unison, Unite, and the GMB leaderships are arguing for acceptance.
Fight for inflation-proofed pay rises
Our view is that the offer is not yet good enough, at levels that are below current inflation. It is still £1,000 less than the joint unions pay claim.
Moreover, with an escalation in the strikes planned for this week, the strike weapon had by no means been exhausted.
Union members should therefore support both a rejection of the deal and for strike action to be re-instated.
The union leaderships should have made the case for rejecting a deal that while it offers concessions won by strike action is not yet enough to prevent Scottish local government workers from losing ground on pay as inflation continues to rise.
The need for a fighting, socialist leadership of the trade union movement to match the determination of the membership to struggle has being underlined by this dispute.
Inflation-proofed wage rises are essential. Against the backdrop of a spiralling cost of living crisis, the appetite to struggle will only grow.
Indeed all unions saw a surge in recruitment in waste services and schools and nurseries as a result of the strike ballots and strikes.
Coordinated strike action by all unions planning action is essential. Union activists should call for rejection and for the action to continue.
If that position is not won, it is only a few months until new talks open up on next year's pay deal.
With the cost of living crisis set to worsen a return to strike action over pay seems inevitable.
We will do all we can to build a leadership locally and nationally that can face up to the need to build mass coordinated strike action in the months ahead.