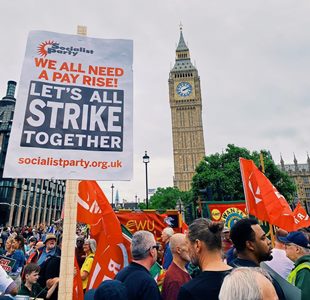 Tory Prime Minster Rishi Sunak's new year message included finally declaring his intention to bring in yet more anti-union laws. A bill was introduced to Parliament on 10 January. This must be seen by the whole trade union movement as a declaration of war on the democratic rights of workers and their ability to fight back against the brutal cost-of-living squeeze. There must be an immediate united response from across the unions, with determined action, up to and including the preparation for a 24-hour general strike.
Sunak's plan would place him in a long line of Tory prime ministers, going back to Ted Heath, Margaret Thatcher and John Major, who have implemented anti-union legislation over the last four decades and more. His promised restrictions would be on top of what are already the most restrictive laws in western Europe.
Plans include imposing 'minimum service levels' on ambulance, fire and rail services. Failure to comply would bring the threat of unions being sued and workers sacked. Unions' failure to agree minimum service levels in education, border security, and other health and transport services among others would lead to their imposition in these areas too.
The existing undemocratic industrial action ballot thresholds, brought in by David Cameron's government in 2016, meaning that at least 50% of members have to vote, with a simple majority not sufficient for a legal mandate. Hardly any councillor, or an MP elected on a typical by-election poll, would comply with these rules!
Last March, 800 P&O workers were viciously sacked, some put in handcuffs and dragged off their ferries, in a move the company's CEO admitted to MPs was illegal. The firm has got off scot-free and the workers are still out of a job.
Sunak's announcement will be another confirmation to workers that this capitalist system and its laws are rigged against them.
But while Sunak is looking to follow Thatcher's example, this is far from a strong Tory government. He is the third Conservative prime minister in six months, as the Tories reel from one crisis to another. The basis for this is the weakening economy and soaring cost of living, which is being met by the biggest and broadest strike wave for years.
Boris Johnson posed more draconian anti-strike laws, in particular 'minimum service levels' for rail and transport workers, in his first Queen's Speech after winning the December 2019 general election. The Covid crisis and the subsequent Tory meltdowns have kept it on ice.
But the union leaders have to take this threat seriously, far more than the union leaders did in 2015-16 when Cameron brought in the Trade Union Act. Then, not one national weekend demonstration was called, let alone any strike action. Now, coming in the midst of the strike wave and as prices spiral, workers will fully understand the purpose behind the new laws – to try and hamstring them while the employers, including this Tory government, impose effective pay cuts.
The Trades Union Congress (TUC) must give a lead, to bring together the trade union leaders in a 'council of war', and plan how to bring together the hundreds of thousands if not millions of workers who are taking action and balloting to do so. And if the TUC leaders falter, the trade union leaders willing to lead the fight must take the initiative. The unions must name the date for a coordinated strike, on the scale of a 24-hour general strike. A national Saturday demonstration near that date too would mobilise all the anger against the attack on our incomes and the anti-union laws.
This would be a beacon to all workers, especially the young and unorganised, who can be brought into the ranks of the unions. Already Amazon workers, who walked out unofficially last summer after bosses 'raised' their wages by a meagre 35p an hour, have become unionised and are going on strike in Coventry on 25 January.
Mass pressure needs to be levered on to the union leaders. In his first press interview, new TUC General Secretary Paul Nowak appeared to play down the possibility of a general strike but such is the anger of workers, he had to then agree with the idea of coordinated action.
Even Labour leader Keir Starmer has said that, while Labour "will look at what they bring forward," if it is "further restrictions then we would repeal it." But workers will remember his lack of support for their strikes and his warnings of "tough choices". If even a small workers' party existed, with one or two left MPs, some anti-cuts councillors and union support, it could exert huge pressure on Starmer, but more importantly offer a real political alternative for workers, strengthening their strike action.
The Tories are in crisis, weak and divided, and are lashing out. But the threat of new anti-union laws is a real one. At TUC Congress last autumn, outgoing general secretary Frances O'Grady warned the Tories, at that time led by Truss: "We'll see you in court". Workers must ensure that the real response is a fighting one, from the picket line and the streets – like the 20,000 striking posties that filled Parliament Square on 9 December. That is the real mood, if it is mobilised, the Tories and the employers they represent can be defeated.