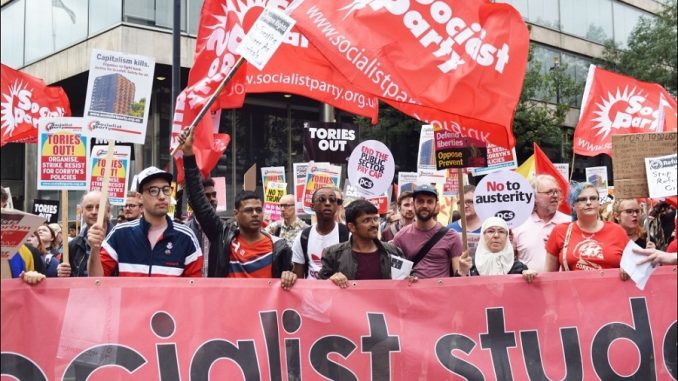 All who attended the Tories Out demonstration on 1st July, in London, will have been given a huge boost of confidence that the anger and determination exists to bring down the weak and wobbly Tory government. Many tens of thousands of workers and young people came to express their opposition to the Tories, the Democratic Unionist Party (DUP) and austerity.
The Socialist Party made a big impact on the protest. Our flags, gazebos, placards, leaflets and sellers of the Socialist couldn't be missed. Figures are still being collated but certainly Socialist Party members sold hundreds of copies of the Socialist and raised hundreds of pounds that will help to fund more anti-austerity and socialist material. Scores of people gave their details as interested in joining the Socialist Party and five joined on the day.
At various points of the day hundreds of young people joined the vibrant 'red bloc' organised by Young Socialists – Generation Socialist. The open-mic stage which launched the bloc at the start of the demo had queues of people wanting to share why they had come along.
The now famous 'oh Jeremy Corbyn' chant echoed around the march throughout. But this was no blind hero-worship – people were serious about winning what Corbyn promised in his election manifesto. Socialist Party placards calling for people to 'organise, strike, resist for Corbyn's programme' flew out of our hands at tube stations and coach stops as people arrived. So too with our 'capitalism kills' placards with an evocative picture of the burnt-out Grenfell Tower.
A speaking stage on the final stretch of the demo, organised by the National Shop Stewards Network, received a great response as crowds arrived. When Socialist Party member and Barts Health Trust Unite branch secretary Len Hockey said "we're going on strike", there was a roar of support from those passing.
While it was a welcome and lively demo, the turnout for it was only a fraction of what could have been achieved had the trade unions turned fully to the task of building for it and organising coaches. Instead there were reports of transport being called off even on the morning of the day itself.
It was even more impressive, therefore, that a large number of people made their own way on trains from around the country and in droves from across London. As discussed in the Socialist's editorial below, this must be just the beginning.
After the demonstration – what next?
"For years we have campaigned for the idea: another world is possible", said John McDonnell, Labour's shadow chancellor, at the 1 July People's Assembly (PA) demonstration closing rally in Parliament Square. "But now", he concluded to rapturous applause, "we can truly say another world is in sight".
A mood of celebration dominated the day and was reflected from the platform. Almost every speaker said, in different ways, that the Tories were 'weak and wobbly' and that there was a real prospect now of a Corbyn-led government.
Jeremy Corbyn himself told the rally that not only are "the Tories in retreat, austerity is in retreat, the economic arguments of austerity are in retreat."
Unfortunately, however, there was less clarity from the platform speakers on the next steps that are needed to actively work to bring down the government, or to build the forces that will be needed to meet the inevitable opposition of the capitalist establishment to a Corbyn government.
The PCS civil servants' union general secretary Mark Serwotka rightly argued for coordinated public sector strike action to break the pay cap but this concrete call was in sharp contrast to other speakers. Trade Union Congress (TUC) general secretary Frances O'Grady typically confined herself to vacuous slogans.
"Every worker needs a pay rise", she said – and who could disagree? But she then said absolutely nothing on what the TUC proposes to do, not even to use the new political situation for a mass unionisation drive.
That is not good enough. The TUC, the coordinating body for over six million workers, is a counter-power to the government. If it gave a lead, Theresa May would be gone in months. It was a political mistake by the PA organisers not to use the demonstration to make a firm call on the TUC to act.
The same was true with regard to Labour councils, also a potential counter-power to the government.
A Fair Funding for Schools campaigner spoke passionately about the present £3 billion schools funding gap and teacher redundancies. But PA stalwart and National Union of Teachers executive committee member Alex Kenny offered no way forward in response. "We don't know when the next election is", he said, "but we do know there's a budget in November. So if you live in an area with Labour, Liberal Democrat or Green MPs or councillors, you must work with them to build the pressure on the Tories before then".
But why do councils, Labour ones especially, need 'permission' from the May government 'in November' to act on the schools funding crisis now? They have the power to step in and, using their borrowing powers and reserves, underwrite school budgets so that the sacking of teachers and support staff could be stopped immediately.
What could the government do? If it dared to take on councils protecting local public services it would only bring the next general election nearer and guarantee its final demise. Austerity must be resisted in action, not just in words.
One speaker, the Green Party London Assembly member Sian Berry, did point to the record of Labour councils on housing. Grenfell Tower was referred to by many as a symbol of Tory Britain but, as Sian Berry said, most Labour councillors are pursuing exactly the same policies of privatisation, deregulation and cost-cutting. Significantly, her criticisms were not received with any hostility by the crowd.
But even her points were only half made, not spelling out clearly the need to clear the Blairite councillors out of the Labour Party if it is to be transformed into a real anti-austerity movement, or offering support to Jeremy Corbyn in that task. And when Green councillors have been in positions of power, they too have not resisted the austerity agenda.
Overall, the demonstration confirmed the changed mood and raised expectations since Jeremy Corbyn's general election campaign. But it was a missed opportunity by the PA organisers not to map out a clear way forward, reflecting their political adaptation to the right-wing of the labour movement.
There were calls, rightly, for more demonstrations. Lindsey German, convenor of the Stop the War Coalition, said: "We can't wait for a general election. If this is the number of people we can get on the streets in just three weeks, imagine what we can get to demonstrate outside the Tory Party conference in October".
But on the vital task to re-shape the labour movement for the battles ahead, to organise to defeat the Blairite remnants as well as the Tories, not a word was said to the assembled crowds.
Jeremy Corbyn concluded the rally by stating: "It's the ideals of social justice, of unity, of people coming together to oppose racism and all those that would divide us, that are the ones that are moving forward." Although, he did not explicitly say that it is only through socialist policies that those ideals can be realised – another frustration on a day when tens of thousands mobilised to seek an answer to the question: What next?
Special financial appeal to all readers of socialistworld.net

Support building alternative socialist media

---

Socialistworld.net provides a unique analysis and perspective of world events. Socialistworld.net also plays a crucial role in building the struggle for socialism across all continents. Capitalism has failed! Assist us to build the fight-back and prepare for the stormy period of class struggles ahead. Please make a donation to help us reach more readers and to widen our socialist campaigning work across the world.

Donate via Paypal

CWI- Please inform us if you are reproducing any material from this site.