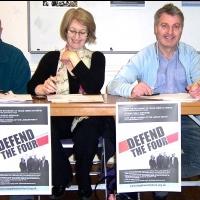 Victory for the Socialist Party and the Four, who have refused to be bullied and intimidated
The white flag of surrender is currently flying over Unison HQ (Britain's main public sector union). For five and half years the union bureaucracy have sought to justify and defend the witch-hunt against four Unison activists and Socialist Party (CWI in England & Wales) members.
They have spent over £100,000 and have been prepared to lose thousands of defecting members and many good activists.
Despite losing in two courts – Employment Tribunal (ET) and Employment Appeals Tribunal (EAT) – they were still willing to spend another £100,000 in taking the case to the Court of Appeal, with the Orwellian argument that the lower courts had breached the union's human rights in not being allowed to ban the four!
The case was due to be heard at the Royal Courts of Justice in December. But on 20 November the union did a complete U-turn.
They have written to the court to withdraw their appeal. In doing so the union has now accepted the previous courts' decision that they acted illegally.
A hearing will now be called to determine the compensation that the union will have to pay to the four.
The four have now set legal history in defending the right of union members to defend themselves from being attacked by union bureaucracies seeking to silence them.
The four Socialist Party members were disciplined by Unison on trumped-up charges of racism, after producing a leaflet at the 2007 Unison conference, challenging the Standing Orders Committee about ruling resolutions off the conference agenda. The ET completely exonerated the four on bogus allegations of racism.
Unison took disciplinary action in 2007 against Glenn Kelly, Onay Kasab, Brian Debus and Suzanne Muna and then took three of the activists' branches away from democratic lay member control and into regional administration.
The Four challenged the union's actions in court and twice the courts ruled that they were unlawfully and unjustifiably disciplined.
The EAT further found that the disciplinary action violated Unison members' democratic rights.
Unbelievably, Unison filed an appeal in the Court of Appeal against the ET and EAT's decisions. Then on 17 July this year, Unison demanded the right to claim costs if they won the appeal. But the Unison leadership's demands were thrown out of court.
In a humiliating response to Unison's attempts to bully the four out of defending themselves in court due to lack of money, Lord Justice Elias called Unison "shabby".
This is a victory for the Socialist Party and the Four, who have refused to be bullied and intimidated. They have run a determined five-year campaign exposing the actions of the union.
The Socialist Party would also like to put on record its thanks to the lawyers who gave their support and time for free, showing that not all lawyers are just in it for the money, in particular, Nick De Marco.