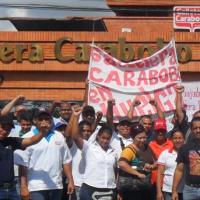 "…es la primera Huelga de trabajadores y trabajadoras en Venezuela después de la aprobación de la nueva ley del trabajo…son ya más de 80 días en pie de lucha…"
Desde hace más de 80 días, están en huelga las trabajadoras y trabajadores de la fábrica de Galletas Carabobo. Fabrica emblemática del ramo y que está ubicada en Valencia estado Carabobo, en la región central del país, estado que posee el principal puerto maritimo del país y una de los ejes industriales más importantes. Actualmente el estado se encuentra gobernado por la oposición de derecha.
El origen del conflicto se debe al incumpliendo y negativa por parte de la patronal de discutir la renovación de la contratación colectiva, que se encuentra vencido desde hace 2 años. Las trabajadoras y los trabajadores de la fábrica, han agotado todos los recursos administrativos y legales que le otorga la nueva ley del trabajo, sin que hasta ahora hayan recibido respuestas satisfactorias a sus demandas.
"…Esta huelga es emblemática por que es la primera huelga legal en marco de la nueva ley del trabajo…" Estas fueron palabras textuales de la compañera Adriana M. Secretaria General del sindicato y una de la líderes de la huelga.
Sin Apoyo del PSUV.
Lamentablemente los factores que controlan el partido de gobierno PSUV en la región, no le han dado el apoyo, al igual que el Ministerio del Trabajo que una vez más refleja que como institución Burocrática del estado capitalista, sus intereses están comprometidos no con la defensa de los derechos laborales si no con la de los patrones.
Una huelga con más del 80% de sus trabajadores Mujeres
La huelga cuenta con el apoyo mayoritaria de las trabajadoras y trabajadores, la gran mayoría un 80% aproximadamente son mujeres. Esta composición de la fabrica y de la huelga le da una carácter heroico a la lucha de las compañeras; ya que la mayoría son parte de la realidad sociopolítica de este país, donde tiene que ser madres y padres y sostén de familia, por lo que su situación es de de doble opresión y explotación en la violación de sus derechos humanos fundamentales.
La Amenaza de romper la huelga, la vieja táctica de los esquiroles.
El pasado Viernes 23 de noviembre, hubo una movilización que conto con el apoyo de sindicatos de la región que se han solidarizado con la huelga, ya que la patronal en su acción legal pretende usar a unos 200 trabajadores, que en el fondo son vendedores y que están dispersos por todo el país, para utilizarlos como argumentos de que son contrarios a la huelga y que se les están violando el derecho al trabajo, por tanto la huelga debe ser disuelta.
El resultado de estas acciones será que el próximo martes 27 de Noviembre, habrá una audiencia en un tribunal laboral del estado, para definir el rumbo legal de la huelga.
Antes las amenazas, se cohesiona el apoyo de las trabajadoras y trabajadores y evalúan ir mas allá en su lucha reivindicativa.
Las trabajadoras y los trabajadores de Galletas Carabobo, se están preparando para otra movilización para eses día, para demostrar la legitimidad de su lucha y de sus demandas y demostrar que esos trabajadores que la patronal está manipulando, no son trabajadores directo de la planta y que no se les está violando sus derecho al trabajo; quien lo está haciendo es el mismo patrón que se muestra intransigente ante una base importante de la fabrica que son los que en definitiva participan en el desarrollo de la producción, que sin ello los vendedores no podrán vender el producto y por tanto ejercer sus derecho al trabajo.
Las trabajadoras y trabajadores, no descartan radicalizar su acciones incluso ya están debatiendo la posibilidad de demandar al Gobierno Nacional, la nacionalización de fabrica, que opera con unos 180 trabajadores la mayoría afiliados al sindicato.
Este Mismo Viernes han recibido la visita de una comisión de Vice Presidencia del Gobierno nacional, para evaluar la situación. Están las trabajadoras y trabajadores ahora a la espera de que decisión tomaran desde el ejecutivo.
La Solidaridad de la Clase, y la necesidad de la unidad de acción en base a un programa de lucha.
Las trabajadoras de Galletas Carabobo, cuenta con el apoyo de la UNETE, de más de 60 sindicatos de base de la región y de diversas organizaciones políticas de izquierda que ya se han expresado en solidaridad con su lucha. Socialismo Revolucionario, y El Comité por una Internacional de los Trabajadores, organización socialista revolucionaria internacional que cuenta con partidos de izquierdas y sindicatos clasistas afiliados en más de 40 países incluyendo Venezuela, también expresa su solidaridad con esta lucha y acompaña las demandas legitimas que está haciendo las trabajadoras y trabadores de Galleta Carabobo.
La Huelga de Galletas Carabobo es sola la punta del iceberg de los más de 100 conflictos laborales y sociales que están en pleno desarrollo hoy en Venezuela y que se profundizaran el próximo año, donde sin duda Venezuela será impactada por la crisis mundial del capitalismo que está viviendo sus momentos más críticos en Europa y que obligara al gobierno nacional a tener que tomar decisión trascendentales que marcaran el rumbo político de este proceso.
En este sentido, SR-CIT, coincide con el sindicato de Galletas Carabobo, con el llamado de una Movilización Nacional por la unificación de todas las luchas laborales. Pero también plantea:
1. Una Coordinación Nacional dirigidas por delegados de los sectores en luchas elegidos por asambleas en cada uno de sus centros de trabajo, que en base a un programa mínimo de lucha impulsen todos los conflictos hacia su resolución definitiva y conectarlos por la lucha por el socialismo revolucionario y democrático.
2. Exigir la nacionalización bajo el control democrático de los trabajadores y el pueblo organizado de todas las empresas y fábricas públicas o privadas en conflictos que esta violado sistemáticamente los derechos fundamentales de los trabajadores y trabajadoras. Esto como primer paso al desarrollo de una economía planificada desde las bases de los comités democráticamente conformados en cada centro de trabajo, que organice la producción, distribución y comercialización de los productos en función de las necesidades reales de la sociedad y no del mercado capitalista.
3. Llamar a que en cada centro de trabajo se conforme comités en defensa de los derechos laborales, que se articulen con los distintos sindicatos de base e inicien el proceso de organizara un congreso nacional de trabajadores y trabajadoras, donde se haga el llamado a reorganización sindical bajo la autonomía e independencia de clase, así como la de no dejar secuestrar por la burocracia gubernamental la conformación de los consejos de trabajadores, que deben ser órganos de genuina democracia obrera y plataforma política, para que la clase trabajadora se plantee la lucha política por el socialismo y la lucha contra el capitalismo, el burocratismo, la corrupción.
"La unidad de la clase trabajadora gira en función de la defensa incondicional de sus derechos que son los derechos del pueblo pobre y explotado por capitalismo. Por tanto, la unidad de la clase trabajadora se orienta inevitablemente a confrontar con el capitalismo que es al final el responsable de todos los males que sufre la clase y el pueblo pobre y explotado".
Socialismo Revolucionario CIT Venezuela.
Special financial appeal to all readers of socialistworld.net

Support building alternative socialist media

---

Socialistworld.net provides a unique analysis and perspective of world events. Socialistworld.net also plays a crucial role in building the struggle for socialism across all continents. Capitalism has failed! Assist us to build the fight-back and prepare for the stormy period of class struggles ahead. Please make a donation to help us reach more readers and to widen our socialist campaigning work across the world.

Donate via Paypal

CWI- Please inform us if you are reproducing any material from this site.