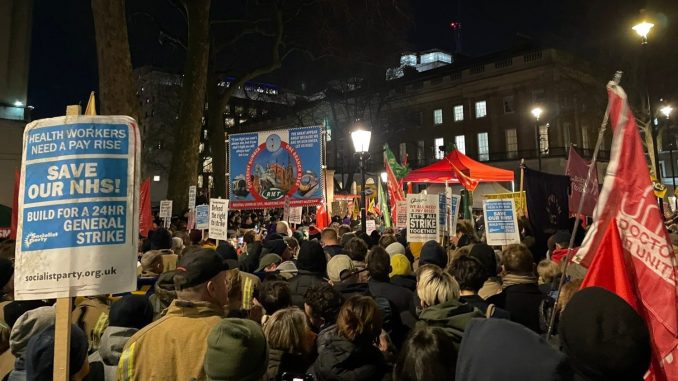 The massive vote to strike by education workers in schools in the National Education Union (NEU) is a potential game changer in the strike wave.
The NEU is the biggest national union so far to exceed the Tory undemocratic anti-union turnout threshold. The vote will be a boost to rail, postal, and NHS workers who have so far been at the frontline of the strike wave.
And what a fantastic answer to the new Tory anti-union bill. Now building for big successful strikes will increase the confidence of all workers not to be cowed by the government's blunt-fisted attack on the ability of workers to defend themselves from a historic cost-of-living crisis but to meet that attack with bold action.
NEU support staff in England voted overwhelmingly, 84%, for action but narrowly missed the threshold. Teachers' union NASUWT fell just short of the threshold with a 42% turnout, but a 90% 'yes' vote. The National Association of Head Teachers also just missed the threshold in England but got over the threshold in Wales. The NEU result will be a boost to education unions considering re-ballots.
Nearly half a million public sector workers are set to coordinate strike action on 1 February, with civil service workers in the PCS, the University and College Union (UCU), train drivers in Aslef, and the RMT also taking national strike action. The Trades Union Congress (TUC) has called for a 'day of action' with regional protests on that day.
The most immediate task now is to campaign for that day to be a massive show of strength. Other workers and unions also fighting for an inflation-proof pay rise should mobilise for the demonstrations on that day.
1 February could be a stepping stone to potentially wider action on 15 March – a date being discussed by a bigger number of unions.
The crisis-ridden Tories are under enormous pressure to make some concessions on pay, at least to NHS workers, which is deepening the already huge rifts in the traditional party of the capitalists.
The cabinet is openly split, with health minister Steve Barclay reportedly asking unions to help him argue for more money. A section of Tory MPs is fearful of a public backlash if they don't give something. But prime minister Rishi Sunak and chancellor Jeremy Hunt are acutely aware that any concession made to health staff will spur on other workers.
The public sector strikes now taking place are directly against the government, but the Tories are also backers of the vicious private sector bosses in rail and Royal Mail. For workers to win their demands requires forcing the government to act.
That's why the Socialist Party has argued for generalising the action. Coordinate all strikes with a live ballot; prepare the ground for a 24-hour general strike.
Each dispute has its own industrial logic and union members will expect their leaders to strive to achieve their demands in negotiations. But at the same time, opportunities for coordination must be seized vigorously by all unions. The call for everyone to strike together is extremely popular and has been made from the picket line week after week by strikers themselves.
That includes nurses, many of whom will disagree with their leadership's opposition to coordination. While it is true that public support for nurses is particularly high, the pressure on the government to make concessions is much greater due to the scale and broad spread of strike action by several workforces, and the public support for it.
Strike wave
UCU leader Jo Grady has suggested in her messages to members that there is a risk that coordinating with others will reduce the press attention on their issues. On the contrary, the sizable press coverage of the strike wave has been precisely because of the extent of the action, with different sections of workers all fighting.
We welcome that the RMT rail union responded to the new anti-trade union bill with an initial protest at Downing Street on 16 January the day it was debated in Parliament. It must be made clear to the Tories now that if they attempt to enact their draconian plans they will be met with a 24-hour general strike.
The re-emergence of the organised working class on the stage of national struggle that has developed since summer last year – which the 2016 Tory anti-union laws were designed to obstruct – has raised the real possibility of bringing down the Tories.
While strikers would be delighted to see the back of the Tories, there is also widespread recognition that a Keir Starmer-led government would still be an obstacle to winning real pay rises and an end to the crisis in the NHS, in social care and other services, on the railways, in Royal Mail. Starmer has made clear whose side he is on in his lack of support for picket lines and his warning that a Labour government led by him would not "open a big cheque book".
As a striking Birmingham RMT member said to the Socialist: "Starmer says he'll get rid of the anti-union laws, but you can't trust a word that man says. He's not for us!"
It is because of the pressure of mass action that Starmer felt compelled to talk of repealing new anti-union legislation. Generalised strike action would ensure pressure on the Labour leadership continues.
That would be stronger still if combined with a workers' list of general election candidates to give a political voice to the action, and force Starmer to be looking over his shoulder. Strikers, trade unionists, and working-class people generally need our own political voice. Standing candidates is an important step toward the new workers' party that is needed.
Special financial appeal to all readers of socialistworld.net

Support building alternative socialist media

---

Socialistworld.net provides a unique analysis and perspective of world events. Socialistworld.net also plays a crucial role in building the struggle for socialism across all continents. Capitalism has failed! Assist us to build the fight-back and prepare for the stormy period of class struggles ahead. Please make a donation to help us reach more readers and to widen our socialist campaigning work across the world.

Donate via Paypal

CWI- Please inform us if you are reproducing any material from this site.