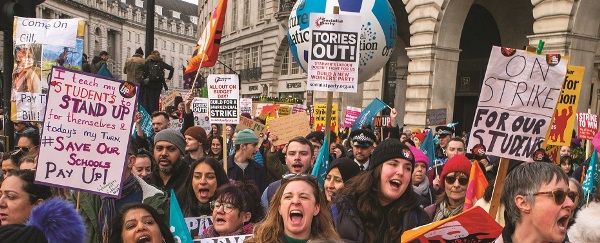 New forces joined the fray for the biggest day yet in Britain's strike wave, on Budget Day 15 March. Junior doctors in the British Medical Association (BMA) walked out for the first time since 2016, for 72 hours from 13 March – joining teachers in National Education Union (NEU) this time taking 48 hours of consecutive action. New forces of civil servants in PCS, significantly HMRC staff, joined the action too.
Impressive in scale, the Budget Day strike, and the week of industrial action that surrounded it has been another display of workers' potential power, acknowledged by the Tories in their attempts to bring in further anti-strike laws. Further days of mass coordinated action, including a 24-hour general strike, must now be the next step.
Individual disputes across different unions ebb and flow, at different times and with different frequencies. Weeks with seemingly endless lists of strikes follow weeks of seeming calm. But the driving force that compels workers into struggle – the ongoing cost-of-living crisis, inflation driving down workers' living standards, itself a symptom of capitalist crisis – is not abating. And the 15 March budget itself will do nothing to stop it.
Anything short of inflation-proof pay rises will mean falling living standards for workers. Unfunded pay rises in the public sector will deepen the crisis facing our public services.
Pay rises
To win from the government pay rises at or above inflation would be a significant defeat for the Tories. To inflict such a defeat will mean further escalation and coordination.
15 March brought around 600,000 workers out on strike together – partially answering the question from strikers on many picket lines: why aren't we all striking together? But in its preparation, there were no reports of the trade unions meeting to plan coordination.  Had it brought together all those trade unions with a live strike mandate it could have seen up to a million workers on strike.
Inspired by the struggles of the strike wave – which in its different phases has seen Royal Mail workers, BT workers, rail workers, nurses, teachers, ambulance staff, and junior doctors to the fore – thousands more are joining. Junior doctor numbers in the BMA have risen by 38.5% since June 2022. This mirrors the tens of thousands of education workers who have joined the NEU since its vote to strike was announced in January.
The GMB-organised Amazon strike in Coventry which started a week of strikes on 13 March, shows how increasing layers of workers, many of who will not have been previously organised in a trade union, are being drawn into the action. 15 March included numerous localised strikes, for example, nursery staff in Knowsley fighting for £15 an hour. Even consultants in the BMA are voting in a consultative vote, to be followed by a formal strike ballot.
Days of coordinated strike action strengthen each of the separate strikes – each with its own rhythm. From a position of intransigence in January, refusing to even meet with public sector unions to talk about pay, facing coordinated action of teachers and civil servants on 1 February, and between health unions on 6 February, the Tory government has been forced to the table. They have made a pay deal to avert strikes in the fire service and succeeded in getting a series of NHS strikes suspended, for now. Although no sooner are nurses' and ambulance strikes suspended, and then the junior doctors walk out!
The bosses and the Tories are split. Their dilemma; settle some disputes and risk giving confidence to other sets of workers to hold out for better deals, or dig in or escalate and risk provoking further action. Any attempts to get some disputes over the line, or paused for talks, failed to stop the biggest day of strike action yet.
The Tory and bosses' division is best met by maximum unity of the workers' movement. On London Underground, it was significant that 15 March saw strikes of both Aslef and RMT members. On the railways too, maximum unity is needed. Socialist Party members in the rail unions call for a rejection of the Network Rail deal, to stand firm in the dispute with the Train Operating Companies, and for maximum discussion between members of all unions to plan the disputes going forward – including joint meetings of the unions' executives (see here)
Elected periodically by members, executives are the lay leadership bodies of the trade unions. They bring together representatives, many of whom are elected workplace shop stewards, from different trades or grades, regions, and industries.
Coordination
The Socialist Party calls for a joint meeting of the executives of all the unions with live strike mandates, and those heading toward strike ballots. Such a meeting would be several hundred strong, filled with leaders of the strike wave – it would be well placed to discuss and plan further coordination and escalation. An immediate task would be to agree on a named date for a 24-hour general strike. Coordination of strike dates reflecting the different stages of each of the individual disputes could be agreed upon in the build-up, and a weekend demonstration mobilising hundreds of thousands of strikers, and other workers looking for a lead from their trade unions and youth.
For millions of working-class people facing a cost-of-living crisis seemingly without end, it is increasingly clear that it is 'us vs. them'. Already the strike wave, by showing workers a means to fight back, and bringing a new generation into the trade union movement for the first time, has significantly strengthened our side – the working class.
We would be strengthened further still if, like the capitalist class, the working class had a political force fighting in its interests. Labour – historically founded by the unions, and still funded by many – has refused to back workers' strikes for pay rises. Leader Keir Starmer has promised 'fiscal restraint' under a government led by him, code for further real-term pay cuts. Instead, the unions must take steps towards forming a new mass workers' party – a start would be preparing a workers' list of candidates to contest the next general election.