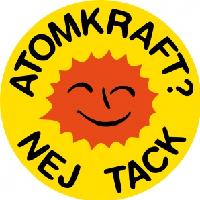 Protests in 20 cities
Wednesday 16 March saw protests against nuclear power in about 20 cities and towns around Sweden. The catastrophy in Japan meant there was national tv coverage of the protests.
In Stockholm, several hundred participated. It was a great atmosphere and many old activists took part. Some had taken the old flags with the text "Nuclear power? No thanks! ". Buttons that we printed up with the same text were sold out after just half an hour.
In Gothenburg the message was clear: dismantle nuclear plants and invest in renewable energy sources such as wind, water and sun. The events in Japan underline how this non-renewable energy source provides a number of negative consequences on the environment and people.
A lot of copies of Offensiv, weekly paper of Rättvisepartiet Socialisterna (RS, CWI Sweden) were sold, with the front page headline "Japan shaken by earthquake and nuclear power crisis". RS calls for a democratically planned economy under workers' control where resources are allocated on the basis of human and environmental needs.
In 1980, there was a referendum in Sweden over nuclear power. A strong No campaign got 38.7 percent, but was defeated by two yes campaigns. Social Democracy with union suppirt got 39.1 percent and the conservatives plus the employers federation got 18.9 per cent. Both Yes campaigns, however, promised to limit the number of nuclear power plants to 12. CWI Sweden in 1980 advocated a No vote, with a socialist No campaign. In recent years, nuclear power companies and the Liberal party have campaigned for more nuclear power plants.