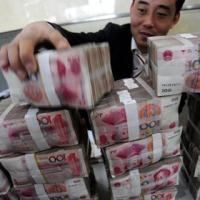 But more than one in three Chinese still live in poverty according to World Bank
China now has more than a million US dollar millionaires. The world's biggest property boom (or is it bubble?) and a strengthening currency helped grow the number of uber-rich Chinese by 262,000 last year, according to a Boston Consulting Group survey.
Worldwide, the report notes, the rich are getting much richer, with record assets under management. Global wealth, according to BCG, is now up to US$121.8 trillion, a US$9 trillion gain from 2009. But as the report also states, the "biggest growth engine" this year is China, with a jump of 31 percent in the number of millionaire households to 1.11 million.
This ranks China third in the number of millionaire households, behind the 5.22 million in the US and Japan's 1.53 million. But the report excludes wealth in privately held businesses and property, thereby missing a major chunk of economic assets.
"This grossly underestimates true overall wealth in China," said Tjun Tang, a partner at BCG in Hong Kong and one of the report's authors. The survey also excludes works of art, fine wines and yachts, a growing class of assets among China's new rich.
The luxury car brand Porsche recently reported soaring sales in China and said that by 2014 it would be the brand's biggest single market, eclipsing sales in the US. This despite the fact that a Porsche Cayenne, at a basic price of 1.8 million yuan in China, is roughly twice as expensive as the same model in the US. Likewise, yacht makers from Italy to Hong Kong report mainland Chinese are now their main customers. And as the South China Morning Post (June 1, 2011) reported, Christies in Hong Kong recently sold a bottle of 1961 Chateau Latour wine for HK$1.68 million (1.4 million yuan) to a mainland buyer.
This shows who is gaining from the current construction-driven economic boom. A relatively small layer is reaping big rewards, while a majority remains desperately poor. Inflation and impossible housing costs are now eroding living standards for a big section of the population.
According to the World Bank there are 500 million Chinese (36 percent of the population) living on less than the equivalent of 2 US dollars per day – its definition of poverty.
Chinese government statistics put rural per capita income for last year (2010) at an average of 5,919 yuan (US$913). By comparison, the average price of an apartment across 100 major Chinese cities rose last month to 8,819 Chinese yuan (US$1,361) per square meter. In other words, an entire year's income for China's 750 million rural inhabitants is insufficient to buy one square meter of property at average prices.
Hong Kong had the 10th most US dollar millionaire households in the world, with 200,000, as well as 223 households worth more than $100 million, BCG said.
Hong Kong had the 10th most US dollar millionaire households in the world, with 200,000, as well as 223 households worth more than $100 million, BCG said. In 2005 the city had 120,000 millionaires.
The CWI relies on the donations from working class people around the world to fund our campaigns.Please donate towards building the CWI.