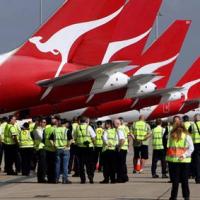 Most vicious attack on unions in 13 years
Management of Australia's biggest airline, Qantas, announced on Saturday 29 October the grounding of its entire fleet and a plan to lockout workers from three unions This vicious attack is squarely aimed at smashing workers resistance to management plans to gradually move operations to Asia.
Long-term union busting strategy
Qantas management have been pursuing a long-term strategy over years to move operations to their non-Qantas-branded subsidiary airlines. This is in order to break union organisation and drive down wages so they can boost the profits of their major shareholders like J.P. Morgan, HSBC and Citicorp. These global financial giants are amongst the biggest shareholders of the major Australian banks and mining companies.
In the last decade Qantas has established a number of 'low-cost' subsidiary airlines based in Australia, New Zealand and Asia. They have been progressively expanding these to undermine Qantas-branded operations and thereby the wages and conditions of Qantas workers. They have been cheered on by other sections of the corporate elite as part of the general attempt of the 1% to enforce a race to the bottom in living standards for the other 99%.
In 2008 Qantas management implemented 3,340 'voluntary redundancies', slashing their workforce by almost 10%. In August, this year, Qantas CEO Alan Joyce announced a further cut of 1000 Qantas workers' jobs alongside plans to cut back Qantas international operations and establish a new 'premium' carrier based somewhere in Asia and another 'low cost' airline based in Japan.
Industrial action
This further inflamed the industrial dispute between Qantas workers and management which has been underway since March 2011. Employment agreements for aircraft engineers, baggage handlers and long-haul pilots were due for re-negotiation this year. Qantas management have refused to accept very modest 'job-security' clauses in the new agreements.
Unions representing these three groups of workers have been taking very limited industrial action. Various short strikes by baggage handlers have only lasted 6 hours, in total, over the course of the last few months. The pilots' union has limited their industrial action to wearing red ties with their campaign slogan and making in-flight announcements about the dispute. Engineers' action included a 60-second work stoppage and some right handed engineers using tools with their left hand.
Qantas workers at Adelaide Airport
In mid-October, Qantas announced in retaliation that it was grounding 5 planes and cancelled 400 domestic flights for the month. On Friday 28 October, Qantas held its' shareholders annual general meeting where the CEO, Alan Joyce, was awarded a 71% pay increase to take his salary to approximately A$5 million. The day after, Saturday 29 October, Joyce announced the unprecedented move of grounding all the Qantas fleet, standing down the entire work force and locking out workers from the three unions from Monday 31 October.
Over the weekend, the Labor party government acted quickly to bring the dispute before the labour court, the misleadingly named 'Fair Work Australia' (FWA). The result was a termination of all legal industrial action. This stopped the lockout occurring and put Qantas planes back in the air. But more importantly it removed legal cover for any strike action by workers. Qantas management and the unions must now come to a binding agreement in the next 21 days or face having a ruling imposed by FWA.
This clearly favours Qantas management and their shareholders. Emeritus professor of law at Sydney Law School, Ron McCallum, told the Australian Financial Review that Qantas has "won". He also said there was almost no chance that union demands relating to job security would be endorsed by FWA. These claims include engineers demands to keep and expand heavy maintenance facilities in Australia, baggage handlers claims to reduce the contracting out of work from 55% of work to 20% and Pilots demand for all pilots and crew on Qantas code-shared flights to be employed by and paid as Qantas workers .
Due to the Labor government's anti-democratic trade union laws, the workers have had their only effective weapon, strike action, outlawed for the next 3 years. Qantas can afford to wait 21 days without any threat of strike action for arbitration, if the leaders of the unions do not capitulate.
Most important dispute in years
This dispute is the most important in 13 years in Australia. In 1998 'Patrick Stevedores' locked out and sacked their entire union workforce in a move that triggered massive community picket lines across the country. Australia's docks were shut down for weeks. (See this article for more information) Whatever the outcome, this dispute will stand out as a decisive landmark in the history of Australia's union movement.
It also marks the beginning of a new period of employer militancy in dealing with workers in Australia. If Qantas is allowed to get away with this clear union-busting manoeuvre by the leaders of the trade union movement, including the Australian Council of Trade Unions (ACTU), then it will only encourage others in the 1% to take the same approach.
Numerous corporate figures from the ruling class in have been quoted in the Australian Financial Review praising Alan Joyce and Qantas management. An editorial from the Murdoch owned newspaper The Australian called the dispute an "industrial war" and compared it to Murdoch's historic 1986-87 lockout of print workers at Wapping, London, which led to the smashing of the print unions.
The response to this mammoth attack from the official trade union leaders has been disgraceful. It was clear as soon as the lockout was announced that it represented the biggest assault on the trade union movement, as a whole, since 1998. Research released the week before the lockout showed that 41% of the population supported bringing Qantas back into public ownership and a massive 73% thought Alan Joyce was over paid. An immediate call for a 24 hour general strike from the ACTU would have met with massive support. This could have been coupled with a campaign to bring Qantas back into public ownership under democratic control and management of the workers and airline users to benefit all of society and not just huge financial conglomerates. Huge mobilisations of all sections of the working class, along the lines of the 1998 Patricks dispute, would have been possible. Instead trade union leaders have tried to spin the weekends defeat in such a way as to claim it as a victory.
While the union leaders and their strategies have led workers to a big defeat in the current battle, this 'war', as The Australian newspaper put it, is not over yet. Further twists and turns are set to follow as Qantas management, backed to the hilt by the 1%, attempt to slash wages and conditions to keep profits afloat through the on-coming economic crises.