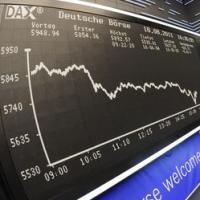 Un estudio encuentra que el 1% de las empresas controlan la economía mundial
La deuda soberana y las crisis de la eurozona, la Gran Recesión, etc, concentraron toda la atención en las deficiencias del sector bancario y las codiciosas empresas capitalistas gigantes. ¿Pero exactamente cuán poderoso es el capital financiero en el mundo?
Plantear y responder a esta pregunta no es nuevo. El famoso libro de Lenin – El imperialismo, fase superior del capitalismo – lo hizo a finales del siglo XX.
Pero, por supuesto, la economía capitalista mundial ha crecido enormemente desde entonces y los tentáculos del capital financiero parecen agarrar todos los rincones del mundo con más fuerza.
Y, de hecho, este es el caso de acuerdo con un estudio realizado por el Instituto Federal Suizo de Tecnología, publicado en la revista New Scientist.
Los escarbadores de números suizos utilizaron una base de datos de 2007, con 37 millones de empresas e inversores a nivel internacional de la que extrajeron 43.060 "empresas transnacionales" y la propiedad accionaria que las vincula. "Entonces construyeron un modelo de las empresas controladas a través de las redes de otros accionistas, junto con los ingresos de explotación de cada empresa, para cartografiar la estructura del poder económico." (New Scientist 22/10/11)
Lo que este ejercicio demostró es que un núcleo de tan sólo 1.318 empresas controlan efectivamente la mayoría de la actividad económica en el planeta. "Estas 1318 parecen apropiandose colectivamente a través de su participación en la mayoría de las empresas tecnologicas (blue chips) y las empresas manufactureras del mundo – la economía " real ". Ellas representan el 60% de los ingresos globales"
Pero los investigadores revelaron otro dato: "Una súper-entidad de 147 empresas aún más estrechamente interrelacionadas – que controla el 40% de la riqueza total en la red "
En otras palabras, sólo el 1% de las grandes corporaciones controlan efectivamente la economía mundial! "La mayoría eran entidades financieras. Las 20 más importantes incluyen Barclays Bank, JP Morgan Chase & Co y The Goldman Sachs Group."
Special financial appeal to all readers of socialistworld.net

Support building alternative socialist media

---

Socialistworld.net provides a unique analysis and perspective of world events. Socialistworld.net also plays a crucial role in building the struggle for socialism across all continents. Capitalism has failed! Assist us to build the fight-back and prepare for the stormy period of class struggles ahead. Please make a donation to help us reach more readers and to widen our socialist campaigning work across the world.

Donate via Paypal

CWI- Please inform us if you are reproducing any material from this site.